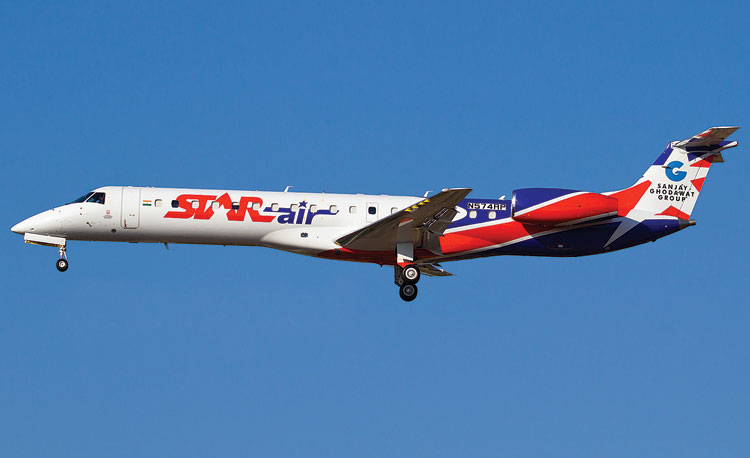 "We are pleased to announce the launch of our new flights which offer enhanced options and convenience to our customers. Our aircrafts are fast, seats are comfortable and our crew is experienced to provide a 'Star Experience'. We plan to help the Indian travellers connect to various locations at affordable rates and the best of services. We hope that we will live up to the expectations of our travellers and keep on serving the society through our business venture and customer centric approach."
—Sanjay Ghodawat, Chairman, Star Air
Star Air is a scheduled commercial airline with an aim to connect real India. It is promoted by Ghodawat Enterprises Pvt Ltd, which is the Aviation arm of strategically diversified Sanjay Ghodawat Group. Over the past five years the group has made a best-in-class helicopter operator in India with impeccable dedication to safety. Star Air is the latest offering of the group. An upcoming Airline with a firm proposal to connect the unconnected. The target routes are where passengers are currently suffering a lot of transit layover delays. The airline provides a very reliable, safe and comfortable travel experience with direct connections. Truly the group's 'Star in the Air'.
The airline operates under the RCS-UDAN scheme and is quite popular among travellers for its services. Whether it is about on-time departure, on-time arrival, food quality, ticket rates, comfort or safety, Star Air ensures everything quite brilliantly keeping its passengers' concerns in mind and thus excels at most of the aspects that any traveller looks for. According to many aviation experts, these could be some of the reasons why travellers choose to fly with Star Air and thus have now inspired the airline to make an expansion move.
Star Air now provides its services to nine Indian cities including Mumbai, Bengaluru, Ahmedabad, Tirupati, Hubballi, Belagavi, Delhi (Hindon), Kalaburagi and to the latest addition Indore.
THE FLEET
| Fleet Type | Seat Capacity | Registration |
| --- | --- | --- |
| EMB-145 | 50 | VT-GSC |
| EMB-145 | 50 | VT-GSE |
| EMB-145 | 50 | VT-GSF |
GROWING DEMAND PROPELS STAR AIR TO INCREASE ITS FLIGHT'S FREQUENCY
Star Air has had remarkable success in its first year of operations and continues to make good strides in the aviation industry. The airline on growing public demand has decided to increase its operations on multiple air travel routes. Simran Singh Tiwana, CEO, has announced that from February 15, 2020, our flight frequency on Kalaburagi – Bengaluru & Hubballi – Hindon (Delhi) route would be increased to six days/week and five days/week respectively. Since the launch of its flight services, the airline has been receiving a phenomenal response from its customers. And now to fulfil the growing demand, Star Air has now decided to increase its operating frequency on these two routes.
Bengaluru and Hindon (Delhi) are the two fastest-growing cities in India that attracts thousands of tourists, entrepreneurs, students, and others towards them every season and therefore the number of people travelling to these cities has risen quite astonishingly in recent times.
STAR AIR INDIA GETS SCHEDULED COMMUTER AIRLINE PERMIT
Star Air had announced the issuance of "Air Operator Certificate", by Ministry of Civil Aviation on January 1, 2019. The airline is operating a fleet of Embraer ERJ145, which is the fastest in the category having 0.8 Mach Flying Speed. It is a highly successful aircraft around the world and will now be the first in India. The seating capacity for the aircraft is 50 and have an average seat pitch of 31 inches.