Increased defence budgeting and speedy indigenisation are the only alternatives for India to match the aggressively growing aerospace might of China
The PLAF has developed credible year-round capability in the Tibet region with fighters undertaking continuous operations
As China and India continue their face-off in Ladakh, there has been continuous debate comparing the People's liberation Army Air Force (PLAAF) with Indian Air Force (IAF). While undoubtedly the IAF has a regional superiority in Eastern Ladakh, but the PLAAF is a force that is rapidly growing with the aim to surpass United States Air Force (USAF). Like the US and the Soviet Union, China realised early that one who controls aerospace, controls the planet and is the major instrument of waging modern wars. China aims to one day surpass the USAF.
CHINA'S MILITARY AVIATION INDUSTRY
The Aviation Industry Corporation of China has over 100 subsidiaries and 5,42,236 employees. It manufactures all military and general aviation aircraft. China is also pushing ahead on Lasers and Directed Energy Weapons, Artificial Intelligence applications for military aviation and technologies related to hypersonic systems. China however, continues to lag behind in critical aviation-related technologies such as aircraft engines, airborne radars, Electronic Warfare (EW), stealth and Precision Guided Munitions (PGM). But work is in progress in all these areas.
THE PLAAF
The PLAAF has been inducting new and improved aircraft and weapon systems regularly. Today, the PLAAF has nearly 4,00,000 personnel and 2,000 combat aircraft on its inventory, of which 800 are fourth-generation plus platforms, operating from nearly 150 airbases. China's military aircraft building programme includes two stealth fifth-generation fighters (J-20 and J-31), a stealth bomber (H-20), a large transport aircraft (Y-20), Airborne Warning and Control System (AWACS) and Airborne Early Warning and Control (AEW&C) variants, variety of utility and attack helicopters as well as Unmanned Aerial Vehicles (UAV). China has also designed its own 'Mother of All Bombs' to be dropped from the H-6K Bomber. The PLAAF's thrust is on net-centric warfare that will entail the need to operate in the domain of cyber warfare and electronic attack. The basic structure of the PLAAF remains in the form of departments which include elements of the political wing of the communist party. Also, the flying units are structured on the pattern of Army Regiments. Many PLAAF Commanders would prefer the force to be called "Chinese Air Force".
FOCUS ON AIR SUPERIORITY
China's focus would be air superiority in the Asian region. The J-20 stealth fighter is more advanced than any other combat platform currently deployed in the Asia-Pacific region. They are also testing the smaller stealth fighter, the FC-31, which is designed to rival the technological capability of the Lockheed Martin F-35. China's J-10 and J-11 fighter jets are in the F-16 and the Su-30 class. The recently inducted fleet of Russian Su-35, specifically designed for China and is dubbed as the "Chinese Version", offers significant advantage in respect of operating range. China already has a variety of air-to-air missiles including the PL-15 that has operating range exceeding 200 km.
The J-20 stealth fighter is more advanced than any other aerial platform currently deployed in the Asia-Pacific region
AEW&C, ISR, EW AND CYBER CAPABILITY
AEW&C, Intelligence Surveillance and Reconnaissance (ISR) and EW are China's focus areas. The PLAAF's AEW&C aircraft such as KJ-500, KJ-200 and KJ-2000 would seek to maintain at least two persistent 24-hour orbits within Chinese airspace for monitoring and controlling air activity. The PLAAF will use a variety of airborne EW jammers such as those on H-D6 variant. China has world-class cyber warfare capability.
BOMBERS AND LARGE TRANSPORT AIRCRAFT
China has around 120 of H-6 bomber variants. The H-6K can carry six cruise missiles. The Xian H-20 subsonic, stealth, strategic bomber is under development and will enter service around 2025. This aircraft is expected to have a maximum unrefuelled range of around 8,000 km and maximum payload of 20 tonnes.
The Y-20 is a large military transport aircraft with a payload capacity of 66 tonnes. Currently over 20 have been produced and later a few 100s will be inducted into the PLAAF. A flight refueller variant of this platform is also planned. China is also working on a medium transport aircraft called 'Y-30', which is likely to be C-130 Hercules class with a 20-tonne payload capacity. China has even shown interest to revive the world's largest cargo aircraft, Ukraine's 640 tonne Antonov An-125 whose development was halted in 1994 for lack of funds.
CHINESE HELICOPTERS
The Z-10 attack helicopter has been co-designed by Kamov design bureau of Russia. The Z-19 is the smaller variant of this platform. Most PLA ground force aviation units are equipped with the Z-10. The aircraft is armed with HJ-10 Air-to-Ground Missile (AGM) considered to be similar to AGM-114 Hellfire. The Z-18 is a Chinese medium transport helicopter that can carry 27 troops or five tonnes of cargo. The Z-18J will be the AEW variant. The Z-20 helicopter is the Chinese equivalent of Sikorsky S-70.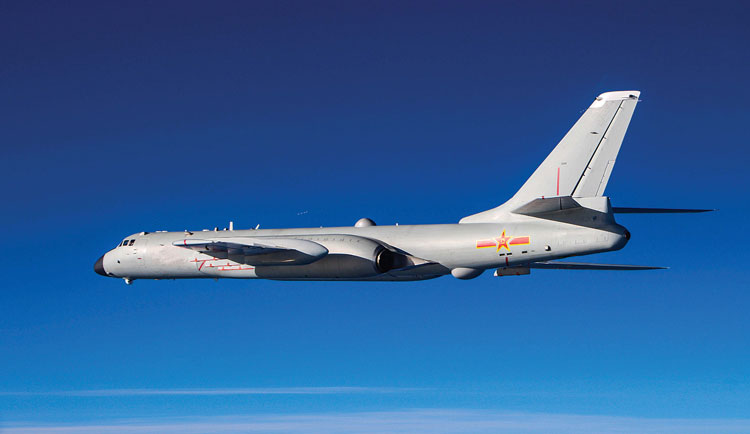 The Chinese H-6K bomber can carry six cruise missiles. China has around 120 of H-6 bomber variants.
UNMANNED AERIAL VEHICLES
China makes UAVs of various sizes ranging from the smallest micro air vehicle to the largest UAVs. China has a 'Wing Long' Medium Altitude Long Endurance (MALE) UAV with 1,500 kilometre range. These can carry precision bombs and air-to-surface missiles. In the period 2010 and 2020, China has delivered 220 military drones to 16 countries, led by 55 to Saudi Arabia.
HYPERSONIC TECHNOLOGY
China has successfully tested the DF-17, a road-mobile, mediumrange ballistic missile (MRBM) designed to launch a Hypersonic Glide Vehicle. The DF-17 has an assessed range of 1,800 to 2,500 kilometres. China has the world's largest hypersonic wind tunnel, the Mach 9 JF-12, called the 'Hyper Dragon' that has been operational since 2014. The newer FD-21, a 556-foot-long wind tunnel can handle speeds of Mach 10 to 15 and is large enough to test full-sized components of hypersonic propulsion such as gliders and scramjets. China is also putting in public domain, designs of a hypersonic military aircraft. The Shadow Dragon hypersonic bomber concept is envisioned as the PLAAF's future arsenal.
AIR POWER WITH PLAN
People's Liberation Army Navy (PLAN) has a significant and growing air arm with 25,000 personnel and 690 aircraft. China currently has two operational aircraft carriers, the Liaoning (Type 001) and Shandong (Type 002). They use 'short take-off but arrested recovery' (STOBAR) launch and recovery system while operating on deck. The J-15, a derivative of Russian Su-33, is the main carrier-borne aircraft. The other PLAN aircraft include J-10, J-15, H-6, IL-28, Ka-28, Ka-31 and KJ-200. Future carriers such as the Type 003 (70,000 tonne) and Type 004 (1,10,000 tonne) would use the electromagnetic aircraft launch system and host heavier J-20 and J-31 class of aircraft. It is projected that China may possess up to six aircraft carriers by mid 2030s and could then have significant presence in the Indian Ocean region.
China's territorial interests against India are primarily in Arunachal Pradesh area; but Eastern Ladakh is of interest due to the strategic China Pakistan Economic Corridor.
PLAAF COORDINATION WITH ROCKET FORCES
In conjunction with PLA Rocket Force's land-attack cruise missiles, the PLAAF will use air launched cruise missiles against high value targets. A typical air campaign will start with cyber network attacks, electronic deception, electronic interference and firepower destruction. The targets will be air bases, Air Defence command and control centres and Surface-to-Air Missile sites. Manned aircraft will follow in subsequent waves. Suppression of Enemy Air Defence will be a focus area for which Anti-Radiation Missiles will be used.
PLAAF EXPOSURE AND STRATEGY
Chinese Armed Forces have limited exposure to actual combat, having last fought a major air war in Korea in the 1950s. Their main air exercise exposure is only with the Pakistan Air Force. East coast remains the area of military threat and priority. Reclaiming Taiwan and retaining economic and military control over the South China Sea, are major strategic goals. The Pacific remains the main area of threat from the US and its allies. China believes that greater use of Surface-to-Surface Missiles makes it difficult for the enemy to defend against. Reliance on net-centric air war backed by AWACS and FRA coupled with own secure global satellite navigation system, will help dominate the air war. Its territorial interests against India are primarily in Arunachal Pradesh area; but Eastern Ladakh is of interest due to the strategic China Pakistan Economic Corridor.
CHINA'S AEROSPACE POWER
The widening gap between Indian and Chinese air power should be of concern. India should have a strategy of "build-to-fight" air assets. The PLAAF has developed credible year-round capability in the Tibet region with J-11 and J-16 fighters and J-10 fleets undertaking continuous operations during the winter months. The IAF's combat enablers such as FRA and AEW&C could be targeted by the long-range missiles namely the PL-15. China's fifth-generation fighter jets represent a significant threat to the IAF. Chinese H-6 bomber with six DH-10 cruise missiles (1,500 km range) and a combat radius of 1,800 km, means that they don't have to be based in Tibet and can operate from well outside IAF air defence cover. These aircraft were last seen in Hotan and Kashgar airbases. The PLAAF and the PAF hold annual exercises to enhance interoperability. There is an increased need for India to factor-in a two-front war. To counter the PLAAF, the IAF must re-evaluate its existing and future air combat capability. The IAF currently is down to 32 fighter squadrons. The 36 Rafale jets and very slowly inducting Light Combat Aircraft Tejas or even acquisition of additional Su-30 MKI and MiG-29s, will take time. The Advanced Medium Combat Aircraft is still over a decade away. Increased defence budgeting and speedy indigenisation are the only alternatives for India to match the aggressively growing aerospace might of China. Meanwhile, there is a need to hasten acquiring 114 new jet fighters.