The military transport fleet globally has evolved progressively over the years and today is a mix of platforms designed for strategic and tactical roles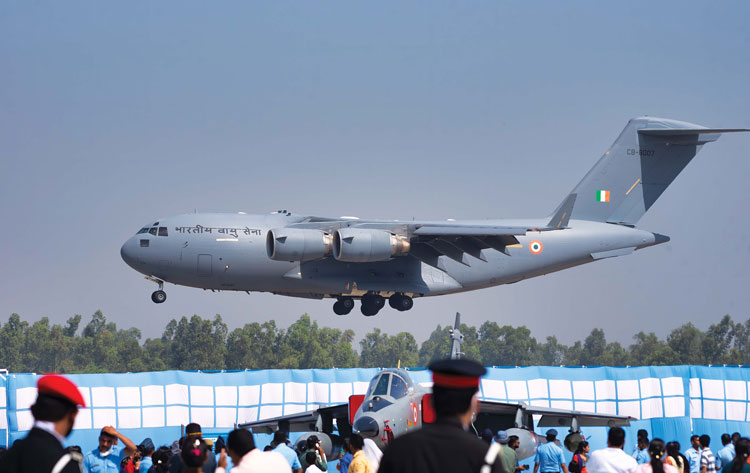 The heavy lift transport fleet of IAF contributed immensely during the Covid-19 pandemic in India by airlifting cryogenic oxygen containers to/from their filling stations.
The process of assessment of the capability of a nation in the domain of air power, is centred primarily on the quality, generation and size of the fleet of combat aircraft the Air Force of the nation has on its inventory. Fleets of transport aircraft and rotary-wing platforms with the nation's armed forces which also are a part of the nation's air power, despite their attributes, are accorded a relatively lower status as compared with the combat fleet. The reason for this is quite understandable as during war, the combat fleet of the nation's Air Force, faces the most daunting challenges posed by the enemy's air power. The transport and helicopter fleets continue to function in supporting roles for transportation of men and materials both in peace and war except for the fleets of combat helicopter that are employed for offensive missions in the battle zone against the ground forces of the enemy. As full scale war is now expected to be a rare occurrence, the fleet of military transport aircraft will be employed primarily for peacetime tasks related to logistic support missions both at the national and international levels.
Over the years, development of military transport aircraft by the leading aerospace and defence majors of the world, has been focused on larger size of the platform to increase payload capacity. The aim has been to design a platform of higher airlift capability so that it is capable of transporting oversize and heavy cargo such as battle tanks or large size vehicles. Enhanced operating range of the platform has also been one of the objectives of new designs. The military transport fleet globally has thus evolved progressively and today is a mix of platforms designed for either strategic or tactical role. In some cases, the platforms are capable of both roles albeit with some limitations. In peacetime, apart from routine tasks for the military, the transport fleet is employed for civilian tasks as well. The types of transport aircraft available globally are dealt with in the succeeding paragraphs.
AIRBUS A400M ATLAS
| | |
| --- | --- |
| Maximum range | 4,800 nm (8900 km) |
| High speed | M 0.72 |
| Cargo hold volume | 340 m3 |
| Delivery heavy payloads | Up to 37 tonnes |
| Engines | EuroProp International (EPI) TP 400 turboprop |
| Fly Distances | up to 4,800 nm/8,900 km, at a cruising altitude up to 37,000 ft/11,300 m |
| Speed | up to Mach 0.72 |
| Service Ceiling | up to 40,000 ft/12,200 m |
| Fuselage External Width | 5.64 metres / 18 ft 6 |
Source: https://www.airbus.com/defence/a400m.html#tactical
C-27J SPARTAN NEXT GENERATION
| | |
| --- | --- |
| MTOW (normal - 2.5 g) | 70,107 lb / 31,800 kg |
| Maximum Landing Weight (6 ft/s) | 67,241 lb / 30,500 kg |
| Normal Landing Weight (10 ft/s) | 60,627 lb / 27,500 kg |
| Max Payload (normal - 2.5 g) | 25,574 lb / 11,600 kg |
| Max Payload (tactical - 3 g) | 17,857 lb / 8,100 kg |
| Fuel capacity | 3,255 US Gal / 12,320 l |
| Engines: 2 Rolls-Royce AE 2100-D2A | 4,637 shp each / 3,458 Kw each |
| Take-Off Ground Run (MTO W, ISA , S.L.) | 1,903 ft / 580 m |
| Top Cruising Speed | 325 KTAS / 602 km/h |
| Service Ceiling | 30,000 ft / 9,144 m |
| Max Range | 3,160 nm / 5,852 km |
Source: leonardocompany.com
AIRBUS A400M ATLAS
The Airbus A400M Atlas is a military transport aircraft designed by Airbus Military, now known as Airbus Defence and Space. Fuselage of the aircraft is built in Germany, the wings that are made of composite materials, are manufactured in the UK and the final assembly of the aircraft is carried out in Spain. Powered by four turboprop engines, it is essentially a tactical airlift aircraft, but also has strategic airlift capabilities and can function as a flight refuelling aircraft as well. The Airbus A400M Atlas is the most advanced, proven and certified military transport aircraft available that combines 21st century state-of-the-art technologies to fulfil the current and upcoming needs of the armed forces. It has a payload capacity of 37 tonnes and the capability to fly distances up to 8,900 km at a cruising altitude of 37,000 ft and at a speed of up to Mach 0.72. It can even climb to an altitude of 40,000 ft for special operations.
The A400M Atlas made its inaugural flight on December 11, 2009 and the first production aircraft was delivered to the French Air Force in August 2013. The aircraft has been employed in operational role by the French and Turkish Air Forces in Afghanistan, the Central African Republic, African Sahel Region, Mali and in the Middle East to support air operations over Iraq and Syria. During the COVID-19 Pandemic, the Royal Air Force deployed the A400M on medical evacuation missions to transport patients from the Scottish Islands that have limited medical facilities to mainland hospitals for emergency treatment. The A400M was converted for medical evacuations using a configuration developed quickly by the French military aeronautical research and test centre. The German Air Force utilised this aircraft to transport COVID-19 patients from France to German hospitals.
C-27J SPARTAN Next GENERATION
The Alenia C-27J Spartan is a high-wing military transport aircraft powered by twin turboprop engines from Roll-Royce. The aircraft has been developed and manufactured by Leonardo's Aircraft Division of Italy. It is an advanced derivative of the G-222 produced by Alenia Aeronautica and is equipped with the engines and other systems that are fitted on the larger Lockheed Martin C-130J Super Hercules. It undertook its inaugural flight on September 24, 1999 and entered service with the Italian armed forces in October 2006. The aircraft has a top speed of 602 kmph, an operating range of 1,759 km and a ferry range of 5,852 km. The aircraft has a maximum payload capacity of 11.6 tonnes. The US received its first C-27J Spartan on September 25, 2008.
The C-27J can be quickly configured to carry out tactical transport missions including transportation of troops and cargo, drop paratroopers, undertake medical evacuation as well as provide humanitarian assistance and disaster relief, fire fighting, Intelligence Surveillance and Reconnaissance missions, Maritime Patrol and tactical support missions. The combat proven C-27J can be equipped with a full Defensive Aids Sub-Systems suite, secure communications and battlefield ballistic protection in order to operate in high threat environments. The aircraft, which is on the inventory of 15 countries and 16 operators around the world, demonstrated its capabilities in the fight against the COVID-19 Pandemic by carrying out critical support and transportation missions since its outbreak.
ANTONOV AN-124 RUSLAN
| | |
| --- | --- |
| Length (m) | 69.10 |
| Height (m) | 21.08 |
| Wing span (m) | 73.30 |
| Wing area (m) | 2628 |
| Cruise speed (km/h) | 800-850 |
| Operational range (km) | 15700 |
| Operational ceiling (m) | 11600 |
Source: https://antonov.com/en/history/an-124-ruslan
BOEING C-17 GLOBEMASTER II
| | |
| --- | --- |
| Wingspan to Winglet Tip | 169.8 ft (51.74 m) |
| Length | 174 ft (53.04 m) |
| Height at Tail | 55.1 ft (16.79 m) |
| Fuselage Diameter | 22.5 ft (6.86 m) |
| Engines | Four Pratt & Whitney PW2040 (military designation F117-PW-100) 40,440 pounds thrust each |
Seating
| | |
| --- | --- |
| Sidewall (Permanently Installed) | 54 (27 each side, 18 inches wide, 24 inch spacing center to center) |
| Centerline (stored on board) | 48 (in sets of six back-to-back, 8 sets) |
| Palletized | 80 on 8 pallets, plus 54 passengers on sidewall seats |
Cockpit
| | |
| --- | --- |
| Flight crew | 2 pilots |
| Observer positions | 2 |
Source: https://www.boeing.com/defense/c-17-globemaster-iii/
ANTONOV AN-124 RUSLAN
The Antonov An-124 Ruslan whose NATO name is "Condor", was designed in the 1980s by the Antonov Design Bureau of Ukraine that was then a part of the Soviet Union. The An-124 is a very large, four-engine, strategic airlift aircraft that has the capability of carrying a payload of 150 tonnes over a distance of 3,700 km. Without any payload, the aircraft has a ferry range of 14,000 km. The An-124 undertook its maiden flight in 1982 and was on public display for the first time at the Paris Air Show in 1985. The aircraft entered military service in 1986 and received civil certification on December 30, 1992. A total of 55 aircraft were produced in the period 1982 to 2004. The two major variants of the aircraft are the basic An-124 model and the Russian civilcertified An-124-100. Other models include the An-124-100-150 and the An-124-100M-150. In September 2004, series production of the aircraft that had been stopped, was restarted as a joint venture between Russia and Ukraine and 80 more were manufactured by 2020 by aerospace companies Aviastar and Aviant.
Soon after the onset of the COVID-19 Pandemic, an AN-124 aircraft of NATO-supported Strategic Airlift International Solution or SALIS programme, airlifted 48 tonnes of medical equipment included facemasks, surgical gloves and protective suits from Tianjin in China to Bratislava, capital of Slovakia. Antonov Airlines of Ukraine, a leader in the world market for air transportation of super heavy and oversized cargo, airlifted by An-124, over eight million masks from Shanghai in China to Leipzig in Germany and 150 tonnes of PPE from China to Paris. Recently the airline transported a very large consignment of oxygen concentrators from Israel to India for battling the Pandemic.
BOEING C-17 GLOBEMASTER III
The Boeing C-17 Globemaster III is a large transport aircraft designed and developed by McDonnell Douglas in the period from the 1980s to the early 1990s, specifically for military use. Boeing merged with McDonnell Douglas in 1997 and took over the responsibility of manufacturing this platform. A total of 279 C-17s were built in the period 1991 to 2015. The last C-17 manufactured was at the Boeing facility at Long Beach, California which took to the air on November 29, 2015. Designed to undertake both strategic and tactical airlift missions, the C-17 Globemaster III is capable of fulfilling air mobility requirements of the US armed forces, particularly for large or heavy non-palletised outsize cargo. In addition, the platform is capable of roles such as medical evacuation. This heavy-lift platform is in service with the armed forces of the US, India, the UK, Australia, Canada, Qatar, the UAE, Kuwait and NATO Heavy Airlift Wing. The aircraft can haul a maximum payload of 77.5 tonnes and has an operating range of 4,400 km. It is designed to operate from runways as short as 3,500 ft and is capable of operating even from unpaved runways. A unique feature of this aircraft is that its engine reverse thrust is operable in flight as well. During the COVID-19 Pandemic, 45 tonnes of medical equipment, including 1,00,000 protective suits, were airlifted by a C-17 Globemaster III from the Republic of Korea to Bucharest in Romania on March 26 2020. In addition, the C-17 was employed for airlifting medical equipment from Germany and Dubai to India as also for transportation within the country.
BOEING KC-46 PEGASUS
| | |
| --- | --- |
| Width | 156 ft 1 in (47.5 m) |
| Length | 165 ft 10 in (50.5 m) |
| Height | 52 ft 10 in (16.1 m) |
| Engines | Two Pratt & Whitney PW 4062 with 62,000 lbf (289.13 kN) thrust |
| Maximum Takeoff Weight | 415,000 lbs (188,241 kg) |
| Maximum Landing Weight | 310,000 lbs (140,614 kg) |
| Fuel Capacity | 212,299 lbs (96,265 kg) |
| Maximum Air Speed | .86 Mach (650 mph) |
Source: https://www.boeing.com/defense/kc-46a-pegasus-tanker/
EMBRAER C-390 MILLENNIUM
| | |
| --- | --- |
| Maximum Payload (Concentrated) | 26 metric ton / 57,320 lb |
| Maximum Payload (Distributed) | 23 metric ton / 50,706 lb |
| Wing Usable Fuel Capacity | 23.9 metric ton |
| Maximum Cruise Speed | 470 KTAS /Mach 0.80 |
| Altitude Ceiling | 36,000 ft |
| Range with 26 metric ton (57,320 lb) | 1,080 nm |
| Range with 23 metric ton (50,700 lb) | 1,470 nm |
| Length | 35.20 m / 115 ft 5 in |
| Height | 11.84 m /38 ft 10 in |
| Wing Span | 35.05 m / 115 ft |
| Cargo Volume | 169 m³ 5,970 ft³ |
IAE V2500-E5 engines with 31,330 lb of take-off thrust
Source: Embraer
BOEING KC-46 PEGASUS
The Boeing KC-46 Pegasus is a military transport aircraft that is a derivative of the Boeing 767 airliner. It is a wide-body, low wing platform that is powered by two Pratt & Whitney turbofan engines. The aircraft is capable of strategic transport role and is also designed to undertake aerial refuelling tasks. It was developed primarily to replace the Boeing KC-135 Stratotankers. The KC-46 undertook its maiden flight on September 25, 2015 and entered service with the US Air Force in January 2019. The US Air Force has plans to induct a total of 179 aircraft by 2027. The fuselage has palletised passenger seating for 58 or can accommodate 18 pallets in cargo configuration. The aircraft can also be employed for aero-medical evacuation and can accommodate 54 patients. The aircraft has a maximum payload capacity of 29 tonnes. For its aerial refuelling role, at the rear of the aircraft is a refuelling boom supplemented by air refuelling pods at each wingtip and a centreline drogue system under the rear fuselage. Boeing is keen to supply this platform to India for the IAF that is planning to induct six flight refuelling aircraft in the near future.
EMBRAER C-390 MILENNIUM
The C-390 is the largest and most complex aircraft project ever undertaken by the Brazilian manufacturer Embraer. It is also the company's first new military product in more than a decade. In April 2009, Embraer received an order valued at $1.3 billion from the Brazilian Air Force for the development of the C-390 medium-weight military transport aircraft. This high-wing twin-jet made its first flight in February 2015 and its arrival on the scene intensified globally, competition in the 20-tonne air transport segment. The aircraft that was assembled at Embraer's Gavião Peixoto plant in Brazil, was accorded its initial operating clearance in December 2017 and received type certification in October 2018.
Powered by two turbofan engines, the C-390 has a cargo bay equipped with an aft ramp and is capable of transporting a wide variety of cargo weighing up to 26 tonnes including armoured vehicles. The aircraft is fitted with state-of-the-art loading and unloading systems for handling cargo. The aircraft can be configured for medical evacuation, search and rescue missions or for in-flight refuelling missions. The C-390 can attain a maximum altitude of 10,973 metres and can reach a maximum speed of 987 kmph. The normal and ferry range of the aircraft are 2,590 km and 6,130 km respectively.
Since the beginning of the COVID-19 Pandemic, the Brazilian Air Force has operated the C-390 for logistic support missions, carrying tonnes of essential supplies to fight the Pandemic in Brazil. Additionally, in August 2020, it operated one C-390 in a humanitarian mission to the Republic of Lebanon, in support of the population of Beirut.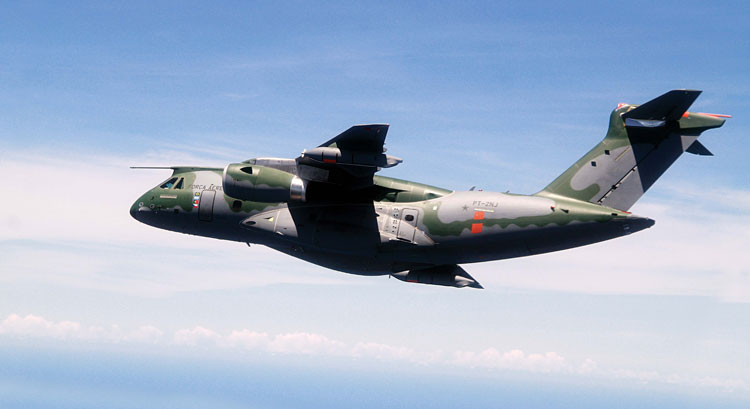 The Embraer C-390 Millennium aircraft can be configured to perform various conventional operations such as troop, VIP and cargo transportation, and more specialised logistical operations such as aerial refuelling as a tanker. This new bird has also been actively engaged and rather heavily in combating COVID-19.
ILYUSHIN IL-76MD-90A
| | |
| --- | --- |
| Length of the aircraft | 46.60 m |
| Height of the parked aircraft | 14.76 m |
| Wing span | 50.50 m |
| Wing area (trapezoidal) | 300m2 |
| Turbofan Bypass Engine PS-90A-76 | 4 |
| Maximum takeoff weight | 210 t |
| Maximum payload | 52 t |
| Cruising speed | 820-850km/h |
| Flight altitude | 9000-12000 m |
| Cargo cabin capacity | 321m3 |
Source: https://www.aviastar-sp.ru/en/products_and_services/aircraft/il_76md_90a/
LM C-130J-30 SUPER HERCULES
| | |
| --- | --- |
| Length | 112 ft 9 in/34.37 m |
| Height | 38 ft 10 in/11.84 m |
| Wingspan | 132 ft 7 in/40.41 m |
| Powerplant | Four Rolls-Royce AE 2100D3 engin; GE-Dowty Aerospace R391 6-blade propellers, all composite |
| Maximum take-off weight | 164,000 lb/74,389 kg |
| Maximum paload* | 46,700 lb/21,183 kg |
| Operating weight empty | 88,252 lb/40,030 kg |
| Zero fuel weight** | 129,00 lb/58,513 kg |
| Landing Distance (135,000 lb) | 3,000 ft/914 |
| Range (40,000 lb payload) | 21,160 nm/4,000 km |
| Maximum Cruise Speed | 365 KTAS /675 km/hr |
* Assumes wing relieving fuel
** Higher zero fuel weight allowable with wing relieving fuel
Source: Lockheed Martin
ILYUSHIN IL-76MD-90A
The Ilyushin IL-76MD-90A is a military transport aircraft with a code name IL-476 that has been developed by Ilyushin Aviation Complex, a subsidiary of United Aircraft Corporation (UAC). It is a modernised version of the IL-76MD which itself was based on the IL-76 cargo aircraft platform. The first Il-76MD-90A prototype that was rolled out in December 2011, undertook its maiden flight in September 2012. The first IL-76MD-90A aircraft was delivered to the Ministry of Defence of the Russian Federation in April 2019. The IL-76MD-90A was developed to transport military equipment, armed personnel, heavy vehicles and cargo, apart from undertaking paradrop missions. The aircraft carries an aerial-delivery system for air dropping of cargo, transportation of cargo containers and pallets. It has a maximum takeoff weight of 210 tonnes and can carry a maximum payload of 52 tonnes. The aircraft can carry 126 paratroopers or a maximum 225 troops in double-deck arrangement. It can also house special equipment to carry 114 injured persons during medical evacuation. The aircraft requires a runway length of a minimum of 1,700m for takeoff from a concrete runway, can cruise at a speed of 850 kmph and fly at a maximum altitude of 12,000 m. The maximum range of the aircraft is 8,500 km. In the battle against the COVID-19 Pandemic, the IL-76 fleet of the IAF played an important role by transporting medical equipment, supplies and personnel from locations abroad to India as well as within the country.
LM C-130J-30 SUPER HERCULES
The C-130J Super Hercules is a tactical airlift aircraft produced by the US aerospace and defence major Lockheed Martin. This new model incorporates all of the unmatched performance traits and capabilities found in its core design and amplifies them to new levels of technology, capability and reliability. Globally, there are now 25 operators in 21 countries including India that operate or will operate the C-130J. The aircraft is powered by four turboprop engines, is of high-wing design, has a tail loading ramp and has a maximum payload capacity of 19 tonnes. The Super Hercules is a comprehensively upgraded version of the C-130 Hercules and is the only model that continues to be in production. The IAF has so far inducted a total of 12 of this platform and currently has eleven on its inventory, having lost in a crash which is to be replaced. On August 20, 2013, the IAF set a record of high altitude operations by landing a C-130J at the Daulat Beg Oldi airstrip in Ladakh that is located at a height of 16,614 feet. The Super Hercules has been used extensively by the US Air Force to support military operations in Iraq and Afghanistan. To date, there is no aircraft in history, currently in production or operation that can match this platform.
With the outbreak of the COVID-19 Pandemic, the IAF swung into action and pressed into service its fleet of C-130J to carry out sorties from different parts of the country to airlift oxygen containers, cylinders, essential medicines, equipment required for setting up and sustaining COVID hospitals and facilities in the fight against fresh surge in COVID-19 cases. Tasks undertaken also included airlift of doctors and nursing staff from Kochi, Mumbai, Vizag and Bengaluru for various hospitals in Delhi.
THE FINAL WORD
All military transport aircraft that are designed primarily for strategic or tactical roles for the armed forces, also play a major role in the civil domain. These platforms are capable of undertaking disaster relief missions or providing much needed logistic support to the nation in the event of large scale humanitarian disaster such as floods, earthquake or disasters such as the ongoing COVID-19 Pandemic. The military transport aircraft of a nation are always the first to appear on the scene to execute assigned tasks with high degree of efficiency and professionalism.