Sheila Scott was the founder and the first governor of the British branch of "The Ninety-Nines", an association for licensed women pilots created by Amelia Earhart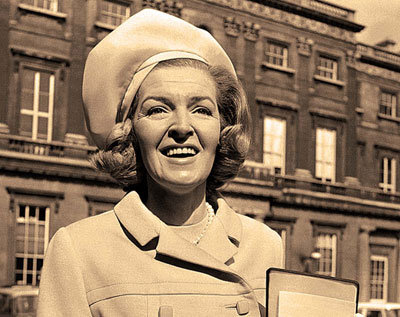 Sheila Scott was an English pioneer aviator who broke more than a hundred aviation records in the light aircraft category. She accomplished these feats in just seven years – between 1965 and 1972. She was a long distance flying enthusiast and flew thrice around the world solo. She was the first British pilot to fly solo around the world. And in 1971, she made a 34,000 mile "world and a half" flight in the course of which, she became the first person to fly over the North Pole in a small plane.
Sheila Christine Hopkins was born on April 27, 1922, in Worcester, England. She became a nurse during the Second World War. In 1943, she tried a career as an actress, assuming the name Sheila Scott. However, her acting efforts did not meet with much success and she soon gave up. Her life changed in 1968 when she began to take flying lessons following a dare. She went solo after nine months of training. She purchased her own aircraft, an erstwhile Royal Air Force Tiger Moth single-engine biplane, which she named Myth. She worked for her commercial licence by racing and flying in long-distance rallies. She also became a demonstrator for Cessna and Piper aircraft. In 1966, she sold her Tiger Moth and purchased a Piper Comanche 260B which she named Myth Too. Myth Too was an all-metal four to six seat, singleengine, low-wing monoplane, with retractable tricycle landing gear and she used it to set no less than ninety world records.
Sheila Scott's first solo around-the-world flight was in Myth Too and began at London's Heathrow airport on May 18, 1966. During the next 34 days, she covered a distance of approximately 31,000 miles, remaining airborne for a total of 189 flying hours and returning to Heathrow on June 20. It was the longest solo flight till then and only the third around-theworld flight by a woman. She repeated the feat in the same plane in 1969–70. Before that she had set numerous time and distance records, including between London and Cape Town in 1967, across the North Atlantic in 1967 and across the South Atlantic in 1969. In 1967 alone, she set 23 world records. She was awarded the Harmon International Aviation Trophy for setting a new light-aircraft speed record of 28,633 miles solo in 33 days and 3 minutes. In 1968, she was awarded the Order of the British Empire (OBE) and the Royal Aero Club Gold Medal for her outstanding achievements in aviation.
In 1971, Sheila bought a twin-engine Piper PA-23-250 Aztec D and named it Mythre. She used it to become the first person to fly around the world, from equator to equator over the true North Pole in a light aircraft. Soon after setting out, she discovered that her autopilot was not working. And nearing the Pole, the plane's nose wheel slipped out of its casing and extended, thus increasing the drag. Despite her best efforts, she could not retract the nose wheel. Undeterred by these two setbacks, she elected to continue. In her 1974 autobiography, Barefoot in the Sky, she described her flight in the Arctic region as being over "acres and acres of lonely desolate ice-packed sea as if everyone else on the earth had mysteriously disappeared and I had wandered out into space to some other planet." During this flight, she achieved her 100th world record. The records included a new time from Darwin, Australia to London of three and a half days, beating the previous record by an impressive one and a half days. 1971 was also the year when she finally got her driving licence after four attempts in 12 years. She said, "It is terribly difficult to adjust to driving a car when you are accustomed to using your feet on rudder pedals. I wanted to haul back on the steering column and fly away."
Sheila Scott was the founder and the first governor of the British branch of "The Ninety-Nines", an association for licensed women pilots created by Amelia Earhart. On the subject of long-distance solo flying, Sheila once said, "People often say to me, 'Oh, you must have been so alone flying hundreds of thousands of miles, often in appalling weather conditions,' but when you are in the sky you don't think of things like that." She also revealed that she kept herself going on longdistance flights by listening to Rachmaninov and Beethoven. While she may not have felt lonely in the sky, her personal life was another matter. Her marriage to Rupert Bellamy in 1945 lasted just five years and she remained single thereafter. Throughout, she had to struggle to keep the wolf from the door. Her sad and lonely final days were spent in poverty in a one-room London apartment. She died on October 20, 1988, of lung cancer.