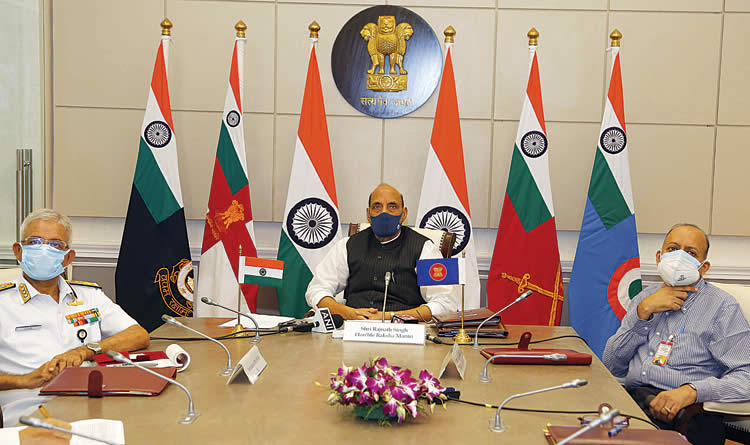 Defence Minister Rajnath Singh called for an open and inclusive order in the Indo-Pacific based on respect for sovereignty and territorial integrity of nations while addressing the 8th ASEAN Defence Ministers Meeting (ADMM) Plus on June 16, 2021. The ADMM Plus is an annual meeting of Defence Ministers of 10 ASEAN countries and eight dialogue partner countries including India. Brunei is the Chair of the ADMM Plus forum this year. Rajnath Singh also stressed on "peaceful resolutions of disputes through dialogue and adherence to international rules and laws." Salient aspects are given below:
India has strengthened its cooperative engagements in the Indo-Pacific based on converging visions and values for promotion of peace, stability and prosperity in the region.
The Defence Minister said that Maritime security challenges are a matter of concern for India and reiterated India's support to freedom of navigation, over-flight and unimpeded commerce for all in international waters in accordance with the UN Convention on the Law of the Sea (UNCLOS).
On the 'Act East Policy', he stated that the key elements of the policy aim to promote economic cooperation, cultural ties and develop strategic relationships with countries in the Indo-Pacific region.
The Defence Minister termed terrorism and radicalisation as gravest threats to world peace and security and called for collective cooperation to fully disrupt terror organisations and their networks.
The Defence Minister called for a multi-stakeholder approach, guided by democratic values, with a governance structure that is open and inclusive and a secure.
He stressed that the effect of the pandemic is still unfolding and the test, therefore, is to make sure that the world economy moves on the path of recovery and no one is left behind. This is only possible if entire humanity is vaccinated.
He also touched upon India's contribution to Humanitarian Assistance and Disaster Relief (HADR) operations.
Defence Secretary Dr Ajay Kumar and Chief of Integrated Defence Staff to the Chairman Chiefs of Staff Committee (CISC) Vice Admiral Atul Kumar Jain and other senior officials also attended the meeting.