HENSOLDT's Xpeller counter-UAV system provides protection from the ever-increasing threat posed by over-the-counter drones, both in the military and the civilian sector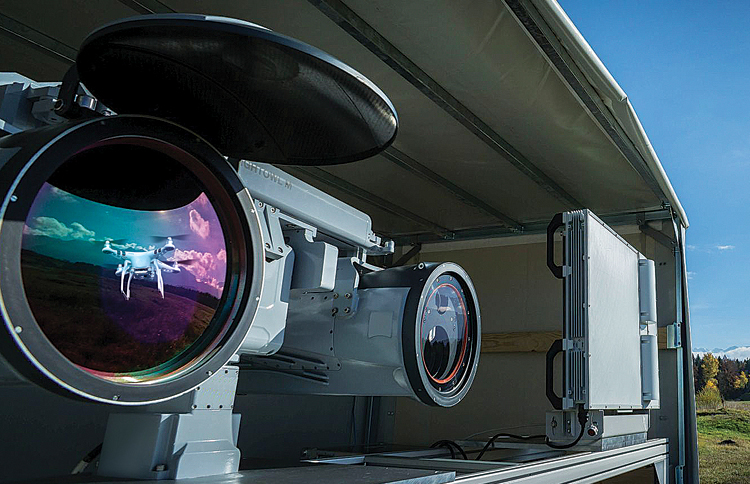 HENSOLDT's Xpeler counter UAV system
The growth of the drone market continues to accelerate, with demand for commercial and recreational use ever increasing. Insider Intelligence estimates that annual global sales will reach US$2.4 million in 2023. As legislative frameworks struggle to keep up with the advance of unmanned aerial technologies, threats associated with increased drone use also arise.
Small drones, often commercially available for just a few hundred dollars, can be converted into flying explosive devices, delivery systems or filming devices with little effort. Effective boundary management for new and existing airspace users is being increasingly challenged.
Countering such threats needs a smarter solution.
XPELLER – THE DRONE EXPELLER WITH MODULAR COUNTER UAV SOLUTIONS
The name Xpeller is derived from the idea of expelling an intruder. HENSOLDT has developed a modular and flexible counter UAV system by adding variety of sensors to detect and countermeasures to effectively neutralise the threat. The Sensors includes RF based director finders, radars and high resolution cameras. Countermeasure or Effectors includes Jammers and/or Drone Catcher. The System is modular and flexible enough to integrate 3rd Party Hard Kill solution. Overall, Xpeller is integrated, highly customizable and easy to operate system.
HENSOLDT has vast experience with a broad portfolio of sensors, effectors and sensor fusion that make up a complete Counter UAV system solution, deployed to support different requirements. In May last year, the Netherlands National Police used Xpeller C-UAV to secure Remembrance Day celebrations in Amsterdam against malicious un-authorised UAVs. In France, Xpeller was deployed for surveillance and security for a heads of government meeting. The applications for improved safety and surveillance are many, with solutions including both mobile and permanent deployment for law enforcement, military surveillance, border security, protection of critical infrastructure (such as dams and hydroelectric schemes), event security, site protection (such as oil rigs and government buildings), airport security, site situational awareness and even polar bear detection in Greenland!
High-resolution cameras and 360 degree awareness make it easier to determine whether there is a serious threat, ensuring early detection for decision making. The threat can then be addressed by choosing an appropriate countermeasure, reducing risks and costs with managing interference in surrounding air space.
WORKING TOGETHER ACROSS ALL BOUNDARIES
When it comes to preparing a security concept, HENSOLDT provides advice and recommendations, based on a comprehensive vulnerability analysis of the site, event or situation.
This allows a tailor-made system to be configured alongside the customer, optimally taking individual needs and the operational environment circumstances into context.
At HENSOLDT's India Office in Bengaluru, we are also cognizant about India's uncompromising focus on Military self- Reliance through 'Make in India' policy. Our proposed approach is to offer complete Xpeller solution framework to Indian customers. Through a joint development we could realize an Indigenous Counter UAV solution in the most practical and incremental way, for example in supporting Indian capabilities like Sensors or 3rd Party Hard Kill effectors with selected Xpeller modules.
Currently, HENSOLDT is demonstrating its Xpeller system to various potential India customers. Several trials have been conducted remotely and now preparations are on to field the system physically in India very soon. So far we have demonstrated jamming range of up to 10.4 Km for small drones.