The MiG-21's sheer numbers made it the mainstay of the IAF's combat fleet for around three decades, despite the induction of more modern combat aircraft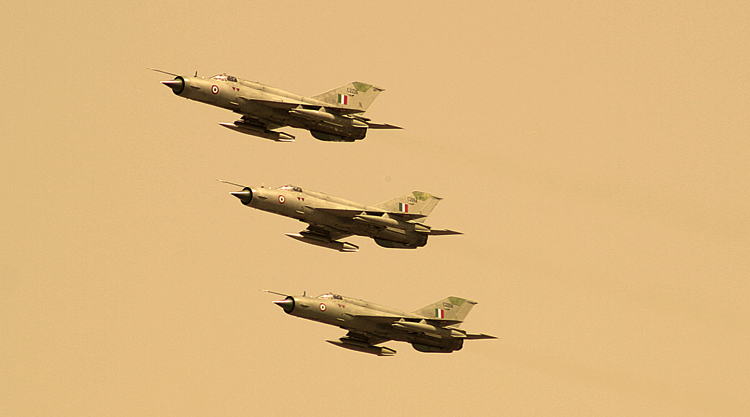 MiG-21! The very name attracts derogatory epithets such as "flying coffin" and "widow maker" from persons prejudiced by sensational media coverage of every unfortunate mishap. However, this iconic fighter jet also evokes admiration and nostalgia from countless Indian Air Force (IAF) pilots who have flown it. Whichever end of the spectrum one may favour, the undeniable fact is that this Soviet-designed and manufactured aircraft is the most produced supersonic fighter jet in the history of military aviation. The Mikoyan-Gurevich MiG-21 which first flew on June 16, 1955, has had a long production run from 1959 to 1985 besides later updates and modification. With well over 11,000 aircraft built, it has served with the air forces of around 60 countries in four continents, according to Wikipedia. And it continues in service with the IAF to this day.
The IAF's long tryst with the MiG-21 began when its first few MiG-21s were procured in 1964 from the Soviet Union. The 1962 war with China and growing hostility from Pakistan had lent urgency to efforts to rapidly scale up India's indifferent military capability despite its cash-strapped economy. The Soviet Union was willing to sell this fighter aircraft on extremely favourable terms and even agreed for licensed production by Hindustan Aeronautics Limited (HAL). Few could then have foreseen that over the next 25 years, a total of 874 MiG-21s would be inducted into the IAF. Of these, HAL built 657 aircraft in three variants – MiG-21FL, MiG-21M and MiG-21bis. No other fighter in the IAF's inventory has ever come close to these figures – the nearest being the Sukhoi Su-30 MKI with 272 produced so far. The MiG-21's sheer numbers made it the mainstay of the IAF's combat fleet for around three decades, despite the induction of more modern aircraft such as the Dassault Mirage 2000, the MiG-29 and the Su-30 MKI.
The MiG-21's designers successfully combined air defence and ground attack capabilities into a single platform. This was a lightweight fighter capable of achieving Mach 2 despite its relatively low-powered afterburning turbojet. The single nose air intake gave it simplicity and efficiency, but made it more vulnerable to engine flame-out due to bird ingestion. It also restricted the space for carriage of radar equipment, which accounted for the MiG-21's rather unimpressive radar capability and made it heavily dependent on ground control for effective interceptions. However, it could carry a decent weapon load for engaging targets on the ground.
The plane was smaller, faster and generally more manoeuvrable than most other fighter jets of the period. Thanks to its small size, it was hard to spot visually. The designers deliberately kept the jet's controls, engine, weapons and avionics simple so as to achieve remarkably low production and maintenance costs. Their aim was to fill the sky with thousands of cheap yet reliable MiG-21s – making it like the AK-47 of fighter jets. On the negative side, the visibility from the cockpit was rather bad. In combat, the MiG-21often needed deliberate manoeuvring just to keep the adversary in sight, irrespective of the tactical advisability of such manoeuvring. Airspeed easily washed off in high-G turns, making prolonged manoeuvring impossible. The limited internal fuel carrying capacity also made it a very short-ranged aircraft.
The most upgraded version of the MiG-21 is the IAF's MiG-21-93, also called the Bison. Its major airframe, weapons and avionics improvements include a far more capable radar and a helmet-mounted weapons sight. Armed with the high-offboresight Vympel R-73 short-range air-to-air missile, it can be a formidable adversary in close combat even against modern aircraft. It remains an effective combat machine and a potent adversary even today.
What about the IAF's MiG-21 accident record? Although precise figures are hard to access, over 400 of these planes have been involved in accidents that have claimed 200 lives during the last six decades. However, its grim reputation as a flying coffin has more to do with sentiments than reality. Considering its massive numbers and longevity, the frequency and sum total of accidents are bound to be high. Its legions of admirers believe that most of its troubles stem from the fact that it has been flown long past its utility to maintain IAF squadron strength since the Light Combat Aircraft Tejas project was delayed. Another reason was the lack of an Advanced Jet Trainer (AJT). Between the 1980s and early 2000s, young pilots trained on subsonic Kiran trainer aircraft had to make a sudden jump to supersonic MiG-21s on joining fighter squadrons. With the induction of Hawk AJTs in 2008, this source of accidents reduced.
MiG-21 Bisons are expected to be retired from IAF service by 2024. The MiG-21 will always occupy a special place in IAF hearts and history.