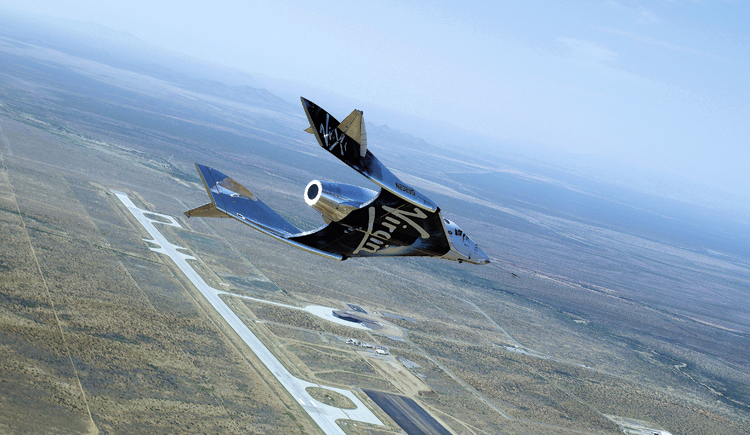 Less than two months since Virgin Galactic founder Richard Branson's first spaceflight, the company's future missions are on a halt. The US Federal Aviation Administration (FAA) has grounded Virgin Galactic while the agency investigates the off-course drifting of the spaceflight during its climb.
Branson flew aboard the VSS Unity on July 11, 2021 as the spaceship took its first fully crewed spaceflight. Deviation from the ship's course was noted during its descent back to the runway, which took the spaceship beyond the FAA's air traffic control clearance area. While the aerospace company accepted that the spacecraft dropped from the protected airspace, it stated that was for about a minute and 40 seconds due to high-altitude wind. Virgin Galactic insisted that it was a safe and successful flight, the pilots responded appropriately and no one on board was in any added danger at any point. However, the FAA is overseeing the probe and only after thorough investigation would it allow further missions since it is about people's safety. It is all the more important here because Virgin Galactic plans on taking civilians to space in the future and make space travel more accessible.
After the successful flight on July 11, Virgin Galactic had also announced a partnership with "Omaze and Space for humanity to inspire the next generation of dreamers" and had invited people to be a part of future spaceflights. Two additional test flights were planned before the company expects to commence commercial service in 2022.
However, just when the company announced its next research mission, the FAA ban came along. On September 2, 2021, Virgin Galactic announced the manifest for the next rocket-powered test flight of SpaceShipTwo Unity from Spaceport America, which will be the first commercial, humantended research mission for the Company.
Named the "Unity 23" mission, this would have been the 23rd flight for VSS Unity. The mission planned to carry three paying crew members from the Italian Air Force and the National Research Council. The goal of the mission is to evaluate and measure the effects of the transitional phase from gravity to microgravity on the human body. Other payloads to be on board would study the effect of the microgravity environment on a range of chemical and physical properties. "By testing and evaluating physiological and technological responses in sub-orbital flight, the mission aims to produce insights relevant to current and future spaceflight systems and technologies," the company had mentioned in the official release.
The company was targeting a flight window in late September or early October 2021, pending technical checks and weather. However, now unless FAA clears the company, no further flights would take place awaits go ahead after investigation.