With sustainability taking the centre stage, innovation emerging in many forms, some of the most advanced aircraft flying in, industry stalwarts inspiring the next generation, and discussions defining the path for the future, the event was a hand full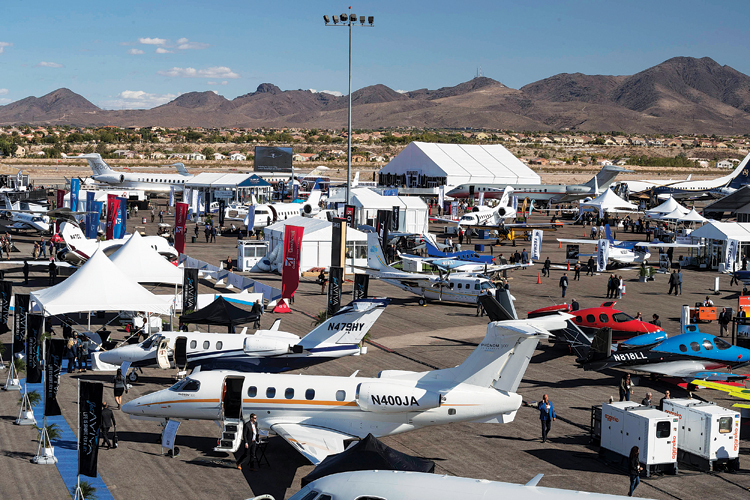 After the cancellation of its 2020 edition due to the COVID-19 pandemic, the biggest business aviation event, NBAA-BACE was back in its full glory from October 12-14 this year
Last year, the pandemic changed the landscape of the aviation industry in multiple ways. One of it was that major airshows and events were called off or they went virtual. These events have been a crucial part of the industry for announcements, networking, exposure, marketing and a lot more. After the cancellation of its 2020 edition due to the COVID-19 pandemic, the biggest business aviation event, the NBAA-BACE (National Business Aviation Association – Business Aviation Convention & Exhibition) was organised from October 12 to October 14 this year. Most industry experts gathered at the convention were optimistic about business aviation's future during the conference, with GE reporting record business aircraft engine usage rates, VistaJet documenting maximum charter sales, Airbus witnessing rise in orders for corporate helicopters, NetJets arriving amid surging demand, Honeywell predicting BizAv recoveries to reach pre-COVID levels and more. With sustainability taking the centre stage, innovation emerging in many forms, some of the most advanced aircraft flying in, industry stalwarts inspiring the next generation, and discussions defining the path for the future, the event was a hand full.
SUSTAINABILITY SIGNIFICANCE
Sustainability has been the centre of conversations and initiatives extensively through last couple of years. At NBAA too, industry leaders gathered to express complete confidence that business aviation will reach its net-zero emissions goal. They pledged to achieve net-zero CO2 emissions by 2050 while expanding on a set of bold climate commitments that were made a decade ago. These new ambitions build on the Business Aviation Commitment on Climate Change (BACCC) were made in 2009, when the industry said it would reduce carbon emissions 50 per cent by 2050, increase fuel efficiency two per cent per year from 2010 to 2020, and achieve carbonneutral growth by 2020.
NBAA, GAMA and I-BAC pledged the industry will cut its carbon emissions in half and achieve netzero CO2 emissions by 2050 as part of a renewed BACCC
At the convention, NBAA, General Aviation Manufacturers Association (GAMA) and the International Business Aviation Council (IBAC) pledged the industry will cut its carbon emissions in half and achieve net-zero CO2 emissions by 2050 as part of a renewed BACCC. The industry would continue its goal of increasing fuel efficiency two per cent per year between 2020 and 2030.
GAMA President and CEO Pete Bunce noted technology advancements would be a key component to reaching the BACCC's milestone, pointing to lighter materials, reduction of parts through additive manufacturing, propulsion innovation, aero-dynamic optimisation through composites, advanced alloys, skin coatings and active winglets as just some of the many areas where further improvements will have impact.
At the 2021 Business Aviation Sustainability Summit, held in conjunction with the 2021 NBAA-BACE, leaders from across industry, government, and other sectors, met to discuss ways to reduce business aviation's carbon footprint, including through the use of SAF. At the session 'SAF Forecast – A Supplier Perspective' leaders in this segment shared their views on how this fully capable, ready to use, low carbon fuel can gain wider adoption by business aircraft operators.

(Left) A Business Aviation Sustainability Summit was held in conjunction with NBAA-BACE; (Right) Advanced air mobility (AAM) vehicles was another hot topic during the show
Speakers at the Sustainability Summit also pointed out that sustainability has come a long way in a few short years due to the industry's commitment, growing demand from customers, and stakeholder interest in environmental, social and governance concerns. Today, the industry is driving the global sustainable aviation fuels (SAF) market, enhancing efficiency and using innovative market-based initiatives to reduce climate emissions as it pursues electric, hydrogen and other next-generation technologies that can be game changers in the future. The summit highlighted SAF as an important part of industry's sustainability push, with the potential to cut aviation's lifecycle carbon emissions by up to 80 per cent.
The US National Renewable Energy Laboratory's Zia Abdullah remarked it as an 'exciting time' for SAF because it can be made from a diverse set of sources, including food waste, algae and converting carbon dioxide to fuel. World Energy CEO Gene Gebolys positively highlighted that SAF's biggest obstacle has been demand, but now increased availability has caused demand response.
In addition to the climate announcement and the summit, sustainability was featured throughout NBAA-BACE. The convention's carbon-offset programme was a highlight that made the show one of the world's largest carbon-neutral events, as more than 100 exhibitors signed a Green Pledge to limit their environmental footprint at the convention. Apart from the carbon-neutralising, a major spotlight was the fact that flights in and out of Las Vegas flew on SAF. Embraer, for instance, flew the four aircraft it showed this week at the NBAA-BACE static display on sustainable aviation fuel (SAF) or its equivalent using book-and-claim.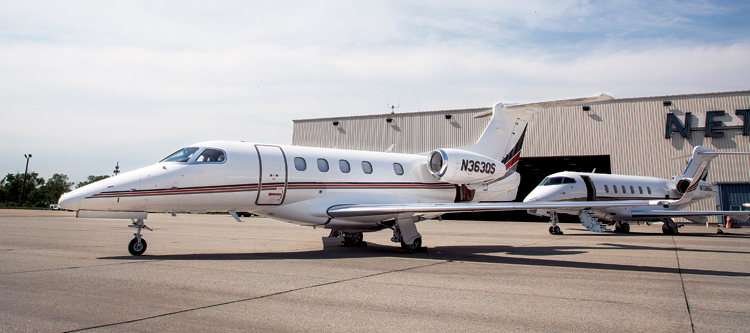 Embraer and NetJets signed a continuing deal for up to 100 additional aircraft
There's also NBAA's Sustainable Flight Department Accreditation Program which is identifying business aviation organisations that are meeting exceptional environmental sustainability standards. The goal of this accreditation programme is to further advance a sustainability culture in the business aviation community.
SAFETY STANDARDS
This NBAA event also focused a lot on the different aspects and importance of safety standards. The 2021 NBAA National Safety Forum emphasised the importance of promoting professional attitudes across the industry through a seminar themed 'Leadership and Professionalism: The Keys to Improving Aviation Safety.'
During the seminar, National Transportation Safety Board (NTSB) investigator Fabian Salazar presented a summary of the board's findings into the January 2019 helicopter crash near Calabasas, CA that claimed the lives of the pilot and eight passengers, including NBA star Kobe Bryant and his daughter. It was highlighted that among the probable factors was the pilot's strong desire to complete the mission for a valued client – a positive attitude that drove a negative outcome.
When it comes to safety, there was also discussion on business challenges of small flight departments. NTSB Vice Chairman Bruce Landsberg provided an update on recent Part 91 accidents and shared what small flight departments can do to decrease the accident rate at the NBAA Small Operator Symposium.
Embraer and NetJets, signed a continuing deal for up to 100 additional aircraft, in excess of $1.2 billion
NBAA Senior Vice President of Safety, Security, Sustainability and International Operations Doug Carr shared some of the association's current initiatives, noting the top five advocacy pillars of safety, infrastructure investment, sustainability, innovation and workforce diversity, equity and inclusion.
The Federal Aviation Administration (FAA) came forth to share some major safety standards to be informed about. The FAA next fall is expected to release a notice of proposed rulemaking requiring all Part 135 operations to develop and implement a safety management system (SMS).
Of 2,000 Part 135 operators in the US – many of which, Carr noted, are single-pilot, single-aircraft operations – just twenty have completed the FAA's SMS for Voluntary Program (SMSVP) that offers a probable roadmap for the upcoming rule.
All presenters agreed that a properly implemented SMS can yield real safety benefits to any flight operation if scaled appropriately to its size and scope.
NBAA's Safety Committee also issued its annual update recently of some major safety concerns. One area of the committee's 2021/2022 focus is preventable accidents. This was broken down into three primary categories: loss of control in flight (LOCI), runway excursions (RE), and controlled flight into terrain (CFIT) which have been discussed in details.
ATTRACTIVE ANNOUNCEMENTS
Keeping up with the tradition, some major business aircraft and products were announced at the NBAA-BACE 2021 including transcontinental HondaJet 2600; a Challenger 3500 from Bombardier; Next Generation Citation aircraft Textron Aviation; and the public debut of a mockup of the Falcon 10X from Dassault Falcon. Apart from these aircraft, Honeywell's lighter and more user-friendly Anthem flight deck was also introduced at NBAA-BACE.
Embraer and NetJets' Deal: Embraer and NetJets, Inc. signed a continuing deal for up to 100 additional aircraft, in excess of $1.2 billion. As part of the deal, NetJets will begin taking delivery of the Phenom 300E in the second quarter of 2023, in both the US and Europe. Embraer has already delivered over 100 Phenom 300s—one of NetJets' most requested aircraft.
HondaJet 2600: Honda Aircraft Company proposed the HondaJet 2600 Concept to meet the needs of the next era of aviation. The HondaJet 2600 can fly nonstop transcontinental flights across the United States, with a maximum cruise speed of 450 knots and maximum ceiling of 47,000 feet. The HondaJet 2600 Concept has a spacious cabin suited for long range travel, with seating for up to 11 occupants. It claims of featuring generous legroom, the tallest cabin height, and a class-leading cabin altitude of 6,363 feet.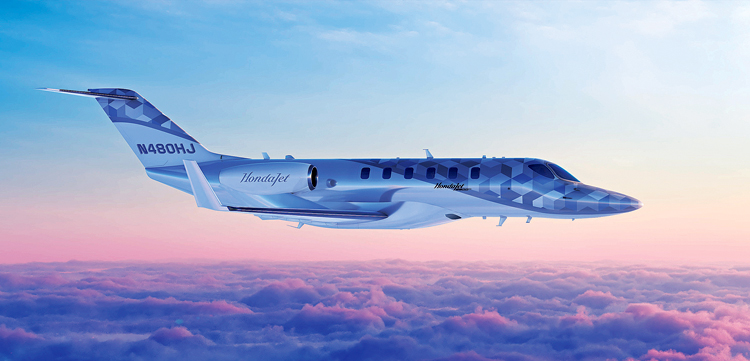 Honda Aircraft Company Unveils HondaJet 2600 Concept at NBAA 2021
Bombardier Challenger 3500: The Challenger 3500 aircraft boasts of the most technologically advanced cabin in its class and introduces productivity enhancing features such as the industry's first voice-controlled cabin and the revolutionary Nuage seat. Passengers will benefit from one of the lowest cabin altitudes in its class at 4,850 feet. It climbs quickly and directly to 43,000 feet (13,106 m) sitting well above commercial air traffic and adverse weather conditions while boasting an impressive top speed of Mach 0.83.
Cessna Citation M2 Gen2 & XLS Gen2: Textron Aviation announced the next generation Cessna Citation M2 Gen2 and Cessna Citation XLS Gen2 business jets. A thoughtfully designed aircraft from front to back, the M2 Gen2 is said present an enhanced cabin experience that includes premium interior styling, ambient accent lighting, re-mastered illuminated cup-holders and additional in-flight accessible storage. In the cockpit, three inches of legroom has been added to the co-pilot position for enhanced comfort. While apart from modern design elements, the XLS Gen2 also features a state-of-the-art intuitive wireless cabin management system. The M2 has a range of 1,550 nm with a capacity of seven passengers and the XLS comes with a range of 2,100 nm holding the capacity for 12 passengers. The company is now taking orders for both new models with deliveries expected to begin by the end of first quarter 2022 for the Citation M2 Gen2 and second quarter 2022 for the Citation XLS Gen2.
Dassault Falcon Jet 10X: Dassault Aviation displayed a full-scale cabin mockup for the new Falcon 10X ultra-longrange twinjet at the NBAA-BACE convention. After the show, the mockup will remain in the US for individual customer tours. Compared to a flying penthouse due to its spaciousness and homelike ambience, the 10X cabin is endlessly customisable. The 10X cabin is 6-feet, 8-inches (2.03 m) tall and 9-feet, 1-inch (2.77 m) wide, a larger cross section than some modern regional jets. Detailed design for the 7,500 nm, Mach 0.925 jet is scheduled to be completed before year-end, with parts production beginning in 2022. Rolls-Royce meanwhile is developing the latest and most powerful variant of its ultra-efficient Pearl engine series to power the new aircraft. Pearl 10X will be rated at more than 18,000 pounds of thrust and be 100 per cent SAF capable.

(Left) Bombardier Challenger 3500 boasts of the most technologically adva nced cabin in its class; (Right) Next generation Cessna Citation M2 Gen2 and Cessna Citation XLS Gen2 business jets from Textron Aviation
Honeywell Anthem Flight Deck: Honeywell's new Anthem Flight Deck made its debut at 2021 NBAA-BACE. The cockpit is lightweight, always on, cloud-connected and packed with features. The Anthem flight deck's Mission Manager provides a simplified view for pilots, with information presented in a time-based format, designed to show 'what's next.' A secure browser takes advantage of full-time connectivity and delivers information in an electronic flight bag (EFB) format on a center screen visible to both pilots. Anthem also features 3D Runway Overrun Alerting and Awareness System (ROASS) to improve both approach safety and safety after touchdown.
ATTENTION ON THE AAM
Advanced air mobility (AAM) vehicles was another hot topic during the exhibition. AAMs right now face excitement and skepticism in equal measures from the customers. However, noting the advancements, Chris Rocheleau, Acting Associate Administrator for aviation safety at the FAA, believes the first commercial AAM vehicle could be certified as soon as late 2023. This timeframe places significant pressure on the agency to have a regulatory framework in place for the complex airspace system of the future.
While much of the focus on AAM has been on commercial uses, the US Department of Defense (DoD) is also looking closely at potential military applications, said Col. Martin Salinas, Chief Operating Officer for AFWERX, the USAF advanced technologies programme.
Apart from the carbon-neutralising, a major spotlight was the fact that flights in and out of Las Vegas flew on SAF
Sensitivity to the commercial use case as well as the differences in methods of lift, propulsion and control call for the need to have a system to let safe and predictable functioning possible in the national airspace system. Companies developing advanced air mobility (AAM) vehicles are energised by the possibilities the technology offers, and by how close the industry is to realising its promise within the next few years.
That said, a number of challenges remain, from battery capacity to community acceptance and the lack of a current regulatory framework to govern AAM operations. Infrastructure to support AAM flights remains another limiting factor, even when operating – at least initially – from established airports.
Despite these challenges, the AAM revolution appears likely to begin in the coming years, and panelists encouraged attendees to join the movement.
The panelists noted that this shift has been driven by companies like Kitty Hawk, an AAM developer launched in 2010 by Google co-founder Larry Page. The company's 'Heaviside' vehicle uses 1/3 the energy to travel one mile than a Tesla Model 3 sedan, noted CEO Sebastian Thrun.
There were also discussions around the limitations that are hindering the widespread deployment of UAS commercial operations in the US Integrating safely with the more complicated airspace in the US came out to be one of the greatest challenges. The experts said lack of regulations to allow operations beyond visual line of sight of the operator is one of the biggest impediments to full-scale deployment of domestic operations. While detect-and-avoid technology has advanced significantly, and successful solutions exist now, getting the technology approved by the FAA is another hurdle.
Panelists said one key to working through regulatory challenges is to lean on precedent. Enhanced flight vision systems, RVSM and other relatively recent developments now in approved use provide a pathway for working with regulators.
Delays in FAA aircraft certification processes are also an impediment to broad use of UAS for commercial uses. Evans explained current projects in the works are driving new certification processes, and he is hopeful that lessons learned during these projects will be implemented by the FAA for future projects.
From battery capacity to community acceptance and the lack of a current regulatory framework to govern AAM operations, a number of challenges remain
It was also pointed out that while these challenges exist, widespread UAS commercial operations are just not an entirely economical solution. Nevertheless, manufacturers, operators and other stakeholders will continue to work with regulators and policymakers to meet these challenges and realise full-scale UAS commercial operations are a reality, panelists said.
Alongside this there were also displays of electric vertical takeoff and landing (eVTOL) vehicles, including Opener's single-seated Blackfly eVTOL making its first public flying appearance. This was NBAA-BACE's largest eVTOLs exhibition with names like Bell, Honeywell, Jaunt AirMobility, Kitty Hawk, etc taking part.
TAX CONFERENCE
As existing business aircraft users navigate the post-pandemic financial environment and new buyers enter the industry, the 2021 NBAA Tax, Regulatory and Risk Management Conference emphasised the importance of not cutting corners when considering tax and ownership liabilities on aircraft purchases and use.
FAA next fall is expected to release a notice of proposed rulemaking requiring all Part 135 operations to develop and implement a safety management system
Taking place ahead of the 2021 NBAA Business Aviation Convention & Exhibition (NBAA-BACE), the conference examined the latest tax and regulatory issues affecting the industry, as well as common 'myths' believed by both new and seasoned business aircraft users that could expose them to significant tax liabilities, and even legal action, down the line.
Sessions also examined the complexities of immediate expensing; tax and regulatory compliance for non-business use or operating under Part 91; how to properly structure an aircraft lease; and applicability of federal excise tax (FET) on passengers, among other topics.
Incoming NBAA Tax Committee chair David Hernandez, of Vedder Price PC, opened the conference by lauding its more than 200 attendees for their significant role in navigating the COVID-19 crisis and ensuring business aviation interests were represented in federal stimulus and tax relief programmes.
AVIATION'S FUTURE IN FIRST-EVER NEWSMAKERS PANEL
The inaugural NBAA Business Aviation Convention & Exhibition (NBAA-BACE) 'Newsmakers' luncheon featured business aviation visionaries and entrepreneurs who shared their forecasts on the industry's post-COVID future and where they believe business aviation will be in 20 years.
While all were bullish on the industry's continued growth, panelists George Antoniadis, Kenny Dichter and Kenn Ricci expressed varying degrees of optimism for the industry's ability to sustain and even exceed its current growth rate of 5-7 per cent, fueled by ongoing demand in the COVID environment.
Dichter, the founder and CEO of Wheels Up, said he expects on-demand business aircraft options that exceed current fractional and jet card programmes to the point it will eventually be as easy to get an airplane as it [is] to order a pizza. 'That easier access will draw in the 90 per cent of potential customers who still haven't explored private aircraft travel,' he said.

(Left) Compared to a flying penthouse due to its spaciousness, the Dassault Falcon 10X cabin is endlessly customisable; (Right) Honeywell's new Anthem Flight Deck is lightweight, always on, cloud-connected and packed with features
Not sharing the same level of optimism, PlaneSense Founder and CEO Antoniadis countered 'I agree that there are different methods of delivery and you are doing a very good job with that. But I also think that the backbone of what we do is....call it the traditional aviation economy.'
When prompted by moderator Miles O'Brien to predict where business aviation will be in 2041, Ricci said he foresees 'a rapidly consolidating market' with four major providers of fractional and charter aircraft options.
While Antoniadis said he'll be satisfied with far more measured growth, acknowledging that near-future options such as advanced air mobility and other new technologies could draw in new customer markets.
OWNER/SINGLE-PILOT PAVILION
For the first time, NBAA-BACE featured an Owner/Single-Pilot Pavilion at the outdoor aircraft display to bring together a key part of the business aviation community in a new way. The pavilion came out as the place for single-pilot operators to connect with their peers and engage with useful, relevant content designed specifically for this key part of the industry. The pavilion featured a showcase of owner pilot associations, presentations from OEMs and suppliers and more.
'Owners and single pilots are a meaningful and relevant part of the business aviation sector. By bringing this community together at NBAA-BACE in a dedicated pavilion, we can showcase these growing groups and provide useful information regarding their operations,' said Andrew Broom, NBAA senior vice president of strategy, marketing and innovation.
The 2021 NBAA-BACE certainly stood out as one of the most impactful shows ever, especially after the past year of the pandemic. The event proved to have galvanised the industry behind an era of strong growth, innovation and a commitment to sustainability.