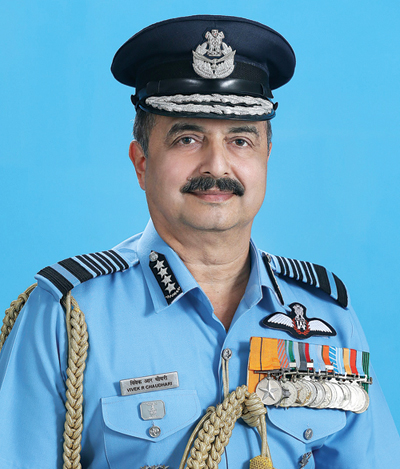 Air Chief Marshal V.R. Chaudhari, Chief of the Air Staff, Indian Air Force
SP's Aviation (SP's): The Air Force needs to be ready for all eventualities at all times. As the leader of the force, how do you ensure absolute readiness–
Chief of the Air Staff (CAS): The IAF is a technology intensive potent force. Over the years we have embraced rapid technological changes around the globe and have been procuring new age war fighting machines. We in the IAF strongly believe that no matter how large and superior the weapon inventory maybe, the men and women operating them will decide the outcome of any war. Therefore, training of men and women in IAF is an important aspect. We have in place rigorous training schedules for Op oriented tasks and roles for each and every individual. IAF training philosophy has evolved over the years and primarily focuses on skilling Air Warriors in their respective domain so that they can effectively undertake the envisaged tasks with high degree of professionalism. The training curriculum is also restricted to reflect the requirements of new technologies being inducted.
"IAF is on the path of transformation. We are in the process of enhancing our assets with modern aircraft, weapons and ground systems."
IAF is on the path of transformation. We are in the process of enhancing our assets with modern aircraft, weapons and ground systems. We also need to maintain and exploit the existing inventory of systems. IAF's focus is on procurement of assets that are interoperable in nature. In addition, to enhance and ensure our operational capability, we have integrated all our assets digitally and have modified our logistic procedures and maintenance practices through various automation tools. We have been able to achieve high Battlefield transparency through effective material management procedures and Control & reporting mechanism operating over a robust and secure network. All our efforts provide us with a quick and effective response capability to undertake multi-domain operations.
SP's: Focus on Soft Power –

Artificial intelligence (AI)

There is a lot of development on the AI (artificial intelligence) front in aerial warfare like UCAVs, drone swarms, manned/unmanned fighters, etc.
What role do you foresee AI playing in meeting the future objectives of IAF?
CAS: The IAF has seized the initiative to harness strength of AI to enhance our op capability. This powerful tool is being integrated with the ongoing automation processes across various verticals in the IAF. We are in the process of utilising AI tools and predictive analysis features in creating combat warfare applications, wherein data from various sources will be fused to provide overall visibility in time and space and aid decision making ability to commanders. We are also in the process of employing AI applications in the field of asset management and resource utilisation.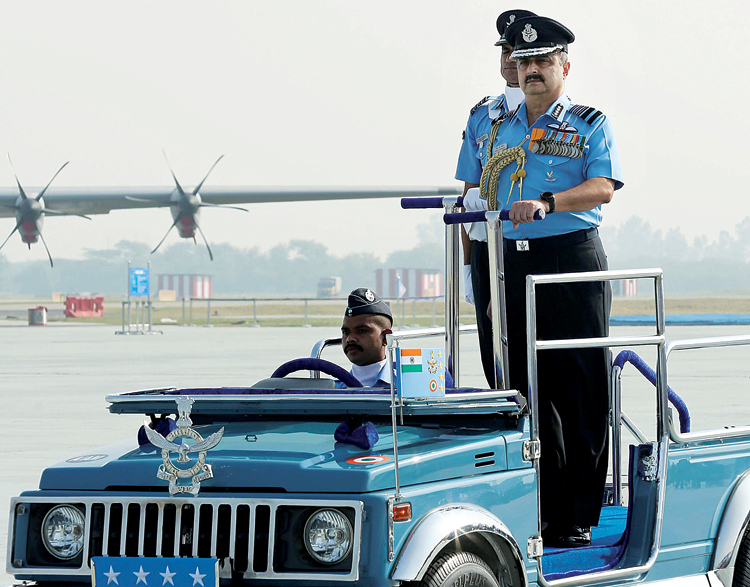 Air Chief Marshal V.R. Chaudhari reviewing the parade during Air Force Day Parade, at Air Force Station Hindan on October 8, 2021
IAF is focusing on use of AI in enhancing situational awareness through multi-platform - multi-sensor fusion in a Network Centric Operation environment. Towards this, AI modules are being integrated in the upgrade projects of Command and Control system. AI tools have already been integrated on the ELINT applications for generating accurate Electronic Order of Battle and are being fused with image interpretation and analysis tools to enhance targeting data. We are in the process of fusing AI onto the existing maintenance and logistics management tools.
Electronic Warfare (EW)

How equipped and capable our Air Force is, on the front of EW (Electronic Warfare)?
How does it compare with our country's unpredictable neighbours?
CAS: Policy. Electronic Warfare (EW) operations play a decisive role in ensuring victory in modern day combat. The dominance over the Electro-Magnetic (EM) spectrum would play a key role in deciding the outcome of war. EW starts much before the actual conflict. It is an invisible yet potent force enabler. Recognising this, IAF has continuously strengthened its EW disposition through upgradations, procurements, training and optimum exploitation of the EW assets. Over the last decade, IAF's policy has been to upgrade its inventory with Integrated EW solutions. Upgrade of Mirage fleet and new inductions like Rafale, Chinook, Apache, Akash Missile System and MRSAM are testimony to this.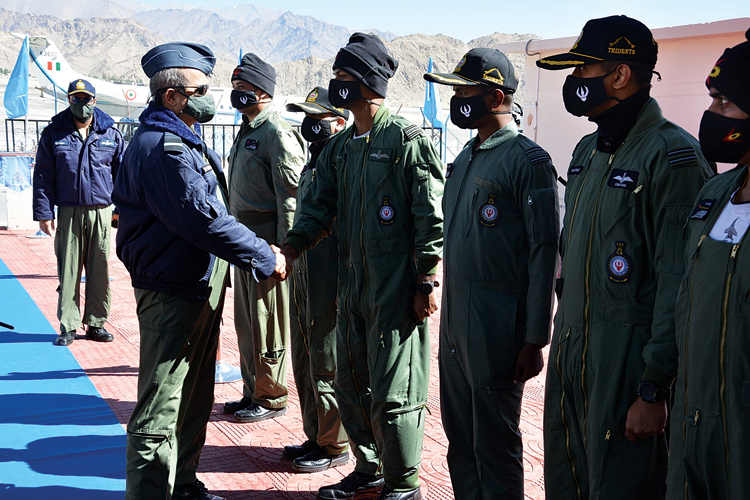 Air Chief Marshal V.R. Chaudhari meeting air force officers during his visit to Air Force Station, Leh in ladakh.
Training. "You should train the way you would fight". Since then, the focus of IAF has been to enhance and maintain operational preparedness in EW operations. Training courses at various levels are being conducted to enhance skill levels across all the platforms.
Utilisation. EW is a niche field and it takes considerable time to develop expertise. Various procedures are in place to facilitate skill development and retention of trained personnel for gainful utilisation in the EW domain. EW cells have been created at each combat unit in the field to comprehend and make use of EW aspects.
EW Capabilities of PLAAF. South Asia is witnessing quite a lot of EW activity. Both India and China have Integrated Air Defence Systems with various types of Radars, sensors, SAMs and AWACS. China is known to have dedicated EW aircraft and Anti-Radiation Missiles which are integrated with their fighter aircraft. They have potent ECM equipment onboard the fighters in addition to a large number of Ground based EW Regiments.
"IAF training philosophy has evolved over the years and primarily focuses on skilling Air Warriors in their respective domain so that they can effectively undertake the envisaged tasks"
The IAF over the years has gained considerable experience in generating effective active ECM techniques, as the IAF has Fighters, Radars and SAM systems of diverse origins in its inventory. Most of the weapon systems with China are of similar design and we have been able to refine our EW techniques based on our knowledge of their systems. Since we participate in bilateral exercises with many Air Forces of the world, we therefore consider ourselves to be experienced in operating in a real EW environment.
EW Capabilities of PAF. PAF has acquired advanced EW capabilities and AWACS aircraft to conduct EW and to support the command and control of air battle. In 1987, PAF equipped most aircraft with an electronic warfare suite to support PAF fighter aircraft. IAF was dependent on jammers for protection which were usually heavy and reduced the range and weapon capacity of an aircraft. However, with the induction of Su-30 MKI and Rafale aircraft and upgrade of M2000 and MiG-29, there has been a paradigm shift in the operational scenario and today IAF has adequate potential to counter EW capabilities of PAF.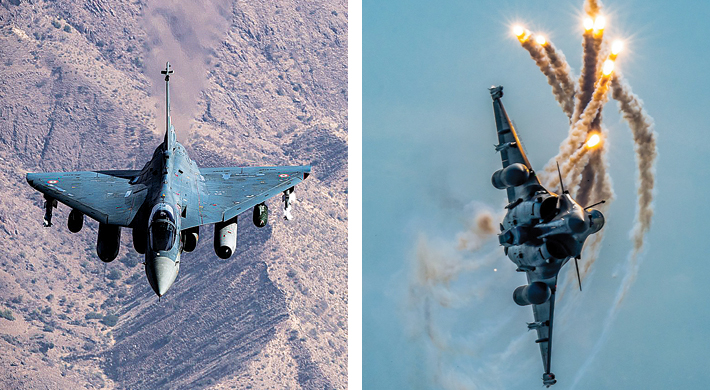 Indian Air Force is the fourth largest air force in the world. Its repertoire of ass ets include some of the most modern aircraft like the Rafale (seen on the right) along with indigenously developed platforms like the LCA Tejas (seen on the left). Besides strengthening national security and peace, IAF renders yeoman service during humanitarian ass istanceand disas ter relief operations in the country
Against PAF AWACS capability, India already possesses AWACS and now has the newly inducted NETRA aircraft built by DRDO which is very potent and a proven platform. In order to maintain an edge over adversaries, we have been continuously working to improve our EW capability, mainly with indigenisation process under the Government of India's initiative "Atmanirbhar Bharat" initiative.
Cyber Warfare

Does the IAF have a roadmap to imbibe and build Cyber warfare capabilities?
Are you looking at working more closely with Research institutes and the Private sector for the development and training on such new technologies?
What is the latest on a Cyber Command for the Armed Forces?
CAS: IAF has always been inclined towards accepting modern digital technologies. The more we adapt to digital environment, the more important it becomes for us to plan for cyber security. We have a well defined architecture which helps in building up cyber warfare capabilities as we keep progressing into an integrated network centric enabled fighting force. IAF views cyber operations as an integral part of all military operations as well as in all our daily routine activities. We are continuously working to upgrade these capabilities at all times.
Yes, IAF does believe in working closely with various government, public and private research agencies, institutes, industry and academia to enhance our cyber capabilities. At present, IAF is engaged with various agencies and technical institutes such as DRDO, IITs and National Forensic Science University (NFSU) to develop and build niche technologies in the field of AI and cyber security.
GoI has established Defence Cyber Agency (DCyA) which is fully operational since 2019. All the three services have their respective cyber groups which are also fully functional. The Service cyber groups frequently interact with DCyA and many other Government agencies to share information as well as best practices.
Network-Centricity

How do you perceive this requirement of being able to fight a Network Centric Warfare?
Are we there yet in terms of being able to fight a truly Network Centric Warfare?
CAS: Air Power has the unique ability to operate in all four domains, space being the new frontier. This responsiveness of Air Power is a direct factor of information availability whilst maintaining its integrity and confidentiality. Air Power is data intensive with multiple sensors feeding as well as extracting information from the network. The sensors vary from Radars (Airborne and Ground Based), Guided Weapons (Air launched and Surface Launched), Data-link (Air-Air and Air-Ground), Communication (voice and Data), Satellite based data and similar data from other services. The ability to assimilate the entire data, derive meaningful information for individual combat asset and disseminate that information defines the Network Centric capability.
"IAF is focusing on use of AI in enhancing situational awareness through multiplatform - multi-sensor fusion in a Network Centric Operation environment"
IAF has a strong and robust Op network in the form of Air Force Network (AFNET). In today's age of cyber dominance, availability of this stand-alone network coupled with automation enables IAF to maintain real time information on Operational and Maintenance aspects which will prove to be critical in the future conflicts. AI based software developed in house by the IAF is already being utilized that has enhanced our Op Capability. Indian Air Force will continue to keep pace with the present day and future requirements.
SP's: China is actively pushing developments on the Space front.
Is our Air Force happy with the current A-SAT capabilities or actively pursuing more?
What is the status with the formation of the Space Command?
CAS: 'Mission Shakti' demonstrated India's ASAT capability in March 2019. It was a capability demonstration of Kinetic kill weapon, which physically destroys the space asset of adversary. However, the kinetic ASAT weapons create lot of space debris, which could be detrimental to our own satellites and other human inhabited space stations. Therefore, the emphasis is on soft-kill.
ASAT capabilities such as LASER dazzling High Energy LASERs, Directed Energy Weapons (DEW), Jamming/Spoofing Capability and Cyber attacks.
In addition to having ASAT capability, it is very important to have the ability to identify a discriminate ASAT attack. Space Situational Awareness (SSA) is a fundamental element of space security for conducting counter space operations and at the same time safeguarding our space resources. Therefore, the emphasis is also to improve indigenous capability to observe, track, and identify non-cooperative objects in space.


Air Chief Marshal V.R. Chaudhari holding bilateral discussions with various leaders and air chiefs:
(Clockwise from Top left) calling on Republic of Korea's National Defence Minister, Suh Wook; with Dr Mohamed Nasser Ali Al Zaabi, Secretary General of the Ministry of Defence, Oman; meeting Brigadier General D. Xavier Julián Issac, Chief of Staff, Argentinian Air Force; in talks with Lt General Wiseman Simo Mbambo, Chief of the Air Force, South African Air Force (SAAF).
Although, India has steadily progressed in the civilian space programme, its military counterpart has seen sluggish growth. The concept of Tri-Services Space Command has been on the drawing board for some time now. A start was made by creating the Defence Space Agency (DSA), which is moving forward to develop capabilities for exploitation and protection of space based assets. Creation of DSA is the initial step towards formulation of a dedicated Space structural set up for Defence Forces. It is envisaged that eventual expansion of DSA into a Space Command would lend the desired mission-mode approach to expedite realisation of all futuristic space defence requirements.
SP's: Pilots' Training: With a gradual shift towards more modern and sophisticated platforms like Rafale, MRFA, AMCA and others.
What changes are being brought in the training of the pilots to ably handle these platforms?
The changing spectrum of aerial warfare.
CAS: The Training pattern of IAF has evolved to three stages, which has enabled acquisition of requisite skills by pilots before they reach operational squadrons. Additionally, pilots of all streams of IAF now have approximately 100 hrs of fixed wing flying prior to trifurcation into Fighters, Transport and Helicopter streams, which aids in optimal allocation of streams to each pilot. Induction of modern trainers like Pilatus & Hawk has also helped. There is also a greater emphasis on use of simulators since modern aircraft are systems intensive.
Seamless integration of synthetic training by use of simulators has enabled the IAF to impart realistic training to pilots, exposing them to conditions that are not possible to be simulated during actual flying. This facet of training enhances the quality of training while enabling trainee pilots to thoroughly imbibe the capabilities provided by advancement in technology. This helps them in exploiting similar systems later in their progression onto modern aircraft.
SP's: Support to Industry –
How involved is the IAF with DRDO/ADA and HAL in the development and manufacturing of aerial platforms?
Also, how closely does IAF work with India's private sector in concretising the upcoming solutions for their requirements?
CAS: With the aim of reaching out to Indian Aerospace and Defence Industry and MSMEs for sharing requirements of indigenisation of the IAF has initiated multiple steps like-
Outreach Programmes. The Directorate of Indigenisation of IAF has been actively participating in various seminars/webinars and has participated in Industry Interactive Webinars hosted by PhD Chambers of Commerce Industry (CCI), Associated Chambers of Commerce and Industry of India (ASSOCHAM), Society of Indian defence Manufacturer's (SIDM), Tamil Nadu Industrial Development Corporation Limited (TIDCO). The concerns of the MSMEs are discussed along with the probable way ahead during the course of the webinars. Annual Indigenisation Seminar INDISEM is conducted by Directorate of Indigenisation in association with SIDM. Additionally, each Base Repair Depot (BRDs) of IAF is conducting symposiums at regular intervals for benefit of Indian defence industries.
MoUs with Labs/Institutes. IAF has signed MoUs with National Aerospace Ltd (NAL) and National Metallurgical Lab (NML), Jamshedpur for cooperation and promotion of research and development in areas of mutual interest. Further, six MoUs have been signed during the Bandhan event held on the sidelines of Aero India 2021 with Society of Indian Aerospace Technologies and Industries (SIATI), MAKER's Village, CODISSIA & Atal Innovation Centre, Uttar Pradesh Expressways Industrial Development Authority (UPEIDA), Tamil Nadu Industrial Development Corporation Limited (TIDCO), and Society of Indian Defence Manufacturers (SIDM).
Web Portal in Indian Air Force Webpage. IAF has modified its official web page to share information pertaining to indigenisation in IAF such as contact details, RFP/RFI data, CEMILAC and DGAQA procedures etc which is being updated regularly.
Srijan Defence Web portal. In support of the newly created website launched by the MoD viz., www.srijandefence.gov.in, IAF has uploaded a list of spares that are under import range and also under manufacture.
Aero India 2021. An indigenisation stall was set-up by IAF during Aero India 2021. The stall showcased the entire indigenisation requirements of IAF which was visited by approximately 300 vendors.
Vendor Interaction. Firms showing interest for indigenisation of spares are regularly being invited to the Directorate of Indigenisation. During the interaction, the vendors are briefed on the role of the Directorate and the indigenisation requirements, procedures and role of certification and qualification agencies. The vendors are also briefed on the various Government initiatives such as Make-I, Make-II, iDEX, Technology Development Fund scheme and Srijan defence portal. Drive for vendor registration and participation has resulted in registration of approximately 1,000 vendors who are supporting IAF in its indigenisation programme.
Indigenisation of Spares. Indigenisation of spares and development of in-house technology for Maintenance, Repair and Overhaul of aggregates are key areas wherein ample opportunities are being fielded for the Indian industry and MSMEs. Indigenisation of complex spares, import substitution, High Failure Rate Aggregates (HFRA's), aircraft Tyres, Tubes and Batteries is being undertaken in a big way.
IAF is fully supporting Aeronautical Development Agency (ADA) in the design and development of AMCA. The focus is to incorporate contemporary sixth-generation capabilities in terms of technologies and sensors in our fifth generation platform. This would involve a huge involvement by DRDO and the industry in terms of advanced R&D in airframe, systems, structures, weapons and incorporation of AI.
The order for 83 Light Combat Aircraft (LCA) has been awarded to Hindustan Aeronautics Limited (HAL). Aircraft deliveries are likely to start in early 2024. We are committed to provide necessary support to HAL in realisation of LCA programme.
IAF has prepared a roadmap for induction of RPAs to meet both the short term and long term operational requirements. Efforts are also being made to indigenously design and develop RPAs to meet the stated requirement and work for development of armed Drone technology by DRDO utilising the experience of TAPAS BH-201 is under progress. Project for design and development of MALE RPA by ADE, DRDO has been approved by CCS. DRDO is progressing the project as Technology Demonstrator focusing on futuristic and technologically advanced RPAs. The system is being made for all the three services.
SP's: Key Programmes.
Multi-Role Fighter Aircraft: What is the current status of the MRFA programme and what kind of timeline is being looked at to conclude this requirement?
Flight Refueller Aircraft: How is the FRA programme coming along:

When is this going to be concluded?
What is the total number of FRA being looked at?

As you did state that even in 15 years from now, it will be 35 fighter squadrons and that too will be with the best possible scenario, against the authorised number which is 42 and which appears to be little too far.

Are you satisfied with this? Is this scenario acceptable?
What are your plans in this context?
Would you like to share any wish-list on this front
CAS: IAF plans to induct six squadrons of MRFA in a phased manner. IAF is studying the responses to the RFI issued in April 2018 and the Air Staff Qualitative Requirements for the current proposal are being finalised prior to seeking Government approval. The case will be progressed as per Defence Acquisition Procedure – 2020.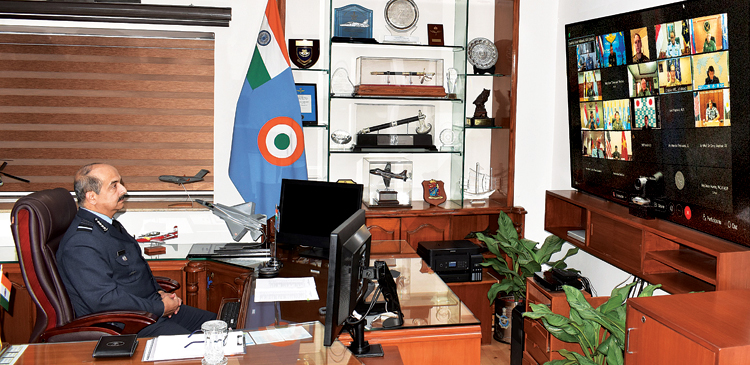 Virtual teleconference between the CAS and Air Chiefs of various Air Forces of the Indo-Pacific region
IAF is moving a case for procuring six FRA for meeting its operational requirements for which the Qualitative Requirements are being finalised. In the interim, to meet our current training requirements, a case is under progress to lease one FRA. RFI for wet lease was issued in March 2021 for which six vendors responded. Evaluation of same has been completed and the draft LoR is under process.
"IAF has always been inclined towards accepting modern digital technologies. The more we adapt to digital environment, the more important it becomes for us to plan for cyber security."
The IAF presently does not have its full complement of 42 authorised fighter squadrons. Many MiG-21 and MiG-27 Sqns were closed down as these aircraft completed their service life in the last decade. Some additional MiG-21, MiG-29 and Jaguar Sqns are slated for closure in the coming years. However, replacements have not come as required.
The process for replacement had begun early in the last decade. Induction of Rafale will be completed this calendar year (2022). Deliveries of LCA-Mk1A, which has been recently contracted, will start in 2024. Replacements for deficient Su-30 MKI and MiG-29 are being processed. Upgradation of existing Su-30, MiG-29, Mirage 2000 and Jaguar are being done with modern avionics and newer weapons. However, these will only partially offset the deficiency. IAF is processing the case for 114 MRFA to meet our operational requirements. Even after its induction, we will be able to reach only about 35 Sqns in the next 5-10 years.
IAF hopes for early induction of the much needed MRFA. We also expect timely development and eventual induction of 6-7 Sqns of the indigenous fifth generation Advanced Medium Combat Aircraft (AMCA).