In order to realise the Prime Minister's 'Make in India' initiative to achieve $5 trillion economy by 2024, defence has been identified as one of the prominent sectors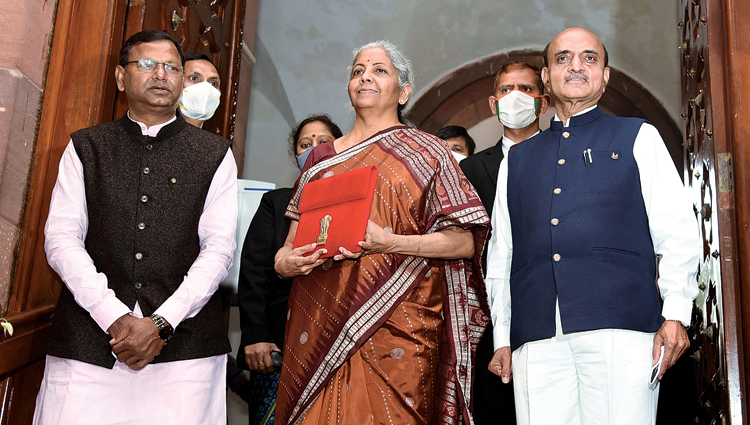 The Union Budget for Financial Year 2022-23, presented by Finance Minister Nirmala Sitharaman on February 1, 2022 has displayed continued focus on 'Atmanirbharta' in manufacturing of weapon systems in India
This year's defence budget comes against the rather uneasy geopolitical situation prevailing in India's neighborhood and globally. China's People's Liberation Army (PLA) stand-off at the Line of Actual Control (LAC) in Eastern Ladakh continues for the second year without resolution, despite series of high level talks. Pakistan continues its terrorist backed activities that are likely to get escalated in view of Taliban's victory in Afghanistan. Also, tension in Ukraine region is brewing, nudging India to take a stand either in favour of Russia or the United States. These factors require higher level of preparedness of Indian armed forces that need to be optimally equipped with modern weapons, platforms and systems, in effect, demanding enhanced financial resources. At the same time, requirement to nurture the process of economic recovery post the pandemic, places a competing demand on fiscal resources and presents a steep economic challenge. Well, for reasons such as these, Indian defence budget has always been a fine exercise in the art of balancing.
The Union Budget for Financial Year 2022-23, presented by Finance Minister Nirmala Sitharaman on February 1, 2022 has displayed continued focus on the modernisation of the Indian armed forces and defence security infrastructure development, including the border road infrastructure.
FACTS AND FIGURES
The Union Budget has a total outlay of 39.45 lakh crore for FY 2022-23. Of this, 13.13 per cent amounting to 5.25 lakh crore have been earmarked for Defence. This is 9.82 per cent increment over the Budget Estimate (BE) of FY 2021-22 of 4.78 lakh crore. Out of this, Capital Budget earmarked is 1.52 lakh crore, Revenue Budget is 2.33 lakh crore and Pensions stands at 1.19 lakh crore.
Of the Capital Budget, 32,015 crore is earmarked for the Indian Army, 47,591 crore for the Indian Navy and 55,587 crore for the Indian Air Force. 68 per cent of the capital procurement budget for defence has been earmarked for domestic industry to promote Aatmanirbhar Bharat and reduce dependence on imports. Defence Research and Development has been opened for the industry, start-ups and academia. 25 per cent of the Defence Research and Development budget has been earmarked for the purpose. An independent nodal umbrella body will be set up for meeting wide ranging testing and certification requirements. The Border Road Organisation's (BRO's) capital budget has been increased by 40 per cent.
ATMANIRBHARTA FOCUS
In order to realise the Prime Minister's 'Make in India' initiative to achieve $5 trillion economy by 2024, defence has been identified as one of the prominent sectors. In the last few years, several steps have been taken to create policy framework for domestic defence industry to flourish.
Thus, some policy reforms have been taken up as enablers in the last few years. These include, enhancement of foreign direct investment (FDI) in Defence up to 74 per cent by automatic route and 100 per cent through government approval; Corporatisation of Ordnance Factory Board (OFB) into seven Defence Public Sector Units (DPSUs); indigenisation through promulgation of Positive Indigenisation List of 209 items issued in December 2020 and 2021; creation of defence Industrial Corridor in states of Uttar Pradesh (UP) and Tamil Nadu (TN); procurement policy reforms by incorporating views of the industry and other stakeholders to revise and to bring into force the Defence Acquisition Policy (DAP) 2020, Defence Production and Export Promotion Policy (DPEPP) 2020, and draft Defence Procurement Manual (DPM) 2021; encouraging innovation through institution of Innovation for Defence Excellence (iDEX) awards are some of the steps that are possibly bringing encouraging results. These steps have acted as catalyst for India's self-reliance ambition. The Defence Budget 2022-23 has underlined India's quest for self-reliance with a focus on domestic defence industrialisation, R&D and creation of infrastructure.
LIKELY IMPACT
The Defence Budget accounts for 2.03 per cent of projected gross domestic product (GDP) for 2022-23, which is the lowest percentage wise in last few years.
In the capital budget, allocation for the Indian Army has been reduced by 4,466 crore to 32,015 crore. The Indian Navy has been allotted 47,591 crore, an enhancement of 44.5 per cent over the previous fiscal. This is in recognition of the requirement to enhance maritime security and support acquisition of new platforms. The Indian Air Force (IAF) has been allotted 55,587 crore, 10 per cent enhancement over the previous fiscal. However, this will be utilised towards committed liabilities of payments for procurement of Rafale aircraft, upgrade of the fleets of Mirage 2000 and Jaguar aircraft, upgrade and purchase of Su-30 MKIs and Light Combat Aircraft (LCA) Tejas fighters from Hindustan Aeronautics Ltd (HAL). Similar would be the state with the other two services.
Since last year, for the first time, a quota of 58 per cent was fixed for undertaking defence capital expenditure for procurement from Indian industry. It has been increased to 68 per cent for this year, amounting to 84,598 crore. This will go a long way in reducing dependence on imports. However, there is a requirement to carefully monitor its utilisation.
Private players in the Indian defence industry are likely to benefit from these policy initiatives. It can lead Indian arms industry from 'Make in India' to 'Make for the World', thereby making Indian defence industry to be a global defence equipment manufacturing hub. This will also benefit various SMEs and MSMEs that are part of the domestic industrial system. Defence manufacturing corridor in TN and UP will benefit. At the same time, there is no doubt that assigning a quota of funds for procurements through domestic industry is a good idea. However, it has to be ensured that it does not affect the combat capability of the Indian armed forces.
This year's budget has brought in the clause of including the private industry to take up the design and development of militaryplatforms and equipment in collaboration with DRDO and other organisations through the special purpose vehicle (SPV) model. Accordingly, 25 per cent of defence research and development has been set aside. Alongside, DRDO's capital budget has been enhanced by five per cent to 11,981 crore. This would go a long way in prototype development. Also, if the country is to emerge as a major defence manufacturing hub, high level of research is required in developing certain niche technologies in the fields such as sensors and metallurgy.
In order to enhance connectivity in border areas, the Border Road Organisation's capital budget has been increased by from 2,500 crore to 3,500 crore. This will expedite the creation of infrastructure along the border including construction of tunnels and bridges. Also, purchase of the latest machinery will fast track key projects in strategically important areas along the line of actual control.
Due to the strictly binding requirement of redundancies, precision and effectiveness, testing and certification is a niche field in defence manufacturing. Testing facilities are costly to procure and maintain. Also, testing philosophy and processes evolve after laborious efforts of various stakeholders. The same are difficult for private industry to replicate. The government has now agreed to the private industry's long pending demand of creating an independent nodal umbrella body for meeting wide-ranging testing and certification requirements of different systems.
In the year 2020-21, total defence exports have gone up to 8,434 crore as compared to 1,940.64 crore in 2014-15. And export order this year of the BrahMos supersonic cruise missiles to Philippines for $375 million, is likely to be the highest so far. The LCA is another potential export item.
WAY AHEAD
A few days before the budget came the news of the unusually slow pace of capital expenditure by the Indian armed forces. This has been attributed to procurements from defence PSUs which could not meet the timelines due to ongoing pandemic. In this regard, the long pending demand of the Indian armed forces for un-expended portion of defence budget to be allowed to be carried over to the next financial year, needs careful consideration. In case this is not found feasible, then the 15th Finance Commission's recommendation regarding constitution of a dedicated non-lapsable Modernisation Fund for Defence and Internal Security (MFDIS) to bridge the gap between projected budgetary requirements and allocation, needs to be implemented.
The onus is now on the Indian defence industry to pick up the gauntlet thrown by the government through various policy changes and enabling environment. The Indian defence industry should accept the challenge to meet the timelines in terms of required numbers, specifications and standards.
Finally, all the steps mentioned above will surely go a long way in reducing the country's dependence on imports and offering more products designed and developed in-house. The process however, has to be very carefully and strictly monitored.