Amid relief, expectations, corona variant fluctuation, new schemes, changes in the leadership, shifts in the airlines' ecosystem, 2021 has been an active year for the Indian aviation industry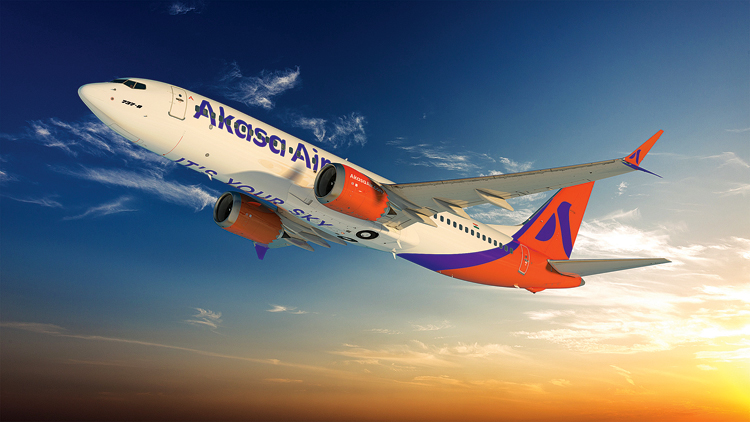 Launch of Akasa Air was one of the biggest highlight of year 2021 that is expected to have a major impact on India's civil aviation sector in the near future
Jolting through the pandemic hits, the aviation industry has been pacing up with unparalleled occurrences for about two years now. The new variants of the novel coronavirus that keep surfacing have not let relief to stay long either. However, successful vaccination drives did allow travel to restart within nations as well as internationally for some. Under its own vaccination drive, festivities, as well as encouragement for local travel, the Indian aviation industry also had the opportunity to begin its journey towards recovery in 2021. With a market size of $16 billion in July 2021, India is the tenth-largest civilian aviation market, stated the Indian Brand Equity Foundation (IBEF) in a report. A Morgan Stanley research report for the same month anticipated that the Indian aviation industry could recover to 80 per cent of the pre-COVID levels (as of 2020). According to the data released by the Department for Promotion of Industry and Internal Trade (DPIIT), FDI inflow in India's air transport sector (including air freight) reached $3.06 billion between April 2000 and June 2021.
2021 did allow the Indian aviation industry to experience a moment of calm with domestic flight operations reaching their pre-pandemic levels. This happened at a time when international travel largely stayed downsized amid COVID restrictions and some bubble arrangements. This does present with the hope that once international travel also gets back to its full form, the industry can expect an upwards performance.


(Clockwise from top left) Air India went back to the TATA Group, its original owner; Jet Airways announced concrete plans to comeback to the skies during 2022; A comprehensive Drone policy was announced during 2021; Krishi Udan 2.0 scheme was announced in October 2021 focusing on transporting perishable food products from the hilly areas, North-Eastern States and tribal areas.
Domestic passenger and international passenger traffic declined at a CAGR (Compound Annual Growth Rate) of -9.02 per cent and -28.64 per cent, respectively, from FY16 to FY21, owing to COVID-19-related restrictions on flights in FY21, mentioned IBEF. The Foundation further added that in FY21, airports in India pegged the domestic passenger traffic to be ~105.2 million, a 61.7 per cent YoY decline, and international passenger traffic to be ~10.1 million, an 84.8 per cent YoY decline, over the fiscal year ended March 31, 2020. In September 2021, the average daily domestic passenger flight departures stood at 2,100. While the aircraft movement declined at a CAGR of -7.79 per cent from 1.60 million in FY16 to 1.20 million in FY21. From FY16 to FY21, domestic aircraft movement decreased at a CAGR of -6.44 per cent and international aircraft movement declined at a CAGR of -18.52 per cent. India's domestic and international aircraft movements reached 1,062 thousand and 135 thousand, respectively, in FY21.
Amid relief, expectations, corona variant fluctuation, new schemes, changes in the leadership, shifts in the airlines' ecosystem, 2021 has been an active year for the Indian aviation industry. This is a time of string headwinds but also excitement, and anticipation as to how the industry will be recreated in this post-disease era.
MOCA 2021 RECAP/OVERVIEW
Regional Connectivity Scheme – Ude Desh ka Aam Nagrik (RCS-UDAN)
Regional Connectivity Scheme RCS-UDAN entered the fifth year
Under UDAN 4.1, 168 routes were awarded during the year
100 routes commenced
12 airports were operationalised including three heliports.
Krishi UDAN 2.0
Launched on October 27, 2021 with the aim to ensure seamless, cost-effective, time-bound air transportation
Logistics arranged for all Agri-produce originating especially from Northeast, hilly and tribal regions of the country
Full waiver of Landing, Parking, TNLC, and RNFC charges for Indian freighters and P2C implemented at 25 airports from NER, Hilly and Tribal region and 28 airports from remaining parts of the country
50 per cent of Air Freight Charges and 50 per cent of TSP charges of Cargo Terminal operators proposed for subsidiary.
Seven focus routes identified to support region specific products like Lichi from Darbhanga, Pineapple from Agartala, etc.
Drone Rules
Drone Rules 2021 notified on August 25, 2021
The policy aims to make India a global hub for the research and development, testing, manufacturing, and operation of drones
Government approved the Production Linked Incentive (PLI) scheme on September 30, 2021 for drones and drone components in India
Digital Sky Platform (DSP) launched to regulate the entire gamut of activities pertaining to drone operations as well as to function as a single window online platform
Unmanned Aircraft System (UAS) Traffic Management (UTM) Policy framework, 2021 released on October 24, 2021 to enable complex operations of drones and increase the overall safety in the UTM airspace
e-Governance in Directorate General of Civil Aviation (eGCA)
Launched on November 11, 2021 with the aim to bring about ease of doing business, transparency and automation of the processes and functions of DGCA.
Services provided to various DGCA stakeholders such as pilots, aircraft maintenance engineers, air traffic controllers, air operators, airport operators, flying training organisations, maintenance and design organisations etc are now available on the eGCA.
Around 300 services of the eGCA have been implemented.
Mobile app also launched for pilots and aircraft maintenance engineers to view their profiles and update their log books on the go.
Airport Monetisation & Development
Six airports including Lucknow, Ahmedabad, Mangaluru, Jaipur, Guwahati and Thiruvananthapuram handed over for management under the PP model.
Under National Monetisation Pipeline, 25 additional airports have been identified for monetisation in next three years.
Three airports including Kushinagar, Kurnool and Sindhudurg have been operationalised this year under RCS-UDAN scheme.
Dehradun terminal launched and foundation stone laid for Jewar international airport.
Here's a look back at some of what fared in 2021 (with inputs from IBEF and MoCA):
After several years of effort, in early October 2021, the Government of India finally managed to sell the cash-strapped national carrier Air India to the Tata Group. With Air India returning to the Tata Group, the Tatas have a strong chance to become the second largest player in the Indian domestic aviation market.

According to the Jalan Kalrock consortium, the successful resolution applicant of Jet Airways, the airline is positioned to recommence domestic operations in the first/second quarter of the calendar year 2022, after being grounded for more than two-and-ahalf years. Now Jet Airways is again on the hiring process and is currently accepting applications.

Amidst these dynamic developments, the entry of Akasa Airlines is attracting a significant amount of attention. The new airline that recently received the No Objection Certificate (NOC) from the Ministry of Civil Aviation (MoCA), plans to start operating by the summer of this year as a Low Cost Carrier (LCC) or an Ultra LCC (ULCC). Akasa Air has ordered 72 fuel-efficient Boeing 737 MAX airplanes to build its fleet and launch service in the Indian market.

With the Tatas as the new owners of Air India, Jet Airways preparing to re-enter the market this year, Akasa Airlines' journey to begin shortly, global air transportation getting back on track slowly after the pandemic and regional aviation gaining momentum, the skies over the aviation landscape in India promises fireworks and will be the one to watch out for.

In August 2021, the government convened three groups to revitalise the aviation industry. This committee aims to advise the government on how to increase local and international connectivity and address concerns such as aircraft leasing & financing, aircraft & component production and other regulatory requirements.
The Airport Authority of India (AAI) announced a few developments in Indian Airports including construction of a new airport on a greenfield site in Hollongi (Arunachal Pradesh) by November 2022, new integrated passenger terminal building expansion of Tiruchirappalli & Pune Airport (March 2022), Guwahati International Airport (June 2022), Maharaja Bir Bikram Airport (Early 2021) and major expansion of Surat Airport (December 2021). An international airport at Jewar was also inaugurated. AAI plans to invest 25,000 crore ($3.58 billion) in next the five years to augment facilities and infrastructure at airports.
In October 2021, the Union Minister of Civil Aviation, Jyotiraditya M. Scindia, virtually flagged off six routes expanding the aerial connectivity of Northeast India.
The Government of India launched regional connectivity scheme, UDAN (Ude Desh ka Aam Nagrik) with the aim to make flying affordable for common man. In February 2021, the government identified 24 routes in Assam under the first phase of UDAN 4.0. In March 2021, on the launch of the 'Azadi Ka Amrit Mahotsav (India@75)' by the Government of India, the Ministry of Civil Aviation (MoCA) proposed 392 routes under the UDAN 4.1 bidding process.
In March 2021, the government announced plan to set up two water aerodromes in Assam and four water aerodromes in Andaman & Nicobar Islands this year to boost tourism and connectivity. In March 2021, the government submitted a proposal to develop a water aerodrome project at the Ujjani Dam, under the Ministry of Civil Aviation's UDAN-RCS (regional connectivity scheme).
On September 25, 2021, AAI announced a liberalised FTO policy to support growth of aviation industry in the country. Under the extant policy, airport royalty was abolished, and annual fee was rationalised significantly for new FTOs.
787 Commercial Pilot Licenses (CPL) were issued during January-November 2021, an all-time high.
AirSewa 3.0 went live on October 2, 2021 with enhanced feature of grievance redressal with new features including grievance escalation by users or on Service Level Agreement (SLA) expiry, grievance transfer among stakeholders, enhanced roles and permissions for nodal officers, enhanced flight information and tracking of flights, public forum for discussions, mobile app for nodal officers. Pending grievances on AirSewa portal reduced from 1,354 on July 20, 2021 to 59 on December 15, 2021 (96 per cent reduction).
Earlier, the International Air Transport Association (IATA) had shared that India is expected to overtake China and the United States as the world's third-largest air passenger market in the next ten years, by 2030. To ensure that happens, the industry stakeholders will be required to actively participate and collaborate with policy makers for efficient implementation of ideas directed to boost India's civil aviation industry.