The visit of Rajnath Singh to USA for the 2+2 dialogue provided an opportunity to both sides to extensively review the entire gamut of bilateral defence cooperation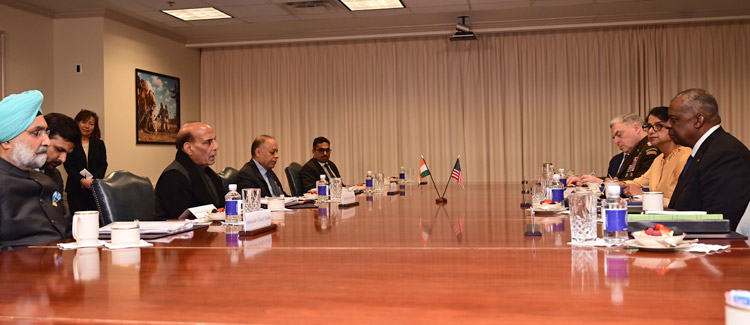 Indian Defence Minister Rajnath Singh and US Secretary of Defence Lloyd Austin discussed a range of matters to enhance bilateral defence cooperation
The India-US 2+2 ministerial dialogue held in Washington on April 11, 2022, in the backdrop of Russia-Ukraine war, emerged unscathed from the diplomatic fallouts of the conflict. It is significant that in view of the new emerging global order and fast changing geo-politics of the world, India and the United States reaffirmed their commitment to further deepen, strengthen and expand the scope and intensity of defence and security cooperation between the world's two largest democracies. India's defence relations with Russia notwithstanding, India and United States have reaffirmed their commitment to re-energise and re-invigorate the unique defence partnership between the great nations for the sake of maintaining peace and stability in the Indo-Pacific region.
The joint foreign and defence ministerial dialogue, fourth after its inception and first under the Biden administration, provided a good opportunity to deeply review the progress made so far in the bilateral defence cooperation and exchanges, especially after the grant of the status of 'Major Defence Partner' to India in 2016 and it's further elevation to the level of Strategic Trade Authorisation Tier-1 status in 2018, which allows India to receive license- free access to a wide range of military and dual use technologies regulated by the department of commerce of USA.
In Washington DC, US President Joe Biden held a virtual meeting with Prime Minister Narendra Modi in the presence of Rajnath Singh, External Affairs Minister Dr S. Jaishankar, US Secretary of State Antony Blinken and US Secretary of Defence Lloyd Austin. The two Leaders had an extensive exchange of views on several regional and global issues, such as the COVID-19 pandemic, global economic recovery, climate action, recent developments in South Asia and the Indo-Pacific region, and the situation in Ukraine. They also took stock of the significant progress made in bilateral relations in recent years. Both leaders agreed that further strengthening of the India-US Comprehensive Global Strategic Partnership would be of tremendous benefit to the two countries, and would also contribute to global peace, prosperity and stability.
Later, the Defence Minister and External Affairs Minister cochaired with their US counterparts the 4th India-US Ministerial 2+2 Dialogue on April 11, 2022. Drawing on the momentum from the US-India Defence Policy Group meeting in October 2021, Lloyd Austin and Rajnath Singh reaffirmed their ambitions for building an advanced and comprehensive defence partnership in which the US and Indian militaries coordinate closely together across all domains.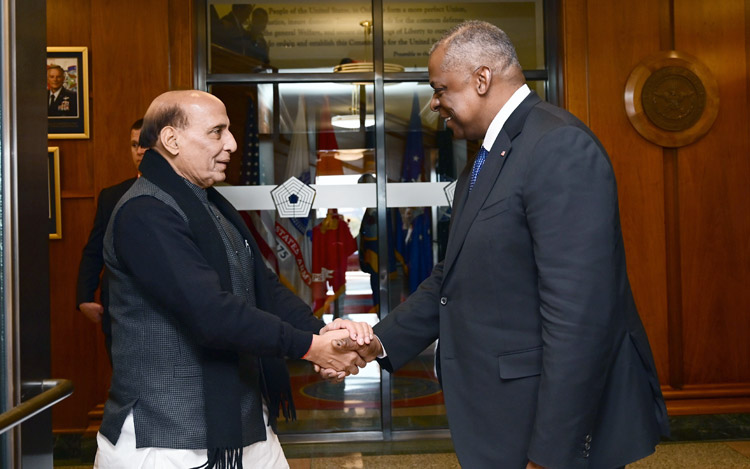 Indian Defence Minister Rajnath Singh met his counter part US Secretary of Defence Lloyd Austin for the 2+2 dialogue
According to the Bureau of Political-Military Affairs of the Department of State, India plays a vital role in achieving the shared vision for a free and open Indo-Pacific. The US-India defence trade cooperation continues to expand with the Logistics Exchange Memorandum of Agreement (LEMOA), Communications, Compatibility and Security Agreement (COMCASA), and the Industrial Security Agreement (ISA) now in place. The PMA Bureau supported the increase in total defence trade with India from near zero in 2008 to over $20 billion in 2020. The PMA Bureau is committed to further streamlining US-India defence sales facilitated through both the Foreign Military Sales (FMS) and Direct Commercial Sales (DCS) processes. These sales support thousands of jobs in both countries and help ensure the health of both countries' defence industrial bases. India was the first non-treaty partner to be offered a Missile Technology Control Regime Category-1 Unmanned Aerial System – the Sea Guardian UAS manufactured by General Atomics.
In this backdrop, both the defence ministers discussed ways to deepen the bilateral 'major defence partnership' and committed to work together to advance quality and scope in bilateral defence cooperation. Among the most significant outcome of the 2+2 dialogue was the reaffirmation of the deal on a project agreement to co-develop air-launched UAVs under the auspices of US–India Defence technology and trade initiative (DTTI). In addition to this significant project, both sides agreed to consider additional DTTI projects, such as a counter-unmanned aerial systems (UAS) system and an Intelligence, Surveillance, Target Acquisition and Reconnaissance (ISTAR) platform.
According to sources, the US Defence Secretary Lloyd Austin pressed Rajnath Singh to go for the Lockheed Martin F-21 and Boeing's F/A-18 Super Hornet and F-15EX Eagle as part of India's future fighter aircraft acquisitions. According to senior US officials potential selection of any of these platforms would enhance India's military capabilities, increase US-India military interoperability, and protect shared security interests in the Indo-Pacific region.
During his separate bilateral meeting with the US Defence secretary Lloyd Austin, Indian Defence Minister Rajnath Singh exhorted the US Defence manufacturers to seriously consider establishing facilities in India to make their weapon systems in India under the 'Make in India' (Atmanirbhar Bharat) program. Singh stressed co-development and co-production of high-tech weapons, while asking US defence companies to take advantage of Indian government's initiative to set up production facilities in India. Defence Minister Rajnath Singh met with the US aerospace & defence majors Boeing and Raytheon and exhorted the companies to take advantage of policy initiatives in India to steadily march from 'Make in India' towards 'Make for the World'.
According to Secretary Austin, India's role and leadership was very important to protect rules based order in the Indo-Pacific region. Austin described the cooperation between India and US, the like-minded partners, as extraordinary and both sides are committed to working seamlessly across new and emerging domains, including space and cyberspace.
The visit of Rajnath Singh to USA for the 2+2 dialogue provided an opportunity to both sides to extensively review the entire gamut of bilateral defence cooperation. Both the defence ministers also discussed regional security situation and acknowledged the salience of India-US defence partnership for peace, stability and prosperity in the Indo-Pacific and the Indian Ocean region. Both sides reviewed military to military engagements, information sharing, enhanced logistics cooperation and ability of the armed forces to cooperate closely under compatible communication arrangements. In this backdrop, both sides specifically discussed closer cooperation of Special Operation Forces.
According to Secretary Austin, India's role and leadership was very important to protect rules based order in the Indo-Pacific region. Austin described the cooperation between India and US, the like-minded partners, as extraordinary and both sides are committed to working seamlessly across new and emerging domains, including space and cyberspace.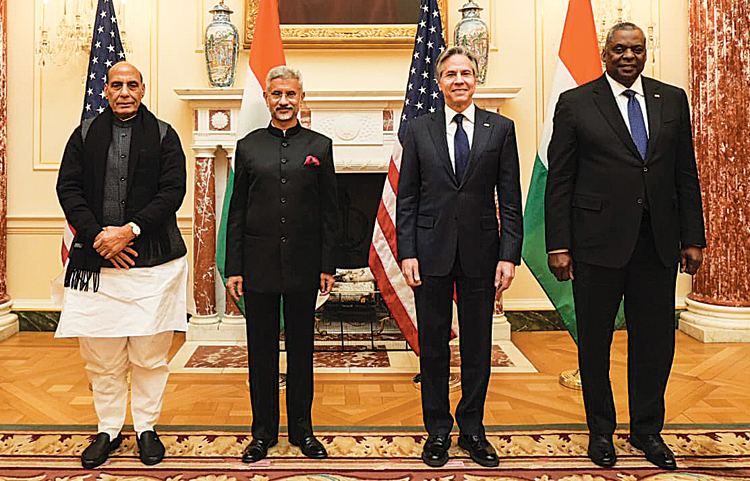 Indian Defence Minister Rajnath Singh, External Affairs Minister Dr S. Jaishankar, US Secretary of State Antony Blinken and US Secretary of Defence Lloyd Austin in Washington DC for the bilateral ministerial 2+2 talks
Though US side expected India to whole heartedly support the sanctions against Russia and directly condemn Russia for launching an unilateral military attack on Ukraine and taking a stand against Russia during the motions placed on the United Nations table, the US side realised India's compulsions and the historic background to the India-Russia relationship. Hence President Biden underplayed the differences and stressed upon the unique nature of India-US defence partnership which is deepening very fast and still evolving to newer heights. Both the countries realise the potential of this defence partnership in promoting peace and stability in the Indo-Pacific region. Both the countries also realise that in the fast changing geopolitical equations, in the wake of Russian military attack on Ukraine, it was essential to fast forward this relationship hence to enable Indian armed forces to counter the threats, especially emanating from Chinese aggressive military postures, from land to the maritime areas.
EAM Dr S. Jaishankar also has a wide ranging exchange of views on the global situation, regional hotspots and bilateral cooperation with US Secretary of State Antony Blinken which took place with the comfort and openness of true strategic partners.
After the 2+2 talks, both sides issued a joint statement which extensively referred to the deepening collaboration in science and technology in the US-India Joint Technical Group (JTG), and in evolving new defence domains, including Space, Artificial Intelligence (AI), and Cyber. Austin and Rajnath underscored the importance of cooperation in space and welcomed plans to conduct an inaugural Defence Space Dialogue in 2022. They welcomed the second Defence Cyber Dialogue held in 2021 and look forward to the next round this year. They decided to hold an inaugural AI Dialogue this year to harness opportunities for joint innovation and cooperation in new domains. The Ministers also discussed additional training opportunities for our respective militaries, and the United States welcomed enhanced Indian participation in advanced courses across these emerging domains.
As information-sharing forms an important pillar of the US-India defence cooperation, the Ministers underlined the importance of building a comprehensive framework under which their militaries are equipped to exchange information in real time across domains. The Ministers welcomed progress made toward full implementation of the Basic Exchange and Cooperation Agreement (BECA) to support the exchange of geospatial information. The Ministers noted that information exchange and placement of liaison officers in each other's military organisations will spur joint service cooperation between our militaries to support integrated and multidomain cooperation.
Acknowledging that the navies have been a driving force in advancing the United States and India's shared interests in the Indian Ocean Region and the wider Indo-Pacific, the Ministers discussed opportunities to further advance and deepen maritime cooperation, including in underwater domain awareness.
Defence Minister Rajnath Singh holding one-on-one meetings with the leadership of Boeing (Left) and Raytheon (Right) during his visit
The United States also welcomed India's decision to join the Combined Maritime Forces Task Force as an Associate Partner to expand multilateral cooperation in the Indian Ocean. The Ministers lauded the 2022 Indo-Pacific Military Health Exchange, which India and the United States co-hosted to bring together experts from 38 countries to discuss challenges and solutions to military medical issues. Both sides look forward to India's co-hosting of the Indo-Pacific Armies Chiefs Conference (IPACC) and Indo-Pacific Armies Management Seminar (IPAMS) in 2023.
In support of the Indian military's expanding operational reach and emerging opportunities for cooperation in the Indian Ocean and the wider region, the Ministers welcomed regular bilateral logistics operations such as replenishments at sea, air-to-air and ground-refuelling and committed to increasing such cooperation, including through the Logistics Exchange Memorandum of Agreement (LEMOA).
Both sides reaffirmed the importance of regular bilateral and multilateral exercises, including the MALABAR exercise with inclusion of Australia, the tri-service TIGER TRIUMPH exercise, the multilateral MILAN naval exercise, the bilateral YUDH ABHYAS and VAJRA PRAHAR Army exercises, the bilateral COPE India air exercise and Indian participation in RED FLAG. They supported increasing the scope and complexity of these exercises. They looked forward to deepening cooperation between the Special Forces of both countries.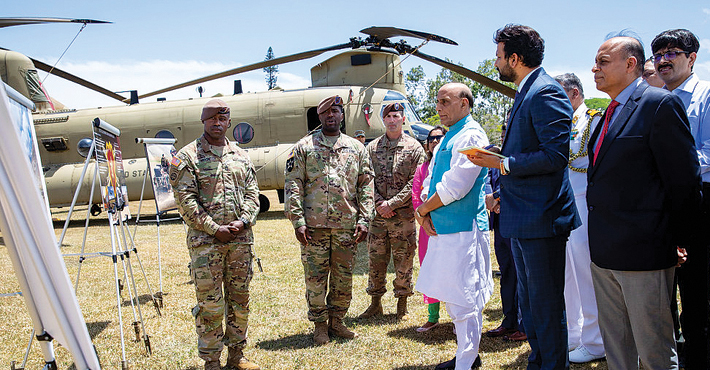 Defence Minister Rajnath Singh visits the United States Army Pacific, in Hawaii on April 13, 2022
Seeking trusted and resilient defence supply chains, the Ministers welcomed the progress made towards implementation of the Industrial Security Agreement to facilitate collaboration on cutting edge defence technologies between industries. Both sides would explore and further promote the means to encourage reciprocal participation of US and Indian vendors in each other's defence supply chains. Acknowledging India's focus on developing its domestic capabilities and helping to ensure reliable defence supplies, the Ministers committed to work closely across their respective governments on co-production, co-development, cooperative testing of advanced systems, investment promotion, and the development of Maintenance, Repair and Overhaul (MRO) facilities in India. To further enhance defence industrial cooperation in the naval sector, both sides agreed to explore possibilities of utilising the Indian shipyards for repair and maintenance of ships of the US Maritime Sealift Command (MSC) to support mid-voyage repair of US Naval ships.
Defence Minister Rajnath Singh reached Hawaii on April 12, 2022 for a visit to the Headquarters of United States Indo-Pacific Command (USINDOPACOM). On his arrival from Washington DC, Rajnath Singh was received by Commander, US INDOPACOM Admiral John Aquilino. The USINDOPACOM and Indian military have wide-ranging engagements, including a number of military exercises, training events and exchanges. During his brief stay in Hawaii, Rajnath Singh laid wreath at National Memorial Cemetery of the Pacific and also visited the training facilities in Hawaii on April 13, 2022, before returning to India.
It is evident from the conclusions of the 2+2 dialogue, the scope and nature of bilateral security and military cooperation between India and United States, far exceeds the range and scope of defence and military cooperation between India and Russia. Though India has of late tried to diversify its defence acquisitions and made moves to disentangle from Russia, it will take years for India to reduce its critical dependence on the Russian defence systems and technology, from nuclear submarine to S-400 anti-missile systems. The US security establishment has realised this ground reality.