The cargo industry witnessed good yields during the pandemic, however, demand fluctuations are anticipated ahead and structural shifts are required for industry's scaling
The pandemic resulted in a surge in international air cargo yields, which increased 3.3 times in 2021 from the 2019 level
Given the highly interesting journey that air cargo has had during and after the pandemic, across the globe, its growth and structural transition are among the most anticipated talked about subjects. India's air cargo industry also witnessed an interesting shift as the demand arose.
During COVID times, cargo proved to be the savior that was responsible for the survival of much of the industry. Despite serious capacity constraints, the remarkable strength of yields meant that cargo revenue quickly returned to, and in many cases exceeded, pre-COVID levels. The performance of air cargo during the pandemic upheld it as of critical strategic importance to airlines, especially in India. All major operators saw strong contribution from cargo:
SpiceJet turned into serious cargo operator and its survival was due to cargo revenue, registering revenues closer to 3,700 crores during 2021-2022
IndiGo outperformed the market, even in absence of freighters, clocking revenues closer to 3,000 crores in cargo revenue during 2021-2022
Even Air India Express achieved exceptional cargo performance, with revenues closer to 250 crores during 2021-2022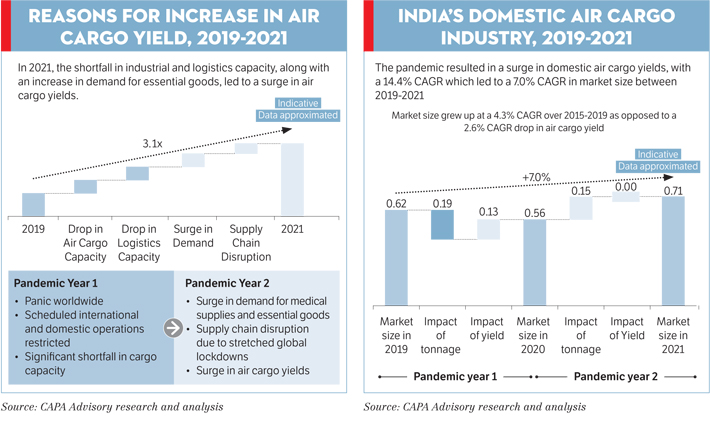 However, prior to COVID, air cargo was largely considered to be non-strategic by Indian airlines especially in the domestic market. The domestic express market largely revolved around Blue Dart, operating just five freighters pre-COVID, highlighted Kapil Kaul in a CAPA India session. He brought in limelight the attempts to launch other dedicated cargo and express airlines which quickly failed in India. Despite several serious attempts including inter-ministerial efforts to remove structural barriers, cargo remained non-strategic to most. Only perhaps airports, freight forwarders and the supply chain were interested in cargo, but overall outcomes remained sub-optimal.
The key reasons for failure to realise the full potential from cargo operations as highlighted in the session included:
A casual and ad hoc approach towards people issues, distribution, sales and marketing, technology, and possible lack of understanding of the market.
Cargo not being a priority in airline board room discussions.
Structural and systemic issues related to infrastructure, policy and regulation, security, logistics, customs, and competitiveness.
However, India's dedicated freighter fleet has increased from 5 to 28 in last few years particularly last two as cargo has now become a boardroom agenda item. After COVID-19 though, the new found strategic importance of cargo was reflected in:
IndiGo ordered 4xA321ceo freighters and plans for a JV with UPS
SpiceJet increased focus on cargo and induction of more freighters - current fleet size being more than 20
Blue dart responding to increased competition by expanding its 757 fleet
CARGO IN INDIA DURING PANDEMIC
India faced a significant capacity drop relative to demand during pandemic. This led to an increase in cargo load factors in line with the global air cargo trend. In 2021, the shortfall in industrial and logistics capacity, along with an increase in demand for essential goods, led to a surge in air cargo yields.
India witnessed stable trade during the pandemic and did not see any significant change in its air export and import trade baskets. India is a leading pharmaceutical exporter, with a 20 per cent share of the global supply based on volume catering to about 40 per cent of generic demand in the US and 25 per cent of all medicine demand in the UK. However, India's pre-COVID supply chain for pharma and electronic sectors shows China as a high concentration zone, indicating risk for procurement. India is primarily dependent on China for key raw materials and components supplies for manufacturing electronic products. The other key suppliers are Hong Kong, Taiwan, and South Korea. China accounted for 37 per cent of the overall imports of India before COVID-19. COVID broke global value chains creating industry-wide disruptions. India's heavy reliance on China for imports led to exposure to supply shocks during the pandemic.
The pandemic resulted in a surge in international air cargo yields, which increased 3.3 times in 2021 from the 2019 level, which led to the market increasing 76.2 per cent CAGR (compound annual growth rate) over 2019-2021. The pandemic also resulted in a surge in domestic air cargo yields, with a 14.4 per cent CAGR which led to a 7 per cent CAGR in market size between 2019-2021.
OPPORTUNITY FOR INDIAN CARGO
Pricing inefficiencies, operational bottlenecks and a relatively low penetration of technology in air cargo had rendered India somewhat uncompetitive against global peers. However, going ahead, there is a significant opportunity in cargo, especially on international routes as Indian carriers only capture around 10 per cent of international cargo to and from India (12 from India) 90 per cent is carried by foreign airlines. India's leading passenger markets also align with many of its largest trade partners. In markets such as the US, Canada, UK and Australia; India has a surplus in trade volumes. Airlines can build long hall connectivity to core markets with the support of cargo which can significantly strengthen route economics.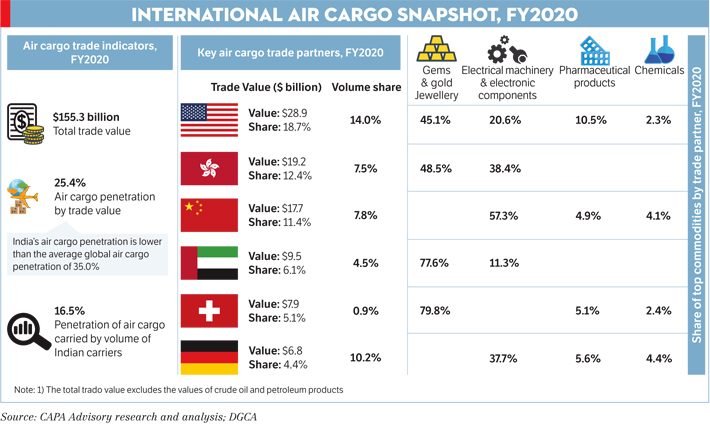 According to CAPA Advisory, even in the domestic market significant opportunities exist and those airlines that invest in understanding the market in terms of industries commodities distribution and marketing-supported by integrated partnerships will benefit.
POSSIBLE DEMAND SUPPRESSION
Although many factors contributed to surge in yields for India's air cargo business, CAPA suggests that this still is a temporary glitch majorly due to pandemic.
All key pivots that contributed to the surge in air cargo yields during COVID-19 are temporary.
When the impact of these pivots recede, yields should stabilise and the current euphoria may dissipate.
Planned investments in people, infrastructure and digitalisation, and expanded operations will drivehigher revenue. However, CAPA Advisory does not see structural shifts in the near to medium term.
In fact, the market may possibly saturate in the next 1-2 years with normalisation of belly capacity in FY2022/23, permission for international freighter operations, investments in shipping capacity, supply-side excess.
Meanwhile, inflation of the prices of goods and services, increased interest rates, higher fuel prices, possible recessionary conditions, and geo-politics issues may all converge simultaneously to suppress demand.
The new shipping capacity that is expected to comeonline in the medium term and the potential correction in the input costs of all industries, including aviation, could put pressure on air cargo yields.
Surge in available industrial and logistics capacity would put pressure on air cargo yields.
Air cargo yields will stabilise in the coming quarters, primarily due toan increase in capacity and the stabilisation of demand. In this regard CAPA identified some deflationary factors and some inflationary factors.
Deflationary factors include:
Increase in industrial capacity due to easing of mobility restrictions
Increase in air cargo capacity owing to opening up of international borders
Entry of new players
Expansion of shipping and trucking capacity
Demand stabilisation due to increased consumption of services relative to goods
Decline in demand due to inflation in the price of goods Inflationary factors include:
High crude oil prices would render the stabilisation of cargo yields difficult
High crude oil prices
Inflationary pressures due to the increase in the cost of both goods and services
Although these factors will place upward pressure on air cargo yields, inflation will weaken demand further, which will, in turn, force carriers to reduce freight rates. Despite the expected growth in cargo throughout, the value of India's international air cargo market will decline relative to the pandemic due to the normalisation of yields. CAPA believes that the market size which soared to about 10.5 billion by 2021 should start stabilising soon and there should be a correction and it should be about 5.4 billion by 2023. The very high air cargo yields that everyone earned during the two years of COVID should start stabilising soon and because of stabilistaion increase, the market size between 2021 and 2030 should drop by about 6.2 per cent CAGR.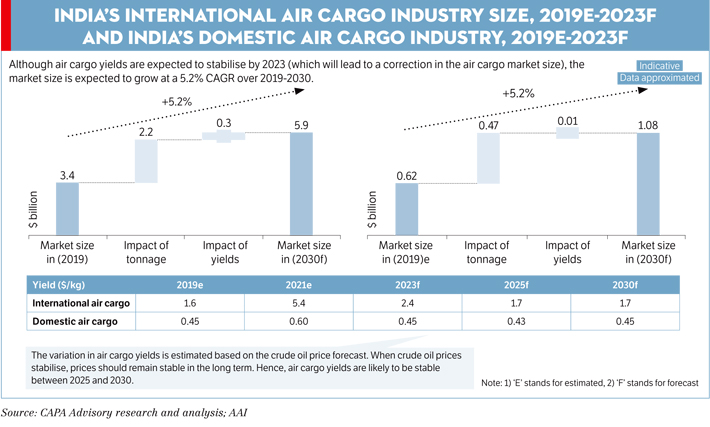 The high cargo revenue growth achieved by many airlines, especially Indian carriers, despite a decline in the overall cargo tonnage, was due to surge in yields. This surge was largely due to the dual impact of supply constraints and an increase in demand due to a shift in the consumption basket. Although these factors helped carriers earn higher revenue and profits from the cargo segment, they are temporary. It is unlikely that these shifts and constraints are structural due to the following reasons:
With the world recovering to the pre-COVID-19 level of mobility, the consumption of services is expected to increase, thereby reversing the shift in the consumption basket
With international borders opening up and scheduled commercial airline operations growing, the supply constraints too shall diminish
The industry may in fact experience strong headwinds, in contrast to the conditions since April 2020. There is a possibility that recessionary economic conditions may emerge, characterised by further decline in the demand for goods due to high inflation and elevated crude oil prices.
FUTURE OF CARGO IN INDIA
However, there is still an opportunity for Indian carriers to expand their footprint in the air cargo industry, by fixing structural imbalances and by focusing on markets with high potential for passenger and cargo revenues. Although it must be noted that many of these markets are long-haul and only a few Indian carriers will be in a position to seize this opportunity.
The emphasis that Airlines are now placing on cargo is a fundamental shift and will alternately be a positive for the aviation industry and for the Indian economy. Realisation of the cargo potential is a mindset shift but on ground the structural shift will take time. Structural shifts in underlying demanddriven by the governments serious to teaching focus on make in India, trade competitiveness, re drawing of FTAs, PLI schemewill occur but over a period of time.
Many structural shifts are required to provide a muchneeded boost to the air cargo industry in India including:
Enhance competitiveness of Indian industries: Various initiatives undertaken to promote manufacturing in India, in addition to reforms in India's regulatory regimes to ease doing business in India
Eliminate tariff & non-tariff barriers faced by Indian companies: Discussions ongoing with various countries such as Japan and South Korea to fix the structural imbalances in India's trade with all countries
Change in regulatory regime to increase trans-shipment cargo: Simplification of the processes to aid industries
Enhance competitiveness of air cargo industry.

(The article content is based upon CAPA India's research shared during a webinar organisedby the advisory.)