India became the fourth country in the world to have developed this 'Netra', advanced AEW&C system, popularly known as the 'Eye-in-the-sky', that proved its mettle in actual operations in Balakot strikes in February 2019 by providing crucial surveillance cover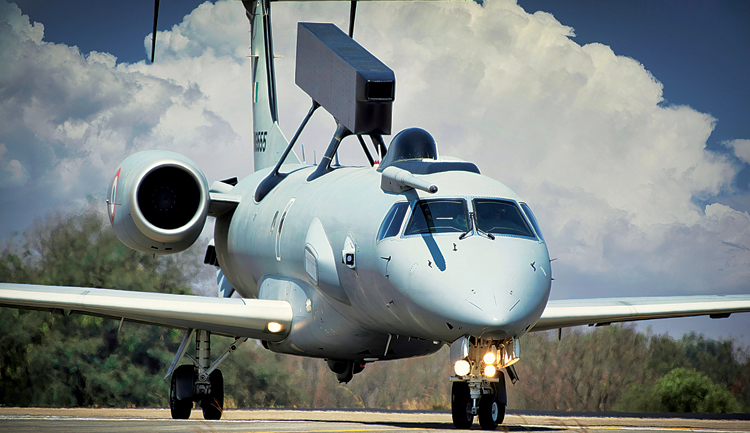 The indigenously developed AEW&C was inducted into the IAF on February 14, 2017. India became the fourth country in the world to have developed this advanced system.
The Union War Book lays down the responsibility of Air Defence (AD) of the country with the Indian Air Force (IAF). AD is a fundamental warfighting function of any Air Force. Key to comprehensive AD capability lies in the ability to offer seamless multi-layered, round the clock radar cover for the entire airspace of the national territory and area of interest.
Availability of airborne surveillance system enables conduct of full-spectrum, fast-moving and effective air operations. Airborne Early Warning and Control (AEW&C) and Airborne Warning and Control System (AWACS) enhances situational awareness for all elements and offers a more potent capability to project aerospace power effectively. These specialist aircraft are equipped with radars, sensors and computers and are critical in modern warfare because they can detect and track incoming fighters, cruise missiles and drones much before ground-based radars, thereby being in an advantageous position to direct friendly fighters during air combat, and keep track of enemy troop build-ups and movement of warships. This type of aircraft enables surveillance of adversary aircraft operating at even ultra low levels deep inside enemy territory. They also direct own combat aircraft employed in the air defence or offensive strike role. They ensure optimum employment of AD fighter aircraft to engage intruding enemy fighters, freeing up many aircraft for other missions.
These are thus effective 'force multipliers' that strengthen aerial combat capability. The system can also intercept hostile communications and radar signals from the ground or air and determine their locations.
The AWACS made its first appearance during the 1973 Yom Kippur war when in the face of a complete rout, by fielding this new platform, the Israeli armed forces decisively turned the tide of the battle against the Egyptian forces. Post-war analysis indicated that the employment of AWACS aircraft by the Israeli forces had contributed decisively to the ultimate outcome of that war. In today's scenario, all airborne operations are heavily dependent upon the availability of AWACS for success of their mission.
IAF EFFORTS TO ACQUIRE AWACS CAPABILITY AND PRESENT STATUS
The Indian project to acquire airborne surveillance capability actually began in 1985 with Defence Research Development Organisation (DRDO) nominating Centre for Airborne Systems (CABS) as the nodal lab. Two new Avro HS 748 aircraft from IAF were allotted to be fitted with rotodome, antenna, communications etc. After integration, the platform was ready in 1991. After 220 sorties over land and along seacoast as well as demonstration flights, the project suffered a setback in January 1999 when one of the two rotodomed Avro aircraft crashed.
The IAF's urgency for acquiring airborne surveillance and control capability gained impetus in 2004 with the signing of a $1.5 billion tripartite agreement with Israel and Russia for three Phalcon radar mounted on IL-78 AWACS aircraft, modified with more powerful and more fuel efficient PS-2 engines. IAF received its first AWACS on May 25, 2009 and the remaining two AWACS over the next two years. The IAF thus have three Israeli Phalcon AWACS mounted on Russian IL-76 transport aircraft. They have a 360 degree radar coverage upto a 400 km range. With this, India became the first country in the world after Israel to have IL-76 Phalcon AWACS.
IAF now has two of these AEW&C 'Netra' systems, fully operational and being proactively supported by Embraer, the aircraft manufacturer
The Indigenous AEW&C development programme was revived in 2002 with the IAF and DRDO agreeing to roll out a more advanced system. Embraer's regional Jet EMB-145 capable of carrying 3,000 kg payload was chosen for AEW&C system and orders were placed in 2008 by CABS for three aircraft. This heralded an era of phenomenal co-operation and professional coordination between the aircraft manufacturer-Embraer of Brazil, the DRDO Labs - CABS in particular, the IAF and other stake holders. The Embraer 145, a medium sized aircraft was chosen for its Rolls-Royce engines with 15 per cent more power enabling higher top speed and greater cruise speeds.
The aircraft had to be modified to have an additional Auxiliary Power Unit to cater for additional power requirements for its radar systems. The cabin had to be reconfigured to house five Operator Work Stations (OWS), additional Fuselage Fuel Tanks and five rest crew seats. The platform aircraft was also installed with an In-flight Refuelling system to facilitate extended surveillance operations.
The aircraft already had SATCOM capability, however, significant increase in electrical and cooling capacities had to be added to cater for additional systems that were housed, additionally, a comprehensive set of aerodynamic and structural changes had to be undertaken by the aircraft manufacturer at its facility. These improvements allowed the installation of the advanced electronic systems that were developed by CABS.
The first Embraer with India-developed rotodome flew in June 2011, thereafter, integration of mission systems was taken up. On December 6, 2011 EMB-145 AEW&C aircraft ordered by the Government of India (GoI) performed the maiden flight. On August 16, 2012 Embraer Defence and Security delivered the first EMB-145 AEW&C class of aircraft to the GoI, in a ceremony held at Embraer's headquarters in São José dos Campos, Brazil.
Later various sub-systems comprising of Radar and communication links that were designed and developed by DRDO, were integrated into the modified aircraft by DRDO.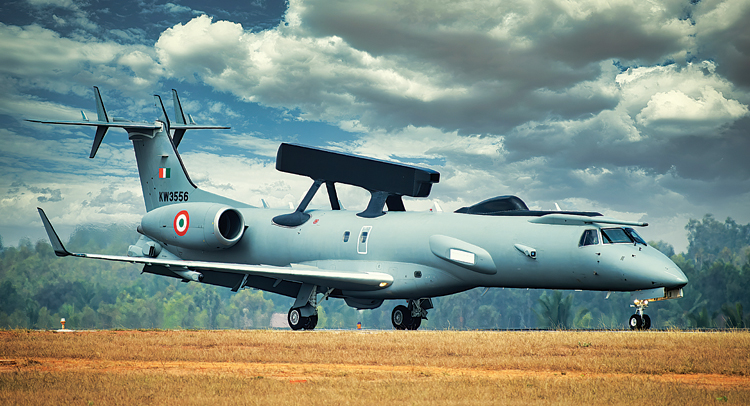 In future, newer Embraer platform could be considered to meet IAF's requirements for additional AEW&C
The indigenously developed AEW&C was inducted into the IAF on February 14, 2017. India became the fourth country in the world to have developed this advanced system, popularly known as the 'Eye-in-the-sky', named 'Netra'. It offers an AEW&C system with 240 degree coverage, with radar having a range of 250 km. IAF now has two of these systems fully operational and being pro-actively supported by the aircraft manufacturer- Embraer.
Netra has proved its mettle in actual operations in Balakot. It played a 'behind the scene' pivotal role in the Balakot strikes in February 2019, by providing the crucial surveillance cover, during the pre-dawn aerial attack and when, in the retaliatory operation next day when F-16 combat jets of Pakistan Air Force (PAF) attempted to violate the Indian airspace, it played an important role of alerting and guiding own air assets. Over a period of time, the AEW&C Netra has emerged as one of the mainstay of the Airborne Surveillance Systems of the IAF.
THE IAF AEW&C REQUIREMENT
The Pakistan Air Force (PAF) enjoys tremendous advantage as far as AWACS aircraft are concerned. It has been operating four Saab 2000 (with Erieye radar) as its primary AEW&C platform since 2009. What is surprising is that since the Balakot strikes (2019), PAF has acquired another four AEW&C to take the total strength to seven. Besides this, it has four ZDK-03 (Chinese Y-8F-600 airframe) with Chinese AESA radar mounted. Thus, PAF has a total of eleven AWACS aircraft.
Indian think tanks have been propagating that the present airborne surveillance capability of IAF is rather limited. IAF would need a minimum of 15 to 20 AWACS aircraft to be able to tackle two front operations. Phalcon AWACS mounted of IL-76 platform has its own maintenance issues due to shortage of spares and dwindling product support due to vintage. Also, the case for additional two IL-76 aircraft could not be progressed due to extremely high cost quoted by the manufacturer.
IAF would need a minimum of 15 to 20 AWACS aircraft to be able to tackle two front operations
In order to enhance the aerial surveillance capability of the IAF, the Cabinet Committee on Security (CCS) in September 2021 approved the project to build six airborne early warning and control (AEW&C) aircraft, at the cost of 10,990 crore. The whole project involves fitment of indigenously developed AEW&C technology into a bigger Airbus A319 platform.
The AEW&C system has been developed by CABS under the DRDO which will involve mounting indigenous 360 degree coverage Active Electronically Scanned Array (AESA) radar on six Airbus A319 aircraft acquired from the existing Air India fleet. This aircraft will also feature Wideband Global SATCOM with secure communication under the line of sight or beyond line of sight conditions.
The New AEW&C will have a composite dome for antenna mount on top of the aircraft carrying the AESA radar for primary and secondary surveillance. The antenna is 360 degree coverage capable.
The first flight trial of these AEW&C aircraft is expected in four years and the entire project being completed in seven years.
CONCLUSION
It is known that the CABS has also offered to equip Airbus C295 aircraft with an upgraded Netra AEW&C system. There is also a possibility that in future, newer Embraer platform could be considered to meet IAF's requirements for additional AEW&C.
The track record of the Indian aerospace industry and the DRDO in respect of delivery schedules and cost control, does not inspire confidence. The IAF needs this force multiplier urgently and cannot risk delay in delivery as it will have adverse impact on operational capability. The project needs to be steered on mission mode.