INDIAN AIR FORCE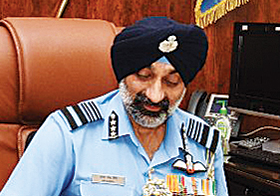 Air Marshal A.P. Singh assumed the appointment of Air Officer Commanding-in-Chief (AOC-in-C) Central Air Command (CAC) on July 1, 2022. His operational tenures include being the Flight Commander and Commanding Officer of a MiG-27 Squadron and Air Officer Commanding of an air base. As a test pilot, he has served in 'Aircraft and System Testing Establishment' in various ranks and capacities. He was earlier Senior Air Staff Officer at Eastern Air Command.
GULFSTREAM
Gulfstream Aerospace recently named Mark Bates as General Manager of their Farnborough facility in England. Most recently, he was a Director of Services, overseeing maintenance for the Gulfstream G650 and Gulfstream G700 as well as entry into service for the G700.
HINDUSTAN AERONAUTICS LIMITED
Mihir Kanti Mishra has taken over as Chief Executive Officer of HAL's Bangalore Complex. Prior to this, he was heading Aerospace Division as General Manager. His experience in HAL includes a wide array of business verticals - engine, aircraft and space.