Union budget for the year 2023-24 was presented in the Indian Parliament recently by Finance Minister Nirmala Sitharaman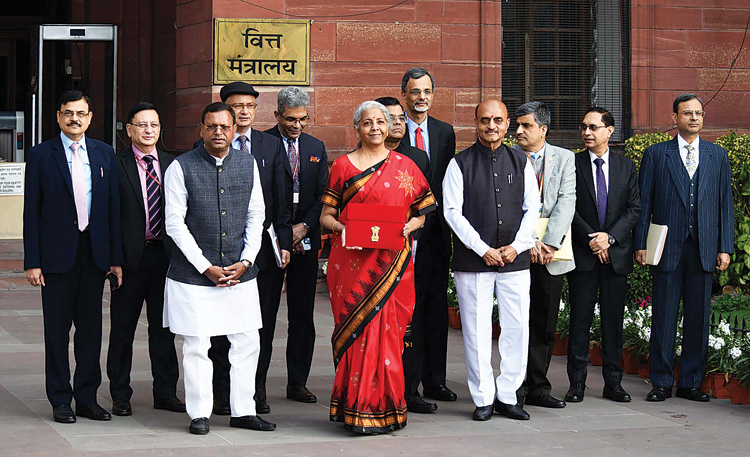 Finance Minister Nirmala Sitharaman along with the Ministers of State for Finance Pankaj Chaowdhary and Bhagwat Kishanrao Karad and senior officials before presenting the Union Budget 2023-24, in New Delhi on February 1, 2023
In the 75th year of India's Independence, the Indian Economy has been recognised as a 'bright star' with the economic growth estimated at seven per cent, the highest among all major economies, in spite of the massive global slowdown caused by COVID-19 and Russia-Ukraine War. This was stated by Finance Minister Sitharaman while presenting the Union Budget 2023-24 in Parliament on February 1, 2023. She emphasised that Indian economy is on the right track, and despite challenging times, heading towards a bright future. The highlights of the Budget are as follows:
DEFENCE BUDGET 2023-2024
According to the Budget papers for 2023-2024, the total size of the Defence Budget 2023-2024 is 5,93,537.64 crore – or 5.94 lakh crores for ease of reference. In 2022-2023, the defence budget allocation was 5.25 lakh crore which figuratively speaking implies an increase of about 12.5 per cent over last year.
A total of 1.62 lakh crore has been set aside for Capital outlay that includes purchasing new military equipment like fighter jets, submarines, warships, missiles and other military hardware. In 2022-23, the budgetary allocation for Capital outlay was 1.52 lakh crore although the revised estimates for 2022-2023 show the actual expenditure as 1.50 lakh crores. The Capital outlay of 1.62 lakh crore this year indicates an increase of 10,000 crores or 6.7 per cent over last year.
According to 2023-24 Budget documents, an allocation of 2,70,120 crore has been made for Revenue Expenditure that includes expenses on payment of salaries and maintenance of establishments. The budgetary allocation of Revenue Expenditure in 2022-23 was 2,39,000 crore, which indicates an increase of 31,129 crore in this year's budget.
A separate amount of 1,38,205 crore has been allocated for defence pensions, which compared to last year's allocation of 1.19 lakh crores indicates an increase of 15 per cent. This could be because of payment of one rank, one pension (OROP) which the Supreme Court has directed the government to pay since 2019. Moreover, defence pensions also include pension of civilian-defence employees of the Ministry of Defence (MoD) allocation for which an amount of 22,812 crores is shown.
The outlay for the Ministry of Defence (Civil) has been pegged at 8,774 crore while an amount of 13,837 crore has been set aside under capital outlay. The total Revenue Expenditure including the pension outlay has been estimated at 4,22,162 crore. The Capital Budget for the Border Roads Organisation (BRO) has been pegged at 5,000 crores against 3,500 crores allotted in FY 2022-2023, which is good.
As per the norm, all three Services had made presentations to the MoD earlier and sought more funds, which would have been sent to the Ministry of Finance (MoF). How closely these projections would have been examined despite the continuing India-China standoff remains questionable in absence of a National Security Strategy (NSS) and without a Comprehensive Defence Review. The Army is looking for more drones of all types, light tanks, more firepower and surveillance and monitoring systems. The Navy needs to get INS 'Vikrant' operational with its full air complement and more submarines, the P-75(I) included. The IAF needs to get the S-400 systems deployed and add more fighter jets to make up the depleting number of operational squadrons required. In addition, projects like the Tejas MK2 Multirole Fighter Aircraft (MRFA) and the Advanced Medium Combat Aircraft (AMCA) for fifth-generation fighter jets must keep progressing. How much of the above in terms of numbers can be procured from the Capital outlay, in addition to meeting other operational requirements, would depend on share of the individual Service and the priority allotted for procurement.
THRUSTING AIR TRANSPORTATION
The Union Budget allocation for the civil aviation ministry has been more than halved to 3,113.36 crore for the upcoming fiscal year, owing mostly to a significant fall in the amount set aside for Air India Asset Holding Ltd. This includes 3,026.70 crore from revenue and 86.66 crore from capital.
The reduction i.e. more than half, is primarily due to lesser funds set aside for AI Asset Holding Ltd (AIAHL), a governmentcreated special purpose corporation that holds various assets of national carrier Air India. AIAHL has been granted 1,114.49 crore in the current Budget under the minister's public sector undertakings section. AIAHL was initially given 9,259.91 crore for 2022-23, which was eventually reduced to 7,200 crore.
The latest budget, on the other hand, has increased the amount for regional air connectivity to 1,244.07 crore for the next fiscal year beginning April 1. The Directorate General of Civil Aviation (DGCA) and the Bureau of Civil Aviation Security (BCAS) have had their budgets hiked to 73.74 crore and 309 crore, respectively.
The allocation for UDAN has doubled from last year to 12.4 billion ($151 million). In 2022, it was 6 billion ($73 million). Under the Regional Connectivity Scheme (RCS)-UDAN (UdeDeshkaAamNagrik), 459 UDAN routes involving 72 airports including nine heliports and two water aerodromes have been operationalised as on January 30, 2023, across the length and breadth of the country.
Over 1.13 crore passengers have travelled in more than 2.16 Lakh UDAN flights, so far.
International Civil Aviation Organization (ICAO) study shows that the air connectivity would have economic multipliers of 3.1 and employment multiplier of 6.1.
The Government has planned to develop one hundred airports by 2024 to support UDAN scheme and operationalise 1,000 UDAN routes during the currency of the Scheme.
Eighteen Airports have been identified under UDAN in the State of Uttar Pradesh out of which Kanpur, Prayagraj, Kushinagar, Hindon, Agra & Bareilly have been operationalised. Six Airports have been identified under UDAN in the State of Rajasthan out of which Bikaner, Jaisalmer & Kishangargh have been operationalised. Six Airports have been identified under UDAN in the State of Odisha out of which Jeypore, Jharsuguda & Rourkela have been operationalised.
Nine Heliports have been developed and operationalised in the NSOP category under the UDAN scheme in Himachal Pradesh and Uttarakhand. Mandi and Rampur are in Himachal Pradesh while Almora, Chinyalisaur, Gaucher, Haldwani, New Tehri, Sahastradhara and Srinagar are in Uttarakhand.
The Pradhan Mantri Kaushal Vikas Yojana 4.0 will provide lakhs of young people within next three years with on-thejob training as well as new age courses in drones and other tech skills.
100 critical transport infrastructure projects, for last and first mile connectivity for ports, coal, steel, fertilizer, and food grains sectors will be taken up on priority with investment of 75,000 crore.
At least 50 destinations to be selected, through challenge mode, to be developed as a complete package of domestic and foreign tourists.
Entity Digi Locker to be set-up for use by business enterprises and charitable.