This was Italian Prime Minister Meloni's first visit to India during which she was accompanied by Italy's Deputy Prime Minister and Foreign Minister Antonio Tajani and a high-powered business delegation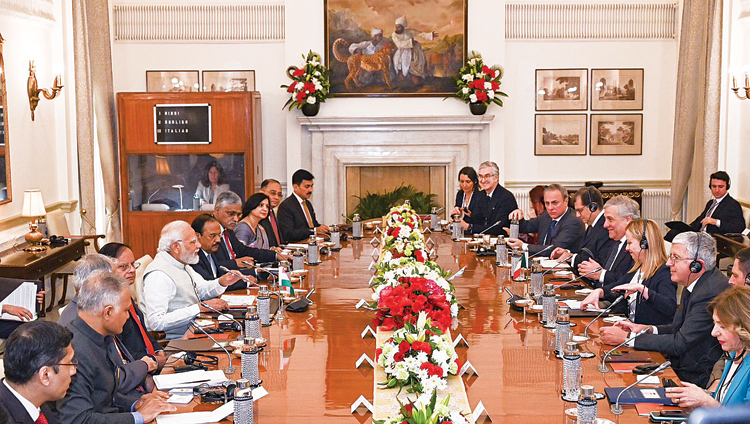 Prime Minister Narendra Modi attends delegation level talks with the Italian Prime Minister Giorgia Meloni at Hyderabad House, in New Delhi on March 2, 2023
Italy's Prime Minister Giorgia Meloni visited India from March 2 to 4, 2023 at a time when India and Italy are celebrating 75 years of establishment of diplomatic relations this year. At the age of 46, Meloni is the first woman Prime Minister of Italy. She led the 'Brothers of Italy' (Fdl) political party since 2014 and has been the President of the European Conservatives and Reformists Party since 2020. This was Meloni's first visit to India during which she was accompanied by Italy's Deputy Prime Minister and Foreign Minister Antonio Tajani and a highpowered business delegation.
PM Meloni held bilateral discussions with Prime Minister Narendra Modi, called on President Draupadi Murmu and was the Chief Guest and Keynote Speaker at the eighth Raisina Dialogue, a conference on geopolitics and geo-economics co-organised by the Ministry of External Affairs. A business roundtable was also held, which was co-chaired by Tajani and India's Commerce Minister Piyush Goyal.
Political relations between India and Italy were established in 1947. The two countries enjoy cordial relationship. There has been a regular exchange of visits at political and official levels between both countries. In November 2020, Prime Minister Modi and his then Italian counterpart Giuseppe Conte held a virtual summit to strengthen security and defence cooperation, work towards closer economic ties, enhance the opportunity for the mobility of talent, and give strategic guidance to ongoing collaboration in science and technology. The Action Plan 2020-24 set an ambitious agenda for an enhanced Partnership with Italy, to whose full implementation both countries remain committed. Prime Minister Modi visited Rome in October 2021. During his visit an energy transition and renewable energy partnership was launched between the two countries.
In July 2021, General M.M. Naravane, then Chief of Army Staff, visited Italy. This visit took place after 14 years and at the Service Chief level this interaction was after more than a decade. At Cassino, Naravane dedicated the India Army Memorial to the 50,000 Indian soldiers who had fought for the liberation of Italy during World War II. An existing track was also renamed 'Roorkee Road'. The Italian Defence Minister expressed the desire to reboot the defence relations with India.
The bilateral meeting by Italian Prime Minister Giorgia Meloni with Prime Minister Narendra Modi on March 2, 2023 has given a fillip to India-Italy relations. During this meeting, both leaders exchanged views were on bilateral, regional and international issues of mutual interest. They held broad discussions on bilateral cooperation, including political and security cooperation, defence, trade and connectivity, energy security and transition, the green economy, culture and people-to-people relations. It was acknowledged that both leaders underscored their firm commitment to democracy, freedom, human rights and rule of law as key values in promoting peace, stability and development.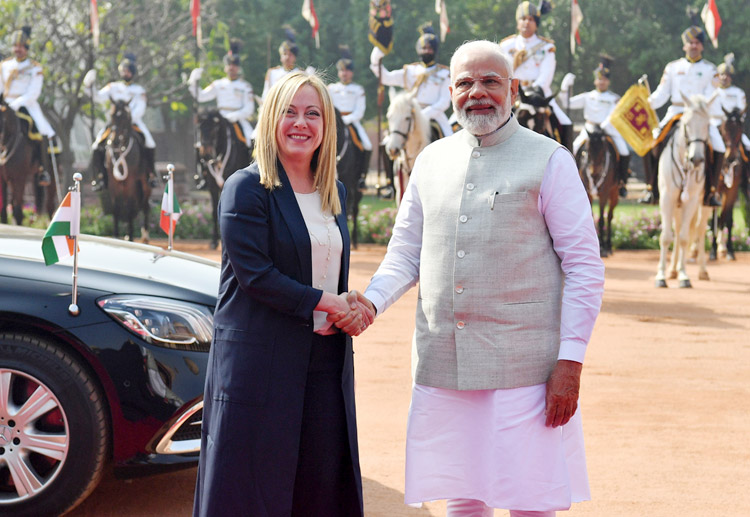 Prime Minister Narendra Modi attends the ceremonial reception of the Italian Prime Minister Giorgia Meloni in New Delhi on March 2, 2023
The two Prime Ministers welcomed the steady deepening of defence cooperation between the two countries in the last two years, underscoring the need to further enhance mutual engagement in this field. Both agreed on the potential for defence equipment co-development and co-production in India. Modi invited Italian defence companies to actively participate under the 'Make in India' initiative. A series of bilateral agreements, including a memorandum of understanding (MoU) on defence cooperation, were signed, elevating India-Italy relations to a 'Strategic Partnership'.
Both leaders expressed the intention to further advance cooperation in the spheres of economy, technology, space, energy security and transition, infrastructure, pharmaceuticals, food processing, education, and research and development. Positive impacts are expected from the new MoU on industrial property rights. Italy and India have called for the cessation of hostilities and expressed their serious concern about the humanitarian crisis in Ukraine. Both leaders discussed the destabilising effect of the conflict and its broader regional and global implications, plus the supply chain disruptions due to global developments.
Both leaders condemned terrorism in all its forms and manifestations and affirmed the need to strengthen cooperation between the two countries in the fight against global terrorism. India and Italy maintain a Joint Working Group on counterterrorism. The two leaders also agreed to expand cooperation in the field of space and establishing a bilateral cyber dialogue. After the bilateral meeting, PM Modi said, "Today, we're announcing the establishment of a 'Start Up Bridge' between India and Italy. We welcome this. There is one more sector wherein both the countries are beginning a new chapter, that is - defence cooperation."
PM Modi expressed appreciation for Italy coming on board the Science, Technology and Academic Cooperation Pillar of the Indo-Pacific Ocean Initiative (IPOI). Addressing a joint press conference with Prime Minister Narendra Modi, Meloni said that India as president of G20 may play a central role in facilitating the negotiation process for cessation of hostilities for "just peace" in Ukraine. She added that Italy aimed to strengthen its partnership with India on defence and energy security, as well as cyber security and other areas. Meloni said Italy wants to further boost relations with India which is why both countries have decided to turn the partnership into a strategic partnership.
Meloni also said that India can very well, in terms of leadership, represent the requirements of the countries of the Global South. Referring to the trade ties with India, Meloni said it has touched a record figure of almost Euro 15 billion. She further stated that her government is planning to project intense activism in the Mediterranean Sea, which is connected to the Indo-Pacific.
The elevation of India-Italy cooperation to 'Strategic Partnership' is good for both the nations, India-EU partnership, as well as the Indo-Pacific. Italy is founding member of both the European Union and the NATO. India and Italy can now work more intimately in implementing the India-EU Connectivity Partnership, and cooperation in facilitating the ongoing negotiations for an India-EU Free Trade Agreement. Both nations have now identified the need for more cooperation in the strategic sectors of defence, space, cyber and sea. Work will now begin to identify specific areas of partnership in each of these domains. The India-Italy 'Start Up Bridge' will benefit both 'Make in India' and 'Make in Italy'. Italy's weapon exports in 2021 stood at Euro 4.7 billion.