Indian Air Force has emerged as a reliable first responder for undertaking aid and rescue during any calamity under HADR operations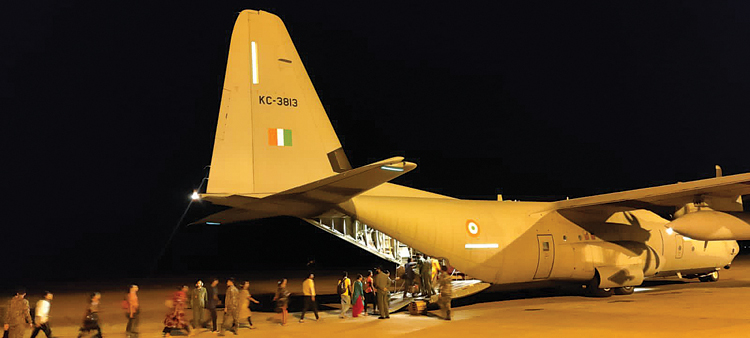 OPERATION KAVERI: INDIAN GOVERNMENT LAUNCHED AN OPERATION TO EVACUATE AND BRING BACK ITS STRANDED CITIZENS FROM SUDAN. IN EXTREMELY CAREFULLY PLANNED AND EXECUTED MISSIONS, UNDERTAKEN BY INDIAN AIR FORCE AND INDIAN NAVY, HUNDREDS OF INDIANS WERE SUCCESSFULLY BROUGHT BACK TO INDIA.
India has launched Operation 'Kaveri' to evacuate stranded Indian nationals from crisis ridden Sudan that has been witnessing fierce fighting. The fighting had erupted in the Sudanese capital, Khartoum, and elsewhere in the country as a direct result of a vicious power struggle within the country's military leadership, following a power struggle between the Regular Army and the Rapid Support Forces' Paramilitary force. At least 450 people are reportedly killed in the armed clashes while thousands have been hurt.
Last week, Prime Minister Narendra Modi had chaired a meeting to review the situation in Sudan and had asked for "contingency evacuation plans" to be readied for Indians stuck there.
At the time of going to Press, more than 700 Indian nationals have reached Port Sudan and there are more on their way. About 350 have reached New Delhi. The External Affairs Minister S. Jaishankar has assured that Indian aircraft and ships are set to bring Indians back safely.
OPERATION 'KAVERI'
Indian Government launched operation codenamed Operation 'Kaveri' aimed to evacuate its citizens from the clashes ravaged country. About 3,000 Indians were estimated to be stranded in Sudan when a conflict broke out about 12 days ago.
Indian Government announced that it is "committed to assist all our brethren in Sudan" and launched a joint operation of undertaking evacuation of stranded citizens by Indian Air Force (IAF) aircraft and Indian Navy (IN) ships.
In simultaneous operations the IN has deployed INS Sumedha, a Patrol vessel that evacuated 278 citizens on Wednesday April 25, 2023, followed by INS Teg.
The IAF fielded its two C-130J Super Hercules aircraft, air lifting 135 and 121 citizens on April 25 and another 135 on April 26.
It is really heartening to see some swift effort on part of the IAF wherein they positioned two of their aircraft at Jeddah airport of Saudi Arabia on April 19 itself, awaiting for a small window of opportunity to lift off maximum citizens at short notice. The opportunity came in the form of a 3-day ceasefire, wherein on the first day, April 25 itself the IAF lifted more than 250 people from Port Sudan to Jeddah International airport. Another airlift took place on April 26. More operational shuttles by IAF aircraft are in the pipeline.
Such operations are termed as Humanitarian Assistance and Disaster Relief (HADR) Operations. IAF has truly excelled in undertaking the HADR operations at short notice. Evacuation of own personnel from Yemen, Ukraine, Sudan and Afghanistan are just to name a few.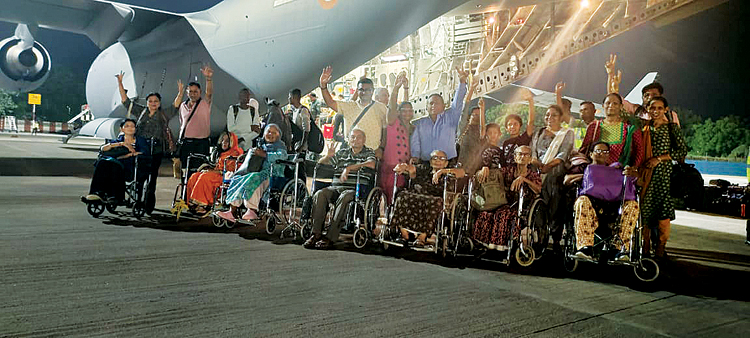 192 PASSENGERS WERE BROUGHT BACK FROM SUDAN IN A TACTICAL RESCUE OPERATION BY THE IAF C-17, THAT INVOLVED FLYING THROUGH EXTENDED PERIODS OF NEARLY 24 HOURS AND A NONSTOP FLIGHT BACK.
It is very difficult to get something of this scale going. It needs effective diplomacy and a well planned and executed air operation, before one can deploy. India has shown that we can.
Media reports indicate that Indian Diasporas comprises of close to 14 million non-resident Indians and there are more than seven million international tourists each year. In any contingency, Indian citizens abroad are likely to be impacted by any conflict anywhere in the world. Indian Government has always tackled this contingency with great amount of responsibility and alacrity towards an enduring commitment of returning citizens to safety.
India is admired for its reputation and ability to harness all its resources in rescuing every single citizen in any corner of the world, every time they are in need.
All this has become possible due to transformation of IAF transport fleet with the technologically advanced C-130J Super Hercules and C-17 Globemaster aircraft. They have added an absolutely new dimension to IAF operational capability in conducting special operations and strategic heavy lift respectively.
During the Covid crisis IAF transport aircraft airlifted our citizens from Covid infested Wuhan. Later the IAF transport fleet was instrumental in delivering consignments of medical aid to remote areas. Further during the second Covid wave, the IAF fleet was involved in two major roles of airlifting cryogenic containers from abroad (Thailand, Singapore, Indonesia, Dubai and far off countries like UK, Germany and Australia) and further positioned them near oxygen operating plants within the country.
In recent past the IAF airlifted close to 3,000 citizens in just six days, under Operation 'Ganga'. Earlier 700 citizens were flown out of Kabul safely in war torn Afghanistan by the C-130J aircraft under one of the most covert operations undertaken during peacetime. All this reflects the nation's commitment towards the well being of Indian Diaspora. Closer home, airlifting of 23,000 citizens during the flash floods in Uttarakhand in June 2013 under Operation 'Rahat' has been a praiseworthy achievement. IAF has emerged as the first responder for undertaking aid during any calamity covering HADR operations. Rapid intervention into Syria and Turkey during the latest Earthquake under Operation 'Dost' is another case in point.

(LEFT-RIGHT) IAF'S C-130J AIRCRAFT RESCUED 121 PERSONNEL FROM A SMALL AIRSTRIP AT WADI SAYYIDNA, ABOUT 40 KM NORTH OF KHARTOUM IN A DARING OPERATION ON NIGHT OF APRIL 27-28, 2023. THIS APPROXIMATELY TWO AND A HALF HOUR OPERATION BETWEEN WADI SAYYIDNA AND JEDDAH WILL GO DOWN IN THE ANNALS OF IAF HISTORY FOR ITS SHEER AUDACITY AND FLAWLESS EXECUTION.
In the ongoing Sudan crisis, owing to the conflict situation, the availability of Sudan international airfield, the runway, at the crucial time of need could not be guaranteed. The C-17 Globemaster has larger passenger carrying capacity as compared to the C-130J aircraft, however, the C-130J seems to have been preferred in this crisis because the limited availability of useful runway, operating areas, parking slots, hence a smaller aircraft with an important capability to be able to operate unhindered from semi-prepared surfaces, the C-130J was preferred over the C-17 aircraft. This is because C-130J aircraft are tactical aircraft meant for special operations, having short landing, short take off capability and can operate from dirt airstrips or semi-prepared airstrips if required. Considering all these, the IAF proactively positioned its C-130J Super Hercules aircraft on April 19, 2023 at Jeddah International airport in Saudi Arabia.
Saudi Arabia has emerged as a Key country which is looking after Indian stranded citizens, offering the fullest cooperation. Under its evacuation mission, India has set up a transit facility at Jeddah and all the Indians have been taken to the coastal Saudi Arabian city after their evacuation from Sudan. IAF C-130J aircraft are undertaking quick shuttles to evacuate citizens from Port Sudan to Jeddah. At the time of going to Press, the first batch of 378 Indians have arrived home on April 26 evening as first flight reached New Delhi.
The conduct of Operation 'Kaveri' is true reflection of close and healthy coordination between the IAF, IN the Ministry of External Affairs (MEA) and a very pro-active approach displayed by each functionary in the chain. All the stakeholders have considered the need for speed, precision, and coordination. It is a true example of 'whole of government approach' to achieve good results. Over the last few years, evacuation of Indian citizens in distress has become more organised. As a result, Indians now are well respected in other countries The HADR operations within the country have come off the age and India is being looked upon as a responsible nation, globally. This reputation must get strengthened.