The agreement will encompass a wide range of air information like weather data, flight plans and other relevant information that could assist in air traffic management and situational awareness of the sky and also facilitate the transfer of other advanced and sensitive technologies to India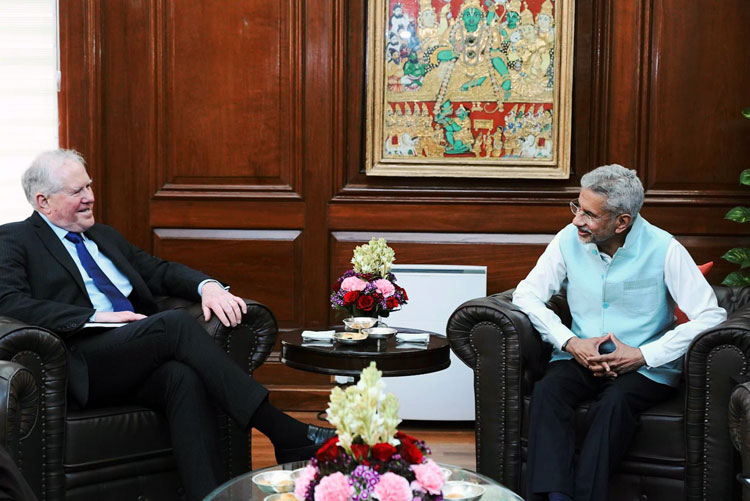 US SECRETARY OF AIR FORCE FRANK KENDALL MEETING INDIA'S FOREIGN MINISTER DR S. JAISHANKAR DURING HIS VISIT TO INDIA
A very high ranking Pentagon official, the US Air Secretary Frank Kendall, who kept a close watch on China's military modernisation through technical intelligence for over a decade has proposed a landmark Air Information Sharing Agreement with India, which envisages exchanging information on what the two air forces do together. This will also allow transfer or sale of highly sensitive US defence equipment to India.
The contours of this proposed agreement have not yet been divulged, but it is surmised that the agreement will encompass a wide range of air information like weather data, flight plans and other relevant information that could assist in air traffic management and situational awareness of the sky. This agreement could help India to better monitor its airspace and improve its air traffic management system. Most significantly this could also help India to improve its military capabilities by obtaining better situational awareness and intelligence capabilities. Since India and US are together working for peace and stability in the Indo-Pacific region, US would like to share information regarding Indian air movements over the Indian and Pacific oceans, similarly India would also be shared US Air movements in the Indo-Pacific region. Perhaps US is preparing ground for any possible joint air action over the Indian and Pacific seas. Besides, this agreement will also facilitate cooperation in specific areas.
This proposal of US Air Secretary is indicative of deepening India-US defence ties amid increasing US confidence on India and growing belief in India that US can be a reliable defence partner. The two sides are already working on a draft of the agreement which is likely to be inked soon, which will lead to close coordination on all matters relating to Air Forces. Significantly during his India visit, Secretary Frank Kendall has also proposed transfer of technology or manufacture in India of US jet engines, which may be used in LCA Mk-2 or India's futuristic fighter aircraft, AMCA, presently under design phase. The finalisation of Air Agreement will also facilitate the transfer of other advanced and sensitive technologies to India.
Kendall confirmed that US engine maker General Electric (GE) is exploring the possibility of producing jet engines for fighter planes made in India
The two countries have already entered into another landmark agreement, "Initiative on Critical and Emerging Technologies (iCET)" facilitating cooperation in sensitive high-tech equipment. This will expand the scope of bilateral strategic technologies partnership and defence industry cooperation. In January this year the Indian NSA Ajit Doval met his counterpart in Washington for the inaugural meeting of the iCET, during which the two delegations discussed the possibilities of enhancing the level of cooperation in critical and emerging technologies. They also discussed co-development and co-production of high-tech defence systems.
The Air Secretary besides talking to Indian Defence Secretary, also had a meeting with Indian National Security Advisor Ajit Doval and External Affairs Minister Dr S. Jaishankar, who later tweeted, "Great to catch up with an old friend, US Secretary of Air Force Frank Kendall. Discussed the global strategic scenario and new opportunities for India-US defence cooperation." Later Kendall told media, "there were a raft of areas in which the two sides could work together including space, intelligence, surveillance, and reconnaissance (ISR) technology, fighter jets and engine technology". Kendall confirmed that US engine maker General Electric (GE) is exploring the possibility of producing jet engines for fighter planes made in India. According to Kendall, "The GE offer for engine technology is in some ways a breakthrough. I hope we can work together, and India can find a way to take this forward."
THE SECRETARY OF US AIR FORCE FRANK KENDALL CALLS ON THE DEFENCE SECRETARY GIRIDHAR ARAMANE, IN NEW DELHI ON MARCH 21, 2023
India and US have already entered into four major foundational agreements to deepen cooperation in defence. These agreements are:
Basic Exchange and Cooperation Agreement (BECA),
The Communications Compatibility and Security Agreement (COMCASA),
The Logistics Exchange Memorandum of Agreement (LEMOA) and
The General Security of Military Information Agreement (GSOMIA).
These agreements between India and US have been made possible after years of high level political and bureaucratic negotiations. These agreements have led to highly sensitive cooperation on India's borders with China, as they facilitated Pentagon to share movements and locations of Chinese troops deployment on the Ladakh hills. These agreements have given India and US a close ally like partnership. The finalisation of Air Information Sharing Agreement will further strengthen close coordination between the fighting arms of the two QUAD partners.