With the HTT-40 contract and the development of HJT-36 aircraft, HAL now carries a huge responsibility of providing basic and the intermediate trainers to the IAF that are on schedule and they meet international quality standards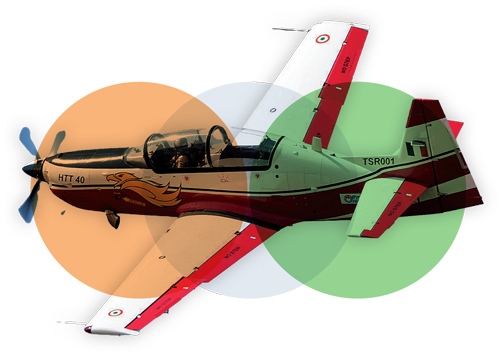 Trainer aircraft has been a long outstanding critical requirement of the IAF. Signing of the much awaited contract for Basic Trainer Aircraft (BTA) by the Defence Ministry on March 7, 2023 with Hindustan Aeronautics Limited (HAL) for purchase of 70 HTT-40 at a cost of approx. 6,800 crore, has brought cheers for the IAF. The aircraft will be delivered over a period of six years, commencing possibly from end-2024 onwards.
THE HTT-40
HTT-40 is a turboprop aircraft possessing good low speed handling qualities and provides better training effectiveness. It can be used for basic flight training, instrument flying, close formation flying, night flying, pilot-navigation and other basic missions. The present deal includes associated equipment and training aids including simulators. Being an indigenous design, it is configurable for upgrades to incorporate the futuristic requirements of the IAF. It boasts of modern avionics and multifunction displays. Aircraft is to be powered by a Honeywell's TPE331-12B Turboprop engine, under a manufacturing and repair license agreement signed between HAL and Honeywell.
The HTT-40 has been designed by Aircraft Research & Design Centre (ARDC) of HAL. The development of the aircraft commenced in 2013 and the first prototype made its maiden flight in May 2016. First aircraft will be built at HAL Bengaluru. Later, HAL is likely to shift its production to its Nasik Division. HAL is targeting to produce 20 aircraft per year, thus it will be end-2027 by when the complete order will hopefully be delivered.
The HAL is showcasing it as an indigenous solution. The large percentage of components, including the aeroengine is going to be imported. Official Press release indicates that the HTT-40 contains approximately 56 per cent indigenous content which is to be progressively increased to over 60 per cent through indigenisation of major components and subsystems. This procurement has the potential to provide direct and indirect employment to thousands of people spread over more than 100 MSME.
IAF TRAINER AIRCRAFT REQUIREMENT
The IAF has a sanctioned strength and requirement of 181 BTA. 75 of the PC-7 MkII were purchased under a deal signed in 2012 with deliveries completed in November 2015. PC-7 MkII aircraft essentially operate in Air Force Academy (AFA) and a few aircraft at Flying Instructors School (FIS), Tambaram. Pilatus PC-7 MkII has an enviable safety record. Flying more than 25,000 flying hours per year, so far it has clocked more than two lakh accident free flying hours.
For the Stage-II flying training, Kiran aircraft offers a critical transitional step towards the next stage of pilot's training. The present fleet of Kiran IJT is facing obsolescence and host of other maintenance issues. HAL's efforts to design and develop the Intermediate Jet Trainer aircraft, HJT-36 under Project 'Sitara' is in the pipeline since last decade and a half, is yet to fructify. Six turn spin performance was successfully demonstrated on HJT-36 in January 2022. Spin was a critical safety feature that has been pending since 2016, necessitating certain critical changes in airframe design.
PATH AHEAD
In the past, due to shortages of BTAs and IJTs in the IAF, the training syllabus had to be juggled on various occasions, the IAF had to cut down flying time for rookie pilots, a most undesirable option for any Air Force. The IAF faces shortage of pilots close to 400 pilots, essentially due to shortages of aircraft. In order to meet the training flying requirements, the IAF has in the past has considered leasing some trainer aircraft from foreign countries or sending rookie pilots abroad, both of them are not desirable situation.
With the signing of the HTT-40 contract, the onus now is with the HAL to come true to the faith reposed on HAL by the Ministry of Defence and the IAF to produce an aircraft that meets the stringent safety standards required for training rookie pilots. At the price that is being paid for the HTT-40, HAL must ensure that the quality of the aircraft is atleast at par, if not better, than other competitors globally. Also, one of the major requirements of this project entails meeting the timelines, as a yawning gap already exists between the BTAs available and required for the IAF.
At the same time the HAL needs to give due focus on expediting project Sitara to arrest the looming shortages of IJTs due impending phasing out of Kiran aircraft over next two years.
Thus HAL needs to remove this bottleneck in the training of IAF future pilots. It has its task well laid out, to meet the timelines and standards of production for HTT-40 and Sitara HJT-36 aircraft.