The airline industry has again proved that whenever private enterprise is unleashed in any sector it takes that sector by storm. Defence and aerospace manufacturing could well replicate this feat within the next 20 years.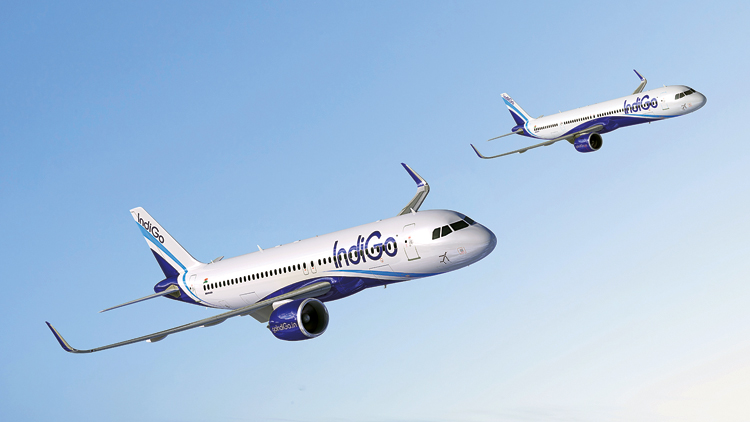 THE CONTINUOUS ACHIEVEMENTS OF INDIGO AIRLINES SHOWCASE THE ENTREPRENEURIAL DRIVE AND INNOVATIVE PROWESS OF THE PRIVATE SECTOR IN ACHIEVING REMARKABLE SUCCESS
Poised to emerge as the world's third-largest aviation market by 2030 or earlier, India's airline industry has seen a remarkable transformation in recent years. And, unsurprisingly, private enterprise has been the driving force.
For several decades after Independence, aviation was the exclusive domain of state-owned carriers. But following the liberalisation of the economy in the early 1990s, a number of private airlines were started at sporadic intervals. Various challenges including financial turmoil, regulatory issues, and fierce competition among the contenders, especially post 2003, meant that many of these private carriers had an all-too-brief existence. Even the big fish like Kingfisher Airlines and Jet Airways eventually fell by the wayside. But fast forward to 2023, and it is private enterprise all the way. Even Air India, the airline founded by JRD Tata in 1932 and nationalised in 1953, is back under Tata's wing after seven decades.
STATE OF PLAY
The Tata Group is now attempting something unique – merging four airlines into two. Vistara will be absorbed by Air India as a full-service carrier while AirAsia India and Air India Express will be merged to form a single low-cost carrier (LCC) retaining the Air India Express name. The Group's combined fleet size stands at 219 currently. Earlier this year, with the aim of rapidly growing its 24.8 per cent domestic market share and 22.96 per cent international market share, it placed what was till then the largest single order in aviation history – a mix of 470 Airbus and Boeing airliners, narrow-body as well as wide-body.
Not to be outdone IndiGo Airlines, the domestic market leader with a commanding 63.2 per cent market share in June 2023, placed a whopping order for 500 Airbus airliners – the largest order in the history of commercial aviation. And it cannily chose the high-profile Paris Air Show to do so. Against a fleet of 317 aircraft, IndiGo now has almost 1,000 jets on order.
The carrier in third place, Akasa Air, is following a meteoric trajectory. Having commenced commercial operations as recently as August 7, 2022, it raced ahead of SpiceJet and grabbed 4.9 per cent market share in June 2023. It will hit the magic figure of 20 aircraft by its first birthday, qualifying it to launch overseas operations. This is the fastest any airline has grown, both in terms of market share and fleet size, since Indian aviation was opened up to the private sector. Akasa has another 55 jets on order.
Domestic aviation is dominated by the LCCs that now control as much as 80 per cent of the market. That is all to the good. But the airline industry is fast becoming a duopoly with IndiGo and the Air India group cornering nearly 90 per cent of passenger traffic. And that is not good news because, whenever just two entities control the market, consumers rarely get competitive prices. The woes of LCC Go First have also highlighted the plight of small operators who are struggling to compete against the bigger ones. And LCC SpiceJet too is under severe pressure from lessors over unpaid dues.
PRIVATE INDUSTRY TO THE FORE
Be that as it may, commercial aircraft numbers are bound to surge. With government and private airport developers planning to infuse almost 75,000 crore over the next 8-10 years, airport infrastructure also seems likely to keep pace albeit with some lag. Next is the turn of manufacturing. And almost every global aerospace major already has a significant technological presence in India, lured by the availability of inexpensive yet quality talent in aeronautical engineering as well as in software, simulation and electronics.
Almost every global aerospace major already has a significant technological presence in India, lured by the availability of inexpensive yet quality talent
In 2014, the government introduced several measures under the 'Make in India' initiative that signified a determined shift away from a reliance on imports. The aim was to establish India as a force in the aerospace and defence manufacturing industry. The Aatmanirbhar Bharat Abhiyan mission launched in 2020 had aerospace exports as a focus area. India aims to achieve a turnover of $25 billion from aerospace and defence goods and services by 2025, with exports accounting for $5 billion, or roughly 41,000 crore. Although the figure of almost 16,000 crore aerospace and defence exports achieved in FY23 was an all-time high, there is still a long way to go to meet the 2025 target. And there is no way the target can be achieved without massive participation by private industry.
TASL'S TURN
Tata Advanced Systems Ltd (TASL) is now gearing up to become the first private company to build a military aircraft in India. Till now all military aircraft have been manufactured only by state-owned Hindustan Aeronautics Limited (HAL), so this will be a giant leap for private industry. Set up in 2007, TASL has not had a free run. Back then all government contracts for defence projects went almost automatically to public sector units (PSUs). 'Make in India' was unknown. Besides the Tata Group had no experience of defence or aerospace engineering. However, within two years, TASL struck a deal with Sikorsky Aircraft to make aerospace components in India, followed by another long-term contract to assemble Sikorsky S-92 helicopter cabins. Over the years TASL also entered into significant contracts with Lockheed Martin, Boeing, Airbus and Rolls-Royce.
In September 2021, India signed a long-awaited 21,935 crore deal with Airbus Defence and Space to procure 56 C295 new-generation tactical airlifters to replace the Indian Air Force's (IAF) ageing Avro HS 748 planes, which entered service in the early 1960s. Airbus will sell 16 C295 twin-engine, turboprop aircraft in fly-away condition between September 2023 and August 2025. The remaining 40 aircraft will be manufactured and assembled by TASL at its new facility in Vadodara, Gujarat. The first made in India C295 is scheduled to emerge in September 2026 and all 40 aircraft by August 2031. By then, the IAF will become the largest C295 operator in the world.
TASL and its subcontractors will manufacture over 13,400 detail parts, 4,600 sub-assemblies and all the seven major component assemblies of the C295 along with tools, jigs and testers. Also, 96 per cent of the total man-hour work per aircraft that Airbus employs at its manufacturing facility in Seville, Spain, will be undertaken by TASL. Thereafter, TASL will provide complete MRO (maintenance, repair and overhaul) support and service to the IAF, which creates another channel for future revenues. It is also likely that another 15 C295 aircraft will be acquired later – nine for the Indian Navy and six for Coast Guard. Exports too are eminently possible. Further into the future, the IAF's An-32 transport fleet will be up for replacement in the early 2030s and the C295 could be a strong contender. Therefore, the importance of the Airbus C295 project for India's private aerospace manufacturing sector cannot be overemphasised.
In March 2023, Lockheed Martin and the Tata Group inked a contract to build fighter jet wings at their joint venture in Hyderabad – Tata Lockheed Martin Aerostructures Ltd (TLMAL). TASL also aims to make India truly self-reliant in the defence aerospace sector by working on other core technologies routinely denied to the country by foreign vendors.
BEST OF THE REST
TASL may be in the limelight today but it is by no means the only company destined for a bright future. Below is just a small sample of scores of private companies that are showing the way in defence and aerospace manufacturing and are poised to capitalise on the sector's huge potential.
Bharat Forge is a leading multinational company that specialises in the manufacture of high-quality metal products. It is a trusted partner of several leading aerospace and defence companies worldwide.
Larsen & Toubro has a portfolio of aerospace and defence products that includes electronic warfare systems, advanced radar systems, aerospace structures, and missile launchers.
Godrej Aerospace is in talks to build aircraft parts for suppliers to Airbus. It expects its civil aviation business to be as much as 50 per cent of its total revenues next year. It also intends to bid for a possible contract to manufacture modules of GE F414 engines that will power the next generation of IAF fighter jets.
Ashok Leyland, Dynamatic Technologies, Honeywell Aerospace India, Mahindra Aerospace and Quest Global are other private companies that are well placed to contribute meaningfully towards the huge ecosystem of aerospace technology in both civilian and military spheres that is now emerging in India.
THE TOP THREE
DOMESTIC MARKET
SHARE % (JUNE 2023)
CURRENT FLEET
IndiGo
63.2
317
Air India Group
24.8
219
Akasa Air
4.9
20
Source: Compiled
FROM RTA TO DRONES
The National Aerospace Laboratories (NAL), under the Council of Scientific and Industrial Research (CSIR), has been tasked with the development of the ambitious Regional Transport Aircraft (RTA), a 90-seat turboprop passenger plane. Besides other public sector partners, NAL is also looking for private sector collaborators, domestic as well as foreign. The RTA's project definition phase started in April 2022 and will conclude by September 2023. Here too TASL's experience with the C295 programme could come in handy. And the RTA project could in turn be the launch pad for the development of an indigenous regional jet, a long-cherished dream of the country.
Much smaller in size physically, but of immense potential, is drone manufacturing. Both Prime Minister Narendra Modi and Minister of Civil Aviation Jyotiraditya Scindia have stated on various occasions that India aims to become a global drone hub by 2030. In August 2021, a new set of regulations was released as 'Drone Rules 2021'. These liberalised rules greatly simplified the tedious official procedures for registration and operation of drones. The "DigitalSky platform" hosted by the Directorate General of Civil Aviation (DGCA) for various activities related to drones now serves as a single-window portal for drone manufacture approvals.
GROWTH PROSPECTS
| | | |
| --- | --- | --- |
| | 2023 | 2030 (est) |
| Commercial Fleet | 700 | 1,200 - 1,400 |
| Passenger Traffic (crore) | 14.5 | 45 |
| Airports | 148 | 230 - 240 |
Source: MoCA
Once again, it is private enterprise all the way. Take ideaForge, the Mumbaibased pioneering drone company. With a wide range of products for both military and civil applications it had a market share of approximately 50 per cent in FY 2022. Pune-based Bharat Forge is the largest repository of metallurgical knowhow, design and engineering expertise and manufacturing prowess in India. Recently the company entered a partnership with General Atomics to manufacture main landing gear components, subassemblies, and major assemblies of drones. This is expected to help the country build a strong manufacturing ecosystem for high-end drones. TASL already has Sky-I and Rakshak VTOL (vertical take-off and landing) unmanned aerial vehicles (UAV) in its tactical UAV portfolio. Next in line could be MALE (Medium-Altitude Long-Endurance) and HALE (High-Altitude Long-Endurance) UAVs for military customers.
The importance of the Airbus C295 project for India's private aerospace manufacturing sector cannot be overemphasised
According to an estimate by the Ministry of Civil Aviation, India's drone sector will achieve a turnover of 12,000-15,000 crore by 2026, up from just 80 crore currently. Much of this spectacular growth will probably come from drone start-ups. For instance, Garuda Aerospace, founded in 2015, already has 750+ clients and over 30 different drones that offer more than 50 services across 84 cities in India. Its main products are Vajra, for the defence sector, and the Garuda Kisan Drone. It is all set to partner with Naini Aerospace Engineering Ltd (NAeL), an HAL subsidiary, and develop advanced precision drones.
A FEAT WORTHY OF BEING REPLICATED
All the signs indicate that India's aviation sector will be transformed in about a decade from now. Apart from the stunning aircraft orders, demand for air travel has moved beyond just the big cities and spilled over into tier 2 and 3 towns. Some analysts believe that IndiGo and Air India may have gone overboard with their orders in pursuit of the same pool of passengers. However, irrespective of the number of aircraft that actually materialise, all those planes will surely provide direct and indirect economic multiplier effects. And to complete the aviation ecosystem picture, this is the best time to enter the high-revenue aviation MRO and aircraft leasing segments. This requires some encouragement and incentives from the government, underpinned by action in the areas of policy and taxation. According to Deloitte, the Indian repair and overhaul industry is expected to grow to $4 billion by 2031, up from $1.7 billion in 2021.
In a recent interview, Minister of Civil Aviation Jyotiraditya Scindia stated, "India will have a fleet size of 1,200-1,400 planes by 2030, up from the current 700. We will have enough airport capacity. I am looking at the number of airports growing from 148 now to close to 230-240 during this period. I am also looking at passenger traffic growing from the current 14.5 crore (145 million) a year to almost 42 crore (420 million) by 2030, which means a three-fold increase. So yes, there is a long journey yet to be covered."
Just 20 years ago no one could have predicted that India's private airlines would achieve near-total domination of the skies so rapidly and that the two state-owned carriers would become history. The airline industry has again proved that whenever private enterprise is unleashed in any sector it takes that sector by storm. Defence and aerospace manufacturing could well replicate this feat within the next 20 years. After all, innovation and quality flow from competitiveness. Now that the stranglehold of the PSUs over aviation manufacturing has been decisively broken, private enterprise will surely deliver far more economically and effectively.