The two countries share a number of common challenges, including terrorism, and cooperate closely on security matters. Israel is a major supplier of weapons, ammunition and battlefield technology to India and the two countries are working together to develop new technologies.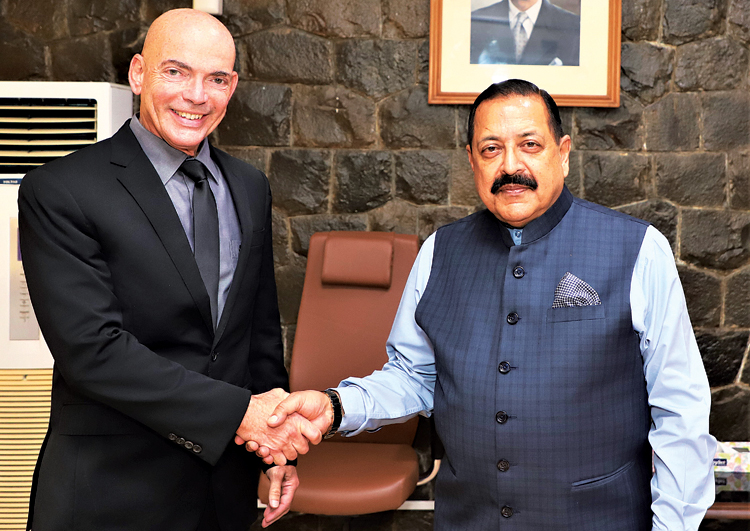 DR JITENDRA SINGH, UNION MINISTER OF STATE, SCIENCE & TECHNOLOGY, INDIA AND DR DANIEL GOLD, HEAD OF DDR&D, ISRAELI MINISTRY OF DEFENCE, ISRAEL HAVE SIGNED A MEMORANDUM OF UNDERSTANDING ON INDUSTRIAL RESEARCH AND DEVELOPMENT COOPERATION WITH FOCUS ON SEVERAL KEY TECHNOLOGY AREAS
India recognised Israel on September 17, 1950 and both nations celebrated 30 years of 'full diplomatic relations' on January 30, 2022. However, India-Israel relations are centuries old.
HISTORICAL BACKGROUND
Relations between ancient Israel and the Indian subcontinent were recorded in 10th century BCE, according to Chaim Menachem Rabin, Israeli professor of Hebrew and Semantic languages. Jews settled in Kochi-Kerala trace their origin to Israel of 10th century BCE. Jews migrated to India from Spain in the 15th and 16th centuries. Trade relations of both communities go back to 1,000 BCE and even earlier to Indus Valley Civilisation. In FY 2022-23, Indian merchandise exports to Israel was $7.89 billion and Israeli exports to India was $2.13 billion. In addition, bilateral trade in services stood at $1.1 billion in 2021.
GROWING DEFENCE AND SECURITY COOPERATION
Defence cooperation between India and Israel began in 1960s. During the Sino-India War of 1962; Israel supplied mortar ammunition to India. In the 1965 Indo-Pak War, Israel supplied arms and ammunition to India and followed suit during the 1999 Kargil Conflict including laser-guided missiles for Mirage 2000H fighters of the Indian Air Force (IAF). Over the past decades India-Israel relations have grown exponentially in multiple sectors, important parts of which include defence and security, aerospace, space, counter-terrorism cyber security, and intelligence sharing. The strong bilateral ties are driven by convergence of national interests of both countries. During the visit of Prime Minister Narendra Modi's to Israel in 2017, the bilateral relationship was upgraded to 'Strategic Partnership'. A MoU to establish the India-Israel Industrial R&D and Innovation Fund (I4F), with each side contributing $20 million over five years, was signed. Also, three agreements on space cooperation were signed between ISRO and Israel Space Agency.
The Joint Working Group (JWG) is the apex body of the defence ministries of both the countries; meant to "comprehensively review and guide all aspects of the bilateral defence cooperation including efficient utilisation of bilateral resources and effective flow of technologies and sharing industrial capabilities. At the 15th JWG meeting held in October 2021, it was agreed to form a Task Force to formulate a comprehensive 10-year Roadmap to identify new areas of cooperation.
Israeli exports to India include the Super Dvora Mk II fast patrol boats; 'Searcher' and 'Heron' unmanned aerial vehicles (UAVs); 'SkyStriker' kamikaze drones, 'BARAK-8' air defence missile systems, 'Spike' anti-tank guided missiles (ATGMs), 'Crystal Maze' air-to-surface missiles, sensors and electro-optical systems, Tavor assault rifles, and Spice 2000 bombs.
JOINT VENTURES AND 'MAKE IN INDIA' PROJECTS
India-Israel Joint ventures (JVs) under 'Make in India' and for promoting Atmanirbhar Bharat include Israel Weapons Industries and Punj Lloyd small arms factory; IAI-Hindustan Aeronautics Limited (HAL) JV to convert used Boeing-767 aircraft into mid-air refuellers for the IAF; Elbit Systems-Bharat Forge JV for artillery guns, guided munitions and mortars; ELTA Systems (IAI's subsidiary) JV with the Tata Advanced Systems to manufacture communications, electronic warfare, and homeland security systems; JV between Kalyani Strategic Systems Ltd and Israel's Rafael Advanced Systems manufacturing Spike ATGMs; Elbit Systems and Adani-owned Alpha Design Technologies JV in Bengaluru for SkyStriker drones; IAI JV with Elcom Systems and Dynamatic Technologies for manufacture of UAVs in India, and; Bharat Electronics Limited (BEL) and Israel Aerospace Industries (IAI) JV for long-term product support services for the Indian military.
During Aero India 2023 in February this year, BEL and IAI signed a MoU to establish a JV to provide life cycle support for MRSAM (Medium Range Surface to Air Missile) air defence systems in India; with its headquarters in New Delhi and provide the required technical and maintenance support to the Armed Forces. MRSAM, jointly developed by IAI and the Defence Research and Development Organisation (DRDO), is an advanced air and missile defence system that provides protection against a variety of aerial platforms. The system is used by the Indian Air Force, Indian Army, Indian Navy and Israel Defense Forces (IDF). The MRSAM system includes an Advanced Phased Array Radar, command and control shelter, mobile launchers and interceptors with an advanced RF seeker.
At the signing ceremony of the BEL-IAI MoU, Minister of State (MoS) for Defence Ajay Bhatt said, "Israel is a very important strategic partner of India and the successful development and deployment of MRSAM system for the Indian defence forces is a shining example of the successful joint collaboration between the two countries. The joint venture between two prestigious companies from India and Israel will certainly play a very important role as a single point of contact in delivering product support services for MRSAM systems." AI's President and CEO, Boaz Levy, said, "It follows our announcement in 2022 about the opening of Aerospace Services India (ASI), an IAI subsidiary in New Delhi, both of which illustrate our support of the Government's 'Atmanirbhar Bharat' initiative and investment in India. Our joint venture with BEL will leverage the best technology, innovation and talent to provide services matching the needs of our customers in India".
On May 2, 2023, India and Israel signed a MoU on Industrial Research and Development Cooperation with focus on several key technology areas like Aerospace, Electronics Instrumentation, Civil, Infrastructure & Engineering, Ecology, Environment, Earth & Ocean Sciences and Water, Mining, Minerals, Metals & Materials, Chemicals and Petrochemicals, Energy (Conventional & Non-Conventional) and Energy Devices, Agri, Nutrition & Biotech and Healthcare. The Multi-Sectoral Agreement was signed between CSIR and Directorate of Defense Research and Development (DDR&D), Ministry of Defense of the State of Israel, in the August Presence of Union Minister for Science & Technology, Dr Jitendra Singh at the CSIR-Science Centre, New Delhi. Welcoming the signing of the MoU, Jitendra Singh said he is optimistic that this agreement will open a new phase in India-Israel partnership in areas like Innovation, Technology and StartUps.
ISRAELI TECHNOLOGY TO BENEFIT IAF
Avi Bleser, Vice President of Marketing for India at IAI, says he is working closely with the Indian Armed Forces. The IAI has been keeping a close watch on developments in Eastern Ladakh after the Galwan incident – all to help provide tailor-made technological solutions for Indian security forces. The IAF in particular is set to improve its combat capabilities with India-Israel defence cooperation by way of:
UAVs and armed UAVs.
Upgrading MiG-21s.
Crystal Maze air-to-surface laser-guided missiles.
Cooperation in developing Light Combat Aircraft (LCA) and Advanced Light Helicopters (ALH).
'FireFly' loitering munitions.
MRSAM with life cycle support.
Converting civil passenger aircraft into a multi-mission tanker transport (MMTT) for air refueling with cargo and transport capabilities and conversion of planes into freighter aircraft.
In a technological breakthrough, Israel's Rafael Advanced Defense Systems has developed 'Sky Sonic'; a hypersonic missile interceptor with remarkable maneuverability and speed, revolutionising hypersonic missile defence. The interceptor's ability to alter trajectory and operate on a non-ballistic path sets it apart, providing a major advantage in countering hypersonic threats and reducing uncertainty in targeting and interception. China's hypersonic inventory and aggressive stance mandates India to develop and deploy hypersonic missile interceptors. India-Israel collaborating can help India acquire such capability.
Finally, Israel has always been a trusted strategic partner for advanced technologies without placing limits on its use. The future of India-Israel cooperation is bright and unlimited.