For strategic independence, India needs to foster a robust domestic Aerospace and Defence manufacturing ecosystem through investment in Research & Development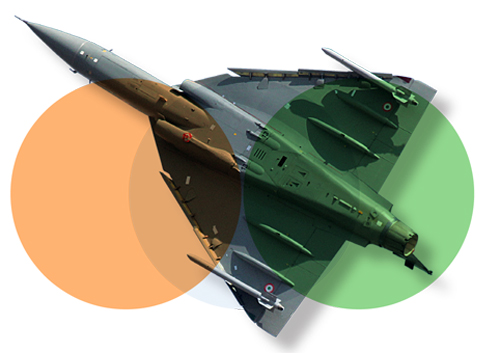 The 'Make in India' campaign, initiated by the Prime Minister of India in 2014, was designed to invigorate the country's manufacturing sector and bolster employment opportunities. Among the 25 key sectors prioritised, the aerospace and defence (A&D) industry stood out, with objectives encompassing self-reliance, indigenisation, economies of scale, export capabilities, technology transfer, and domestic research and development (R&D). However, India's R&D performance in comparison to global standards remains suboptimal, underscoring the pressing need for enhanced investment in this critical domain. Building an effective domestic A&D manufacturing ecosystem, hinges on a robust commitment to R&D, aligning India's economic aspirations with innovative prowess and technological advancement.
Research and Development (R&D) constitute the cornerstone of organisational growth and innovation. By harnessing R&D, enterprises can achieve heightened operational efficiency, cost reduction, and the introduction of groundbreaking products that confer a competitive edge. India's journey towards becoming a manufacturing hub akin to Japan, Germany, and China is contingent upon establishing a vibrant R&D culture that aligns with its long-term economic ambitions. Crucially, R&D empowers organisations to not only stay competitive but also to lead in a rapidly evolving global landscape.
Recognising the indispensable role of R&D in shaping a resilient domestic A&D manufacturing ecosystem, the Indian government has embarked on a series of strategic measures. The Defence Research and Development Organisation (DRDO) has championed the Development cum Production Partners (DcPP) policy, ushering in industry collaboration from the project's inception to expedite development-to-induction timelines. DRDO's Transfer of Technology (ToT) policy, featuring zero fees and royalties, amplifies the global competitiveness of Indian industries while nurturing self-reliance in defence manufacturing. A progressive patent policy facilitates access to DRDO patents, stimulating indigenous R&D and technology proliferation.
To catalyse innovation and bolster the growth of indigenous defence manufacturing capabilities, DRDO's Technology Development Fund (TDF) provides vital financial backing to Indian industries, including startups and MSMEs. This fund fosters an environment conducive to innovation and nurtures the evolution of self-sufficient defence manufacturing capabilities, ultimately bolstering India's standing as a potent A&D player.
Harnessing the immense potential of premier academic institutions like IIT and IISc is pivotal for accelerated R&D progress. By incentivising outcome- and application-based investments, along with long-term R&D ventures, the government can tap into the extensive talent pool and infrastructure offered by these institutions. Restoring income tax allowances for R&D investments by domestic companies further cultivates an environment conducive to transformative innovation.
The Indian government has instituted a slew of policy measures designed to galvanise domestic design, development, and production of defence equipment, expediting self-reliance in defence manufacturing. Strategic initiatives encompass prioritised domestic procurement, unveiling major industry-led defence platform projects, and enforcing indigenisation lists with import embargoes for non-compliance. Facilitating foreign direct investment (FDI), streamlining industrial licensing, and incentivising startups and MSMEs through schemes like iDEX further reinforce the impetus for indigenous A&D manufacturing.
As mentioned, these are some specific ways in which the government can promote R&D in the aerospace and defence sector:
Increase funding for R&D at DRDO and other government agencies.
Provide tax breaks and other incentives for companies that invest in R&D.
Create a more favourable regulatory environment for R&D.
Promote collaboration between industry, academia, and the government.
Encourage the development of a skilled workforce in R&D.
By taking these steps, the government can help to create a vibrant R&D ecosystem in the aerospace and defence sector. This will lay the foundation for a strong domestic manufacturing base and a more secure India.
India's quest for genuine independence in its military strategies and foreign policies hinges on reducing reliance on imported military hardware. The path to achieving this goal involves accelerating critical technology development and fostering a thriving ecosystem through R&D investments. By prioritising research and innovation, India can establish itself as a global hub for indigenous A&D manufacturing, transforming its aspirations into a tangible reality.