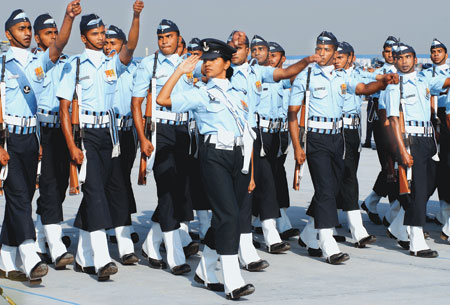 To instill military discipline and pride in the blue uniform, the IAF needs to formulate innovative and creative HR policies in sync with the evolving socioeconomic environment
On October 8, 1932, Flight Lieutenant Cecil Bouchier formed the No. 1 Squadron, first and only squadron of the newly born Indian Air Force (IAF), equipped with four Westland Wapiti biplanes. Reporting to the squadron's first Commanding Officer (CO) was a band of five young Indian Pilot Officers, Harish Chandra Sircar, Subroto Mukerjee, Bhupinder Singh, Aizad Baksh Awan and Amarjeet Singh, along with a group of dedicated 'Hawai Sipahis'.
Today, in a radically changed environment, the IAF exists as a modern and potent fighting organisation with a large inventory of weapon systems and a manpower of more than 160,000. Yet, what the first CO said then remains true: the IAF is what it is today because of the quality of its air warriors.
Communication & Expectation
Liberalised economic policies, high growth rates in India's GDP and innovations in information technology have resulted in significant increase in international mobility, knowledge, materials and technology. Institutions have to adapt to these changes for survival and progress. The accelerated rate of change in the environment in the past few years has impacted on all organisations and the IAF is no exception.
The IAF is a stabilised entity in an environment that is almost continuously changing. Within the stabilised entity, the IAF has a task to achieve. This is fairly well defined but could throw up sudden requirements not fully envisaged. Attacking targets at unprecedented heights during Kargil Operations required fresh training to ensure mission accomplishment. The IAF entity has technology. Given the nature of its highly sophisticated inventory, personnel adapt to changing technology fairly quickly, but harnessing technological changes to benefit its personnel is more demanding. The IAF entity has a structure that may need occasional tweaking to conform to environmental changes.
Recently, the IAF restructured its personnel below officer rank (PBOR) grades to ensure multi-skilling and keep the force lean. A similar exercise for officers is under consideration. Lastly, but most importantly, the IAF entity has people Recently, the IAF restructured its personnel below officer rank (PBOR) grades to ensure multi-skilling and keep the force lean. A similar exercise for officers is under consideration. Lastly, but most importantly, the IAF entity has people who are most affected by changes in the environment. How these human resource (HR) issues are detected and resolved is a function of leadership. The IAF's HR is affected by changes in the environment caused by social, economic, technological, ecological, political or legal factors. As stated earlier, technological changes are absorbed well. Induction of new technology occasionally has beneficial fallouts for personnel. Personnel trained for special skills are retained longer at their place of posting, affording greater stability in domestic lives. At a different plane, the IAF has harnessed IT to improve its communication channels with the PBOR. Permitting PBOR to communicate directly with the Chief of the Air Staff by email and to obtain responses through a dedicated magazine (Vayu Jan-Shakti) has been an innovative and creative idea.
Many individual problems relating to promotions, postings and personal issues are resolved even as suggestions emanating from grassroots level are implemented. Exchange of suggestions and ideas affords detection and understanding of the attitude, aspirations and thought processes of the personnel, thereby encouraging proactive changes in policies.
Pay & Promotion
To some extent, IAF personnel are insulated against political and ecological changes because of the nature of the organisation. Legal issues to some extent have an impact on the personnel. The question of permitting religious identity while in the service is one such issue. The remaining two factors, social and economic, have the maximum impact on HR issues. In earlier days, joining the military was a calling, due to reasons of patriotism, of wanting to serve the country or because of family traditions. These bonds have weakened over time and now joining the IAF is a matter of making a career and keeping financially viable.
Comparisons with professions in the civilian world can at times make the lure of life outside irresistible, but the inability to access it triggers disgruntlement. Many pay commissions have attempted to reduce the financial gap between the services and the corporate sector without much success. In absolute terms, however, the pay scales of serving personnel are quite reasonable, especially after the latest pay commission awards.
Promotions in the IAF affect air warriors economically and socially and are an issue of great sensitivity. In the pyramidical structure, vacancies keep reducing as rank increases till at the top there is only one Air Chief Marshal. Therefore, a significant number miss out at higher ranks. Implementation of the Ajay Vikram Singh Committee recommendations has improved promotion prospects of officers. Many policies have been tried but the shape of the pyramid cannot be altered. Airmen had a different problem as different trades had widely varying promotion prospects. Some tradesmen became Junior Warrant Officers in 17 to 18 years while others reached this rank after 28 years. A new merit-cum-seniority promotion policy for airmen was introduced a few years back to correct this anomaly. This policy is now being fine-tuned to remove the irritants to the extent possible.