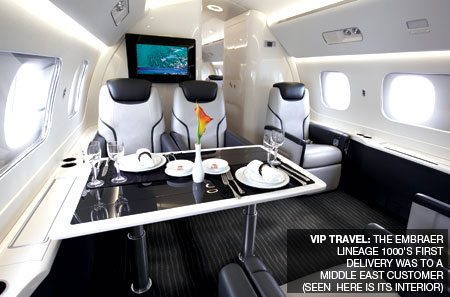 ...that even as corporate aviation the world over continues to reel under the brutal blow of economic recession, the market in the Arabian Gulf states shows little or no signs of regress. Quite the contrary! SP's Special Correspondent Alan Peaford reports from Dubai on this astonishing phenomenon.
The Arabian Gulf states sit plumb at the centre of the world. A proud but true boast is that 75 per cent of the world's popula¬tion lives within a six-hour flight of the Gulf—easily a boon for the airport and commercial airlines that use places like Doha, Bah¬rain, Dubai and Abu Dhabi as hubs for continuing flights to Africa, Asia or Europe. But for business, too, the prospect of being at the crossroads of the world's key commerce routes has led to a steady growth for those using corporate aviation.
"Of course we are aware of the general financial situation, but in the Middle East it is different," said Ali al Naqbi, the head of the Middle East Business Aviation Association. Throughout the period of global meltdown, the Middle East has continued to grow. "It may not have been the growth of 25 per cent that we were witnessing two years ago, but we have continued to see growth of something like 6 to 8 per cent," Al Naqbi says. "The growth has mostly come for those using the larger and long-range business aircraft. Increasingly, there is more traffic to places like China, India, Russia and Africa," he said.
Significant Benefits Opening Up Here
For companies like Abu Dhabi's Royal Jet this has been particularly true. Royal Jet is the world's largest operator of Boeing Business Jets (BBJs) and have utilised the 737-800 based jet since its formation out of the Abu Dhabi royal wing. The operator now has 10 of the type in its fleet and is expanding geographically as well to meet the growing demands of its customers with new offices in Dubai and a joint venture in Saudi Arabia. Tapping the Saudi market—undoubtedly the largest single business aviation user in the region—is key to any charter or original equipment manufacturer (OEM) sales push. Royal Jet linked up with Saudi Arabia's Arabasco with a commercial and operational alliance that they say could change the face of elite services within Saudi.
Under the terms of the agreement, Royal Jet has placed a BBJ and a Gulfstream 300 at Arabasco's key hubs in Jeddah and Riyadh to operate under Arabasco's Aircraft Operators Certificate, together with crew, full operations team and all necessary supporting logistics. From its private terminals within the Kingdom, the 'joint venture' will offer private jet charter, as well as domestic and international travel from Saudi Arabia, using the two aircraftwhich can comfortably accommodate 30 and 12 passengers, respectively, to cities like London, Moscow, Bangkok, as well as other business and leisure hubs in the region.
Achieving growth in a key regional market such as Saudi Arabia is an important focus of Royal Jet's expansion strategy, said Royal Jet Chairman Sheikh Hamdan Bin Mubarak Al Nahyan. "This was part of our strategic five-year plan and this alliance will help us consolidate our position. Saudi Arabia is the single largest and most mature private jet market in the region, and there are significant benefits that are opening up here, especially when one enters the market with an established brand and product offering," he told SP's Aviation.
Arabasco President and Chief Executive Officer (CEO) Brigadier (Retd) General Mohamed Al Shablan echoes Royal Jet's optimism. Noting that business travel should either maintain or increase current frequency and flight capacity, he said, "There will always be a market for premium jet services, especially in Saudi Arabia. Our business comes from the upmarket segment, which has maintained sufficient levels of liquidity and will never compromise on the luxurious standards of business travel that they have been accustomed to."
Strong Demand within the Gulf Countries
As a result of its emphasis on the top end, Royal Jet has seen a 15 per cent rise in bookings over the past year. "We are finding that there is a trend for our guests to make their bookings much later than they used to, often leaving this to within two to four days of when they wish to travel," said Shane O'Hare, Royal Jet's CEO. "But we are finding that within the GCC (Gulf Cooperation Council) countries there is strong demand, with a steady stream of bookings from Qatar and, especially, Saudi Arabia, where the alliance with Arabasco has already led to a surge of interest from the Kingdom.
"In part, this is also down to our new pricing policy that we introduced a few months ago within the Gulf region. Previously, we calculated our prices based on where the actual aircraft originated from; now, we price the charter from where the guests commence their flight. This has led to dramatic reductions in charter rates, sometimes by as much as 20 per cent," he said.
Other larger operators and business jet management companies are seeing the same. Airbus is certainly enjoying significant success in the region and the European manufacturer's head of corporate aviation Francois Chazelle is convinced that size does matter. "The people who buy Airbus Corporate Jets (ACJ) are not affected by the global recession in the same way. They are long-term investors and are not going to suddenly switch to flying commercial aircraft to attend to their business. We are working with billionaires and they have seen this as an opportunity," he said.
Coming from a late introduction to the VIP market compared to the BBJ, Airbus has now taken over as the market leader with more than 150 aircraft, including 50 or so wide-bodies and 100 of the ACJ family comprising the A318 Elite, ACJ and A320 Prestige. These are popular with the corporate pilots as the aircraft include a modern and user-friendly cockpit with practical pull-out tables, modern fly-by-wire controls, Category 3B autoland as standard, centralised maintenance linked to every aircraft system, and large outward-opening cargo doors.
The ACJ forms the backbone of the fleet operated by UAE's Al Jaber Aviation with six ACJs—the largest single operator in the Middle East and the first to offer the aircraft to VVIP charter. "Our Airbus ACJ Family aircraft will offer private travel in unprecedented comfort and style, providing families and companies with a new way to fly ," says Al Jaber Chief Executive Mohammed Al Jaber. "In addition to the huge improvement in space and comfort, high-end travellers in the Airbus ACJ Family will also benefit from separate cabin-zones and unmatched freedom of movement in flight," he adds.
Preferred Launch Spot
Not surprisingly, the Middle East is fast becoming the key destination for launch customers of new aircraft. "The launch customer for the A350XWB Prestige—the VIP version of the new Airbus extra wide body airliner—is MAZ Aviation in Saudi Arabia who has six on order and, of course, the world's first A380 Prestige will be with Kingdom Holdings in Riyadh," said Chazelle. Meanwhile, the Kuwait royal family are believed to be the launch customer for the new Boeing 747-800 VVIP jet when the type is built for 2011.
Another VIP aircraft to get its first delivery to a Middle East customer is the Embraer Lineage 1000. This is the flagship of the Brazilian OEM's growing business aircraft offering. It delivered to Abu Dhabi's Prestige Jets in May 2009 where it is managed for a private owner and has been exceeding expectations in demand and usage. The maximum range of the Lineage 1000, originally projected to be 4,200 nm (7,778 km) with eight passengers, or 4,350 nm (8,056 km) with four passengers, has been extended to 4,400 nm (8,149 km) with eight passengers, or 4,500 nm (8,344 km) with four passengers, both with NBAA IFR reserves.
Embraer is expecting to see even more growth in the region with the development of Falcon Aviation as an authorised service centre across the Embraer fleet. Falcon has a vested interest in the success as it already operates two Legacy 600s of its own and is due to receive one more this year. The company also has two Legacy 500 and four Phenom 300 jets on order, plus two Lineage 1000s. Falcon Aviation Services (FAS) is building a new 8,000 sq m jet maintenance facility at Bateen Airport in Abu Dhabi which will be capable of accommodating up to three Lineage 1000s. "There is great potential for the Lineage 1000 in the region, and that is why we are investing so much in our maintenance facilities in Abu Dhabi," said Philip Markham, CEO of FAS.