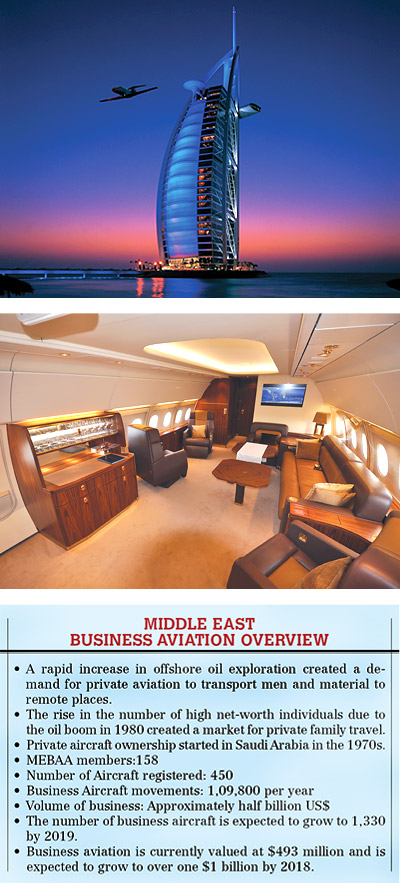 The Middle East Business Aviation Association has forecast that the Middle East business aviation market will grow to over $1 billion in ten years from now, with a total of 1,300 business jets in operation
I had exited Dubai in early 2010 as the company I was working for had to shut down, unable to negotiate the bloodbath of the 2008 recession. The media business (I was working for an aviation magazine) could not recover as ad spends were the first to be slashed.
Dubai's economy and also all other Middle East economies which were primarily dependent on tourism, logistics, retail, real estate and finance had come crashing. The aviation industry which was looking up in 2007 had its wings majorly clipped.
End 2011, the residual effects of the recession still exist but the economies have begun showing signs of positive forward movement. The just concluded Dubai Air Show made an emphatic statement that the aviation industry was showing 'signs of recovery'. Colleagues and others who were at the Dubai Air Show have been talking about the growing 'positive energy' witnessed at the mega Middle East event.
Business Aviation Gets Busy
Despite the global slowdown, some Middle Eastern countries have performed in the business aviation segment. Saudi Arabia, UAE (mostly Abu Dhabi), and Qatar have had earlier recovery trends, thanks to marginal increase in the number of high net worth individuals (HNWI). As per the World Wealth Report 2011 from Capgemini and Merrill Lynch Global Wealth Management consultants, the number of HNWIs in the Middle East grew 10.4 per cent to 0.4 million in 2010, while wealth jumped 12.5 per cent to $1.7 trillion (Dh6.2 trillion). However, the report also revealed that the UAE witnessed a 3.5 per cent drop in HNWI population due to the after-effects of the slowdown in the Dubai real estate market.
Honeywell's report on business aviation industry has pinned hopes on the Middle Eastern markets. In the 2011 survey, it said Asia, Africa and Middle East regions ranked the highest in purchase expectations regardless of the economic environment. The three regions have moved up from the 2010 levels. Purchase expectations of nearly 38 per cent recorded in Africa and the Middle East were up almost nine points from 2010 levels. Operator purchase plans are still timed sooner in Africa and the Middle East than in Asia.
$1 Billion Business Aviation Market
The Middle East Business Aviation Association (MEBAA) has forecast that the Middle East business aviation market will grow to over $1 billion ( Rs. 5,000 crore) in ten years from now, from $500 million ( Rs. 2,500 crore), with a total of 1,300 business jets in operation.
"Business aviation as a market in this region is still in its nascent stages. It has just about started to take off and we have a long way to go," Ali Ahmad Al Naqbi, Founding Chairman of Middle East Business Aviation Association said.
John Rosanvallon, President and CEO, Dassault Falcon, said, "The business aviation market in the Middle East has matured to the extent that, today, a business jet is viewed in the region as a powerful tool to enable quick and convenient access to customers, within the region and worldwide. They are recognised as a vital business asset by local entrepreneurs, and larger regional companies."
Falcon Spreading Wings
Despite the recent challenging market conditions, Dassault Falcon, the business jet operation of Dassault Aviation, has a fleet of over 60 Falcon business jets operated by customers in the region. It has a backlog of a dozen additional aircraft to be delivered to regional buyers over the next two years, representing growth of 15 per cent in the regional fleet.
The company had Falcon 7X and Falcon 2000LX on display at the 22nd Dubai Air Show. Dassault's Falcon 7X, the flagship model, accounts for 40 per cent of Falcon Middle East sales. Saudia Private Aviation, the business aviation unit of Saudi Arabian Airlines, already operates three of these aircraft, with a fourth on order, which will make it the largest operator of the Falcon 7X in the world.
Renaud Cloatre, Sales Director for the Middle East, added, "Dassault Falcon aircraft are very well-suited to the demands of our Middle East customers, offering longrange and large cabins. Our customers are mostly companies and entrepreneurs who are highly mobile, and who move all around the world on business. They need comfortable and well-equipped aircraft to work and rest en route. Above all, they value the efficient Falcon aircraft design which means 20 per cent to 40 per cent less fuel consumption and lower emissions."
Dassault Falcon has continued to invest in regional infrastructure and now operates authorised service centres in Dubai and Jeddah, as well as a spares distribution centre in Dubai, and a technical office in Jeddah.
Strong Market For Airbus Elite
Accounting for nearly half of the over 170 private jets sold by Airbus, the Middle East continues to be a strong market for the private jet industry. Not only are more aircraft ordered, larger aircraft are being ordered in the Middle East. Within the region, 70 per cent of all aircraft purchases are for large-sized jets, while the average figure is approximately 15 per cent worldwide.
Ranging from the incredibly large A330/340 VIP family to the comparatively smaller A318 Elite, Airbus sold a total of eight large private jets to Middle Eastern buyers in 2010, while delivering ten. Airbus Marketing Director of executive and private aircraft, David Velupillai, states that the majority of Middle Eastern customers come from Saudi Arabia and the United Arab Emirates.
Cessna's 'Game-Changing' Midsize Jet
Cessna Aircraft Company expects its new 'game-changing' Citation Latitude midsize business jet to become a favourite with Middle East customers. With space for a crew of two plus up to eight passengers, the Citation Latitude features Garmin G5000 avionics and an 84-inch fuselage for a six-foot high, flat floor passenger cabin.
Mark Paolucci, Cessna's Senior Vice President for sales, said: "The Citation Latitude is a game-changer for the mid-size segment in the Middle East and North Africa, offering the payload, speed and range the market requires with an unmatched cabin experience at this price point." The aircraft is priced at $14.9 million ( Rs. 74.5 crore) in 2011.
Paolucci said the spacious Citation Latitude cabin will particularly appeal to Middle East customers. From just behind the cockpit through the rear lavatory, a flat floor provides stand-up access throughout the 16-plus foot cabin. The main passenger cabin — Cessna's widest in history — is 77 inches wide (1.95 metres) with a height of 72 inches (1.83 meters).
Positioned between the Citation XLS+ and Citation Sovereign in Cessna's product line, the Citation Latitude offers a full fuel payload of 1,000 pounds (454 kilograms), a maximum cruise speed of 442 knots true airspeed (819 kilometres per hour) and a range of 2,000 nautical miles (3,704 kilometres).
The first flight of the Citation Latitude prototype is expected to be mid-year 2014, with entry into service expected in 2015.