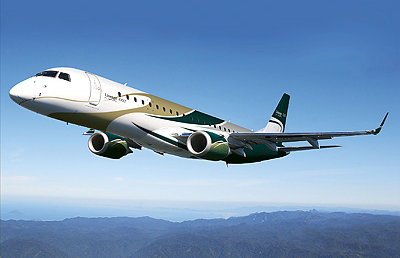 Embraer executive jets have received acceptance of excellence from customers in the Middle East
With over 30 aircraft flying in the region, ranging from the light jet Phenom 300 through to the ultra-large Lineage 1000, including the newest large Legacy 650 jet, Embraer executive jets have received acceptance of excellence from customers in the Middle East.
One year after its debut in the Middle East with Arab Wings in Jordan, Empire Aviation, the Abu Dhabi-based operator will introduce its first Legacy 650 into service by year-end. The aircraft will join a fleet of five super midsize Legacy 600 jets turning the VIP charter company into the largest Legacy operator in the region.
Launched in 2009, the large Legacy 650 is an extended-range derivative of the successful super midsize Legacy 600, nearly 200 of which have been delivered to customers worldwide. It can fly up to 3,900 nautical miles (7,223 kilometres) nonstop with four passengers, or 3,840 nautical miles (7,112 kilometres) with eight passengers connecting Dubai to major business destinations, including London, Singapore, and Johannesburg in a comfortable, functional and elegant interior with three distinct cabin zones as well as the largest in-flight accessible baggage compartment of its category.
Furthermore, the Legacy 650 extended-range aircraft is one of the largest executive jets allowed to operate in restricted airports, such as London City (LCY), UK.
On the upper segment, the Lineage 1000 have also had a great success in the Middle East with seven aircraft today in operation in the region, the largest Lineage 1000 fleet worldwide. Delivered for the first time in May 2009, this executive jets belong to the ultra-large category and can carry 19 passengers in five distinctive cabin zones. Its range of 4,400 nautical miles (8,149 kilometres) with eight passengers, or 4,500 nautical miles (8,334 kilometres) with four passengers, both with NBAA IFR fuel reserves, allows it to fly non-stop from London to Dubai; from Dubai to Johannesburg; from New York to Moscow; or from Singapore to Sydney.
The interior design gives priority to comfort and refinement, and was created in conjunction with Priestmangoode, from the UK. The cabin uses the category's most sophisticated materials. With five separate cabin zones there are literally hundreds of ways to customise the configuration. The passenger has space for a business corner, a lounge and a secluded rear cabin with a queen-size bed and shower. A wide variety of configurations meets all passenger requirements with enough space to work, rest and hold meetings. Optional items include Wi-Fi technology, access to the internet and electronic flight bag (EFB). An ample aft baggage compartment, pressurised and conveniently accessible during flight, has a total capacity of 323 cubic feet (9,140 litres) and is the largest among all competitors. The Lineage 1000 is equipped with the latest electronic fly-by-wire flight control system.
But when we think about Middle East, it doesn't mean always bigger. The light Phenom 300 also recently made its debut in the region.
The aircraft accommodates up to 11 passengers in a spacious and pleasant interior designed in partnership with BMW Group DesignworksUSA. Swept wings with winglets and modern onboard systems were developed with outstanding flight performance in mind.