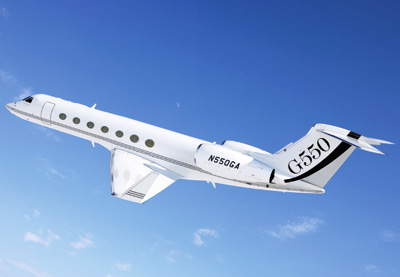 The company sees growing demand from the Middle East in all market segments, from the mid range to the ultra-long-range
Gulfstream Aerospace Corporation continues to see increased growth in the international market, with 70 per cent of its sales in the third quarter outside North America. The Middle East, where Gulfstream has been active for more than 40 years, is an important part of this expansion.
When Gulfstream initially began selling aircraft in the region, the company's business jets were largely operated by royalty and other high-net-worth individuals. Today, they're increasingly used as vital business tools. With their office-inthe-sky capabilities, Gulfstream aircraft—from the wide-cabin, high-speed G150 to the ultra-large-cabin, ultra-long-range G650—allow passengers to maintain connectivity while jetting from one location to another. As such, Gulfstream sees growing demand from the Middle East in all market segments, from the mid-range to the ultra-long-range.
The company's biggest strides have been in the large-cabin segment, where its market share exceeds 40 per cent. This makes Gulfstream the largest provider of large-cabin, long-range jets in the region. While our large-cabin models, such as the Gulfstream G450 and G550, which offer exceptional range at tremendous speeds, are the most popular, our mid-cabin models are gaining ground. The large-cabin, mid-range Gulfstream G200 has proven its mettle – and its popularity – as a charter work horse. With its unparalleled range and speed in the mid-size segment, the G200 has definitely made its mark in the region.
In an effort to meet the demands of the continually expanding Middle Eastern market, Gulfstream recently enhanced its service offerings. The company employs more than 3,500 technicians and other specialists, maintains an inventory of $1.2 billion in spare parts around the world, and recently expanded its maintenance centre in Luton, England, outside London, one of the most frequent destinations for Middle East business travellers.
Working with its sister company, Jet Aviation, Gulfstream also offers support capacity at bases in Dubai, Abu Dhabi, Jeddah and Riyadh. Together, Jet Aviation and Gulfstream own more than 44 facilities worldwide, giving Gulfstream operators an extensive support network.
In November 2011, Jet Aviation Dubai gained Federal Aviation Administration approval to perform base and line maintenance on Gulfstream G200 aircraft. It expects to receive approval for G150 aircraft soon. With these approvals, the company will be authorised to perform base and line maintenance on the entire fleet of Gulfstream business aircraft in January 2012.