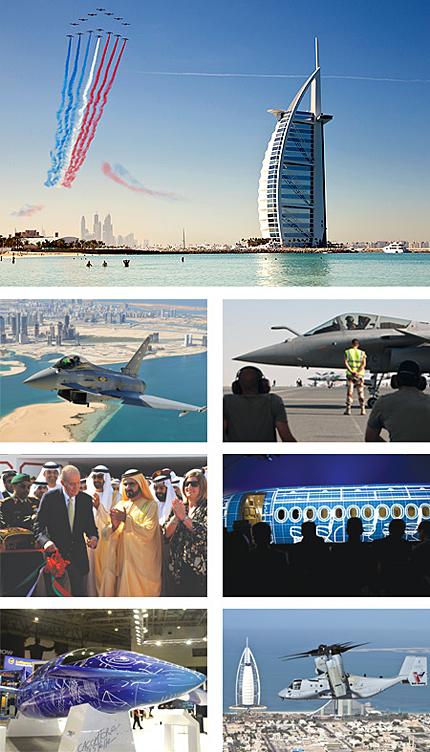 More than 56,548 trade visitors along with 960 exhibitors from 50 countries participated in the Dubai Air Show 2011, as the Middle East economy seemed to have bounced back from the global slowdown
With an order book of more than $63 billion ( Rs. 3,15,000 crore) at the Dubai Air Show 2011, the Middle East economy appeared to have bounced back from the slowdown in growth following the global downturn in 2008. And despite the current economic turmoil in the West, the Middle East market looked robust.
Started as Arab Air, a small civil aviation trade show organised at the Dubai World Trade Centre in 1986, the first Dubai Air Show was held in 1989 at the Dubai International Airport. Over the years, this foremost air show of Middle East has grown exponentially. According to the organisers, more than 56,548 trade visitors along with 960 exhibitors from 50 countries participated in the twelfth edition of air show held from November 13 to 17, 2011 at Dubai.
UAE Celebrates 40th Anniversary
The United Arab Emirates is celebrating its 40th anniversary this year, and at the Dubai Air Show, the nation committed to develop its aerospace industry.
Dubai-based Emirates Group signed a long-term leadership training agreement with Rolls-Royce, which will see Emirates' top UAE national managers take part in Rolls-Royce's leadership and business management development programme in the United Kingdom. The first modules will be delivered at Rolls-Royce's centre in Derby and then at Oxford University, covering leadership, team management, performance management and personal effectiveness.
It was also announced at the show that for the first time, the UAE will build a new family of turbine helicopters. The production of Quest AVQ series civil helicopters will commence at Umm Al Quwain in 2014.
The country's aerobatic display team, Al Fursan performed at the opening of the flying displays every day and also during the closure of the show. The last day of the show was themed 'Futures Day', with the aim to stimulate the UAE's youth to become next generation aviation professionals.
Deals
Boeing and Emirates Airlines announced a $26 billion ( Rs. 1,30,000 crore) order for 50 Boeing 777-300ER (extended range) aircraft, along with options for an additional 20.
Airbus Corporate Jet Centre (ACJC) signed a VVIP cabin completion contract for two Airbus ACJ319s with Aviation Link Company (ALC) of Saudi Arabia. Airbus has also received the first order for its ACJ321 from Switzerland-based charter group Comlux.
Rolls-Royce has won an order from Saudi Arabian Airlines, worth up to $500 million ( Rs. 2,500 crore), to provide engines and TotalCare support for four Airbus A330 aircraft already announced and another four likely to be ordered. These aircraft which are due to enter service from 2013, will be in addition to Saudi Arabian Airlines' existing fleet of eight Trent 700 powered Airbus A330s, and will bring the total of Trent 700 powered A330s in the fleet to 16.
Rolls-Royce has also won an order from Oman Air for engines to power six Boeing 787 Dreamliner aircraft. The airline is the first in the Middle East to select the Rolls-Royce Trent 1000 engine.
SR Technics and Abu Dhabi Aircraft Technologies (ADAT), both part of Mubadala Aerospace's global maintenance, repair and overhaul (MRO) network, signed a contract with Airbus for the implementation of the Airbus managed inventory (AMI) service. The implementation of AMI, an automated inventory management system, will ensure the replenishment of the high-usage and non-repairable Airbus parts of the stocks of SR Technics and ADAT.
The European turboprop manufacturer ATR and Russia's NordStar Airlines announced that they have agreed for the purchase of up to seven ATR 42-600s (five firm aircraft and two options). The total value of all the deal is estimated at about $132 million ( Rs. 660 crore).
Mubadala Aerospace, through its subsidiary Horizon Flight Academy (Horizon), announced at the Air Show a joint venture (JV) with Abu Dhabi Aviation (ADA) to establish an advanced flight training facility dedicated to serving global commercial and defence customers. Further, Horizon announced that it had signed a contract with CAE for the purchase of a CAE 3000 Series full-flight simulator (FFS) representing the AgustaWestland AW139 helicopter to be owned and operated by the JV.
Florida-based Spirit Airlines signed an MoU with Airbus for 75 Airbus A320 family jets—45 A320neo (new engine option) and 30 A320 aircraft. The MoU would be converted into a firm order by the end of the year. The deal is valued at $7 billion ( Rs. 35,000 crore).
Dubai's low cost airline, Flydubai, has signed a maintenance cost agreement with Honeywell, worth more than $20 million ( Rs. 104 crore), to provide maintenance support for the carrier's auxiliary power units (APUs) installed on its growing fleet of Boeing 737-800 NG passenger aircraft.
Qatar Airways signed an order for 50 A320neo aircraft and five A380 double-decker aircraft, at a price of $6.4 billion ( Rs. 32,000 crore). The Doha-based carrier, which has taken options on 30 additional A320neos, plus three additional A380s, will be the A320neo launch customer. Thales announced that Qatar Airways has confirmed the selection of the new Thales TopSeries Avant system for its fleet of 80 A350 aircraft. This next generation Thales system combines the strengths of earlier platforms with advanced technologies, such as high definition video, solid state hard drives and faster processors, to deliver an enhanced passenger experience never seen before.
Advanced Military Maintenance Repair and Overhaul Centre (AMMROC), owned by Mubadala Aerospace, Sikorsky Aircraft and Lockheed Martin, announced a $313 million ( Rs. 1,565 crore) agreement to provide maintenance services for fixed and rotary aircraft for the UAE armed forces.
While Goodrich signed support agreements with Emirates Airline for MRO services, Abu Dhabi based Strata signed a deal with Boeing to supply composite aero structures for its airliners.