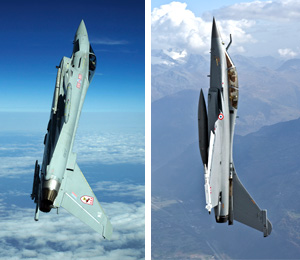 It has been hinted that it may take a while more before the 'L1' vendor for MMRCA can finally be determined. Whether the IAF gets the much awaited decision as a New Year 'gift' or not is yet to be seen.
The last month event of opening the commercial bids held at the Air Headquarters in New Delhi was nothing short of a ceremonial affair. On November 4, representatives of the two short-listed European aeronautical companies were formally invited for the bids opening ceremony in the presence of each other. The meeting was convened by the Joint Secretary (Air) R.K. Ghosh who is also the 'Acquisition Manager' for the IAF's medium multi-role combat aircraft (MMRCA) programme. The exercise was perhaps the final leg of the race in the fiercely competitive and one of the biggest defence deals in the recent history, or, was it?
Soon after the meeting came to order, the Acquisition Manager asked for a metal box containing the financial bids to be brought in. Representatives of both EADS Cassidian and France's Dassault Aviation were asked to confirm that the box was locked. Once affirmed by both sides, the box was then opened—showcasing the extreme transparency, honesty and sincerity from the Indian side in conduct of the selection process. The highly officious and ceremonial procedure was followed meticulously to be in conformity with Defence Minister A.K. Antony's strict directive concerning transparency and even-handedness. The box contained bundles of papers that the two competitors had submitted, each trying to outdo the other to emerge as the lowest bidder. The contents were read out by Ghosh indicating broadly the financial terms offered by the two sides.
As is well-known by now and well-appreciated for India and the IAF, the MMRCA deal is the single largest defence contract it would sign. When the request for proposals (RFP) was sent out in 2007, the value of the contract was estimated to be about Rs. 42,000 crore (then close to $10 billion). The order could now swell up to $20 billion ( Rs. 1,00,000 crore) or double the earlier estimates, especially if the option of 200 units is exercised plus cost and forex fluctuations. No wonder, there is much sharper spotlight on the MMRCA deal. India is known to have had a dubious record of allegations of bribery and unaccounted commissions (or kickbacks) in defence deals in the past which Antony wants his team to prevent at all cost to maintain his squeaky-clean image.
So, what next? While the bids from both sides were being disclosed, it quickly dawned that the formulae for pricing the aircraft presented by each side were so complicated that it would take weeks to determine the values. For the past one month, the IAF is engaged in the exercise to unravel the real values of different quotes. Incidentally, the IAF has sought financial quotes in eight categories, called M1 to M8.