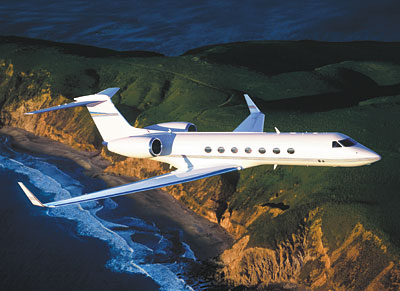 The range of aircraft, the jazzed up interiors, the fuel-efficiency, the maintainability and all come with a price tag. And the ultra-rich demand planes which are not only high-performing aircraft but also that goes along with their stature.
Not hing less than $25 million and going up to $70 million are what high-end business jets are priced at. The more the accoutrements—swanky interiors, spa, king-size beds, conference room and the works—the price tag soars. And the good news is that the high-end segment is scoring.
The Teal Group in its 2012 report has forecast that the upper end of the market is growing while it is sluggish for the rest. It predicts that over the next decade, 65 per cent of the deliveries, measured in value terms will be high-end business jets, as against the 50:50 split in the decade gone by.
Richard Aboulafia, Vice President, Analysis at Teal Group, expects Bombardier and Gulfstream to capture shares of about 33 per cent and 30 per cent respectively in a market that is likely to expand to about $250 billion over the next 10 years. Canada's Bombardier is working on Global 7000 and 8000 models, planned for service entry in 2016 and 2017, respectively, while General Dynamics is already positioning its Gulfstream 650, another large-cabin model. French aerospace major Dassault Aviation, which mostly builds high-end jets, is expected to hold on to a 14 per cent share. Brazil's Embraer and Textron's Cessna are to share about 17 per cent of the market between them.
With market movements becoming clearer, aerospace majors are positioning their products as to move out of the recessionary trends and high-end jets are expected to give them the leeway. The majors are betting more on this segment as they see a growing passion among ultra high-net-worth individuals (HNWIs) to own these fantastic machines.
Wealth creation
Forbes in its 2011 report has co-related wealth creation to worldwide demand for business jets. The number of billionaires in 2011 was 1,210, up from 1,123 in 2008, representing a 20 per cent increase and 53 per cent versus 2009. The most significant growth in the number of billionaires occurred in China with a very impressive increase of 66 per cent yearover-year, followed by Russia & CIS (61 per cent) and Latin America (47 per cent).
Luxury collectibles
Capgemini and Merrill Lynch Global Wealth Management said luxury collectibles (e.g. luxury automobiles, boats, jets) remained the largest single segment (29 per cent) of investments of passion for ultra-HNWIs. And ultra-HNWIs posted slightly stronger-than-average gains in their numbers and wealth. The global population of Ultra-HNWIs grew by 10.2 per cent in 2010 and its wealth by 11.5 per cent. As a result, ultra-HNWIs accounted for 36.1 per cent of global HNWI wealth, up from 35.5 per cent, while representing only 0.9 per cent of the global HNWI population.
It is this segment that the jet manufacturers are eyeing. While luxury comes at a cost for the ultra-HNWIs, it goes along with their lifestyle. Prices range from about $31 million for a Bombardier Global 5000 to $65 million for the Gulfstream G650. Airbus lists a price of $68 million for its smallest single-aisle A318 to about $245 million for the twin-aisle A350, which is under development.
As planes have become bigger and fancier, their interiors have also changed dramatically, incorporating the luxurious amenities once found only on private yachts. Expansive and expensive beds, sauna, conference room, exquisite interiors and the works are quite the norm in these luxurious jets.
Here are some of the traditional (we are excluding the wide body aircraft of Boeing and Airbus) high end business jets which are rocking the world. We are looking at one high-end business jet from each of the selected OEMs.
Gold standard in business aviation-G650
The Gulfstream G650 ultra-large-cabin, ultra-high speed business jet is, quite simply, the golden standard in business aviation. The flagship of the Gulfstream fleet flies faster and farther than any traditional business aircraft and envelops its privileged passengers in a level of comfort far greater than any other aircraft in its class.
Introduced in 2008, the G650 will carry eight passengers and a crew of four on nonstop legs of 7,000 nautical miles (12,964 km). That means it will link Dubai with New York and London with Buenos Aires. With its powerful Rolls-Royce BR725 engines, the G650 will cover shorter distances at a speed of Mach 0.925. No traditional business jet will take you closer to the speed of sound. Exceptional power and ultra-long legs aside, the G650 will be remarkably versatile. It will deliver excellent takeoff and landing performance with a balanced field length of just 6,000 feet.
The G650 is the most technologically advanced business aircraft in the sky. The G650 comes standard with many advanced safety features such as enhanced vision system (EVS) II, the head-up display (HUD) II and the synthetic vision-primary flight display (SV-PFD). Its Planeview II cockpit comes equipped with a triplex flight management system, automatic emergency descent mode, 3-D weather radar, advanced flight controls—in short, a full array of sophisticated, next-generation technology to improve pilot situational awareness and enhance safety.
Gulfstream G650 is an upgrade on G550, one of the most expensive corporate jets made by General Dynamics. According to reports, the Gulfstream G550 cost $59.9 million.
Most accomplished bizjet-Bombardier Global 6000
Canadian aviation company, Bombardier, is aiming to displace Gulfstream as the world's most expensive business jet with the introduction of two new models. The Global 7000 and 8000, which will cost about $65 million apiece, will beat the high-speed range of the $58.5 million Gulfstream G650. Both new private jets will have a high-speed cruise of Mach 0.90; the 7000 will have a range of 7,300 nm at Mach 0.85, while the 8000's range will top out at 7,900 nm at Mach 0.85. Both will borrow elements from the existing Global Express XRS (rebranded as Global 6000) and 5000.
The Global 6000 corporate jet is the most luxurious, most accomplished business aircraft ever built, accommodating the desires of the most sophisticated and demanding traveller with no compromises. Building on its Global Express heritage and raising the bar yet again, this extraordinary aircraft offers even greater cabin comfort, enhanced performance and further advanced technology for increased productivity and peace of mind.
No other business jet flying today carries you faster, farther. The highlights are: optimal luxury, privacy and amenities; a business tool of unsurpassed performance; and technology at the leading edge of corporate aviation.
Ready to fly with only 30 minutes warning, no other intercontinental business aircraft takes you faster, farther than the XRS. Powered by Rolls-Royce BR710, flying at altitudes of up to 51,000 ft (15,545 m), this high performance aircraft has exceptional range, carrying eight passengers and a crew of four 5,450 nautical miles non-stop at Mach 0.87, 6,150 nautical miles non-stop at Mach 0.85 and 6,500 nautical miles non-stop at Mach 0.82—bridging Tokyo and New York, or Moscow and Los Angeles, non-stop.