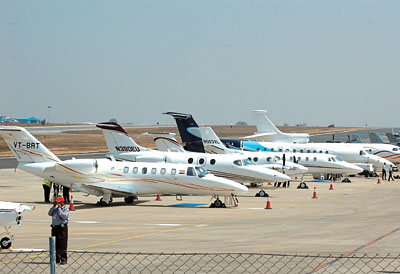 The Indian business aviation awaits with bated breath the day when the establishment realises the immense potential that business aviation has for contributing to the national economy
The first problem with respect to business aviation is definitional. According to the International Civil Aviation Organisation (ICAO), general aviation comprise all civil aircraft not operated by commercial aviation. Business aviation is one of the components of general aviation and consists of companies and individuals using aircraft as tools in the conduct of their business. It should be noted that the term "business aviation" is not included in the ICAO vocabulary (Doc 9569); and that there is no ICAO definition of business aviation. However, in 1998, the International Business Aviation Council (IBAC), which is comprised of business aviation associations from around the world, adopted the following definition of business aviation: "That sector of aviation which concerns the operation or use of aircraft by companies for the carriage of passengers or goods as an aid to the conduct of their business, flown for purposes generally considered not for public hire and piloted by individuals having, at the minimum, a valid commercial pilot licence with an instrument rating."
Business aviation (and for that matter the rest of general aviation as well as the non-scheduled operators) suffer through a poverty of regulatory framework. Most regulations are primarily drafted for scheduled operators (airlines); thereafter minor, sometimes inadequate, modifications are made to them to adapt them to business aviation. There are no nodal offices or officers in the Directorate General of Civil Aviation (DGCA) HQ or the Ministry of Civil Aviation (MoCA) to deal exclusively with business aviation or the problems faced by business aviation. In recent weeks some steps have been taken to redress this state of affairs but tangible results are yet to manifest themselves. A part of the problem, of course, is the shortage of qualified manpower in the DGCA to meet the requirements of manning separate and differentiated desks to deal with business aviation. Within the existing manpower, it is well-nigh impossible to ensure smooth discharge of the onerous duties and responsibilities DGCA has been entrusted with. For example, all files related to business aviation operations (and the rest of general aviation as well as all non-scheduled operations) are channelled through the Chief Flight Operations Inspector (in the absence of a nodal officer for business aviation). The delays due to this bottleneck, at least from the point of view of business aviation operators, are unacceptable and inordinate. Some aviation stakeholders argue that even if the DGCA establishment manning was to swell up to meet the establishment, the desired level of attention to business aviation may not be the express result. This reservation is on account of the displayed apathy currently directed by DGCA towards business aviation.
Perhaps apathy is not the right word and 'antipathy' would better describe the attitude of the establishment towards business aviation. The regulatory framework is oppressive and obstructive. As there are no business aviation aircraft being manufactured in India, every fresh business aviation acquisition is an import (barring the odd purchase within India from an existing owner). Of course, another way to acquire an aircraft could be on a lease. The woes of a person or an entity planning on importing an aircraft for business aviation commence with the inception of such a plan. The prospective importer must, in the first instance, proffer his application for import to the MoCA's Aircraft Acquisition Committee. That committee normally meets once a month; thus, if an importer misses one meeting, he must wait for another month before his application is considered by the committee. Occasionally, meetings get postponed/cancelled with resultant delays in import permissions (no meetings could take place in January and March). The accountability ought to be the Ministry's, but the Ministry is too haughty to apologise or make amends while the applicants affected are forced to endure such time slides in their plans (and the associated financial losses) because they dare not annoy the Ministry officials. Should they protest, the ugly consequence could be rejection of their application on flimsy grounds (one inane 'observation' would cost you another month). The lack of transparency and the surfeit of delay in the Ministry's functioning is aviation folklore. As a result, from the time someone decides to import an aircraft into India, it could take six to nine months of paperwork to get the aircraft to actually fly its first operational flight in India.
According to the DGCA website, 244 aircraft are privately owned by 174 companies/individuals. These figures represent our business aviation and as can be seen, the average holding of each entity is 1.4 aircraft with many of them holding just one aircraft. Although rules permit these business aviation operators to get another professional entity (say a nonscheduled operator) to manage their aircraft for them, DGCA has been insisting that aircraft ownership and management/operational aspects are linked (one of the major reasons why fractional ownership did not take off in India). Aircraft operations involve huge costs and the numbers owned by business aviation operators being small, it would make economic sense to use economy of scale wherever possible so as to minimise costs by having one entity manage more than its own aircraft. However, each owner, including a single aircraft owner, is required to establish an independent full-fledged operations department to meet the regulatory requirements. The situation is impossible, everybody recognises the danger therein and circumventions rule the roost. Aircraft management companies exist all over the world and most national aviation regulators accept them. The Business Aircraft Operators' Association (BAOA) has taken up a case with the MoCA urging it to allow import of aircraft by companies/individuals in their own name and then leasing it to a non-scheduled operator who is much better equipped, manned and professionally competent to safely operate that aircraft.
Business aviation as a sub-set of civil aviation in India was showing healthy signs of growth after the second wave of rejuvenation was manifest from 2003 onwards. There was a heightening interest in import of business aircraft and corporate houses were waking up to the immense value of owning private aircraft for carrying their important functionaries (whose time was at a premium) around on business. Expectedly, business aircraft were also becoming status symbols. The government chose to ignore the value addition aspect of business aviation, focusing instead on the status symbol/luxury attributes of business aviation, and in 2007, imposed a 25 per cent duty on aircraft for business use, thus effectively putting air brakes on the whole sector. It is yet to recover from that decelerating blow. Interestingly, there is no evidence of this high import duty levied on business aviation being channelled selectively to render business aviation more pleasurable or operationally efficient. Aviation infrastructure continues to be inadequate and business aviation (along with the rest of general aviation as well as non-scheduled operators) continues to get a step motherly treatment at every airport they share with their elder sibling—scheduled airlines. Take the example of Mumbai, which, by dint of being the commercial capital of India, should be the largest business aviation market in the country. However, the existing infrastructure at Mumbai is inadequate to meet its scheduled (domestic and international), non-scheduled and general aviation traffic. As a result, general aviation including business aviation (along with non-scheduled operations) is being subjected to peak-hour curfews. Even when business aviation aircraft do find arrival slots, parking spaces are at a premium; according to one estimate, the number of aircraft that slumber overnight at Mumbai is around three times what the airport can safely and comfortably accommodate. There does not appear to be a solution in sight for the near future; possibly, the new airport in Mumbai may bring respite for the general aviation community. The restrictions and congestion at Mumbai alone are expected to render a stunting effect on the overall growth of business aviation in India.