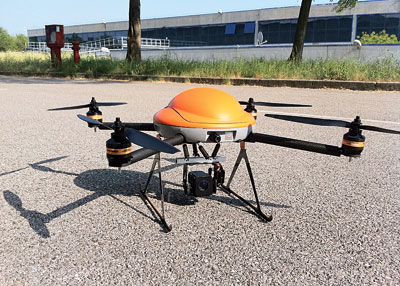 The Future UAS would be capable of multitasking, though their classification based on size and weight would continue to govern their immediate employability. But it is the data link integration which will be vital for interoperability and rapid sharing of intelligence.
It is interesting to note the difference in nuances ascribed to the term unmanned aircraft systems (UAS). While the 'pilotless' platforms are known by many names such as drones, remotely piloted vehicles (RPV), unmanned aerial vehicles (UAV), etc to name a few, these did not reflect the significance of other support and equally vital systems such as the ground control stations, data links and payloads, etc. Hence, a more comprehensive term of UAS. This reflects the need for not only interdependence but also for future developments in all the associated systems than just the platform. Interestingly, the inclusion of the term 'aircraft' in UAS emphasises that regardless of location of the pilot and flight crew, the operations must comply with the same regulations and procedures as for those manned aircraft with the pilot and flight crew onboard. The official acronym, UAS, is also used by the International Civil Aviation Organisation (ICAO).
It is in this context that the USAF's UAS Flight Plan 2009-2047 documents future developments in all spheres of platforms, navigation, control systems and equally importantly doctrine and the human resource requirements. The document envisions 'automated, modular, globally connected and sustainable multi-mission UAS', which would result into a 'leaner, more adaptable and efficient air force that maximises its contribution in the Joint Force'.
As we look beyond the centenary of unmanned aircraft in 2018, one does not envisage changes to some of the basic combat and combat support roles. The UAS would continue to provide surveillance and reconnaissance in different spectrums, electronic warfare (EW), information warfare (IW) and strike capability with use of UCAV, logistics and transportation, and radio relay as an important element of network-centric warfare. As a spin-off, a number of applications in the civilian domain for mapping natural resources, disaster management and transportation of men and material to remote areas, would also continue to be the focus of the future roles of UAS.
Undoubtedly, the future for UAS is bright with technological strides expected in many complementary systems. As prophesised by the Moore's law, the ongoing exponential growth in computing power would bring about unimaginable improvements in robotics and artificial intelligence. The hitherto inaccessible spectrums in radio, radar and laser would allow payload permeability through foliage and walls for providing total transparency in the battlefield equally vital during antiterrorist operations. Meanwhile, advances in materials and in micro and nano-sized technologies would provide better energy efficiency to provide further ranges and longer endurance.
In the ongoing Operation Enduring Freedom, one has witnessed with telling effect, the use of armed UAS in Afghanistan and in parts of Pakistan, latter not really a pronounced battle zone. Such ability to operate in restricted contested area is certainly a battlefield enabler, which one wish IAF could have possessed during the Kargil operations. IAF combat aircraft were then constrained in their attack profiles, not being allowed to cross the LAC. Operations in such confined combat zones would be further enhanced with micro and nano-sized swarms of UCAVs. Since the unmanned aircraft is not limited by human performance or physiological characteristics, sustained persistence and manoeuvrability can be availed with use of UAS. Higher endurance using solar energy, fuel cells, etc is also not limited to human endurance. At present such UAVs are already being flown. To absorb newer technology, the structures would be made of light weight stealth materials and modular in nature to ensure easier maintenance and logistics support.
Future UAS will require access to an interoperable and responsive network system capable of sharing actionable information. Open architecture is already a 'mantra' for all such network systems, which will undergo rapid changes with future technologies. The USAF is working towards operationalising global information grid (GIG) along with tactical sub-systems to ensure interoperability. USAF is also planning on newer tools for visualisation, data archiving, tagging and auto tracking necessitated with over a million hours being flown every six months in various theaters of conflict.
The future UAS would be capable of multi-tasking, though their classification based on size and weight would continue to govern their immediate employability. But it is the data link integration, which will be vital for interoperability and rapid sharing of intelligence. Network management is one core area, which the IAF and other two services need to address urgently for the bandwidth availability, EMI/EMC and for sharing of data without delays. It is possible that in the foreseeable future with advances in artificial intelligence, we will witness a futuristic integrated, autonomous, unmanned combat system, which would incorporate features of both the unmanned aircraft system and an unmanned ground system. If I may call it the unmanned ground and aircraft combat system (UGACS), which will fly, land vertically, furrow, burrow, attack and fly back to home country.
For us in India, such bright future for the UAS will have its share of difficulties in research and development, adequacy of bandwidths, airspace management, data management and interoperability. According to Defence Research and Development Organisation (DRDO) chief Dr V.K. Saraswat, by 2030, the percentage of the manned fleet will have been reduced significantly. But it depends very much on how smart and intelligent we can make these systems. He highlighted the Nishant UAV, Rustom-1 MALE UAV, and the Indian unmanned strike air vehicle (IUSAV)—the country's classified UCAV programme, based on a stealth flying wing design similar to existing stealth UCAVs like the Neuron and Taranis. The IUSAV would enter service in 10-15 years, and would operate alongside a solar-powered HALE UAV under development with HAL.