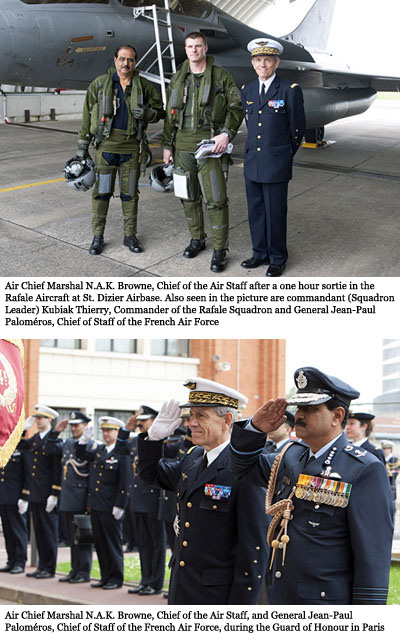 Air Chief Browne had a one-hour sortie in the Rafale aircraft, demonstrating the IAF's keenness in acquiring the aircraft
Air Chief Marshal N.A.K. Browne flew the Rafale aircraft, during his four-day goodwill visit to France from May 21-25. The Chief's one-hour sortie in the aircraft, demonstrated the eagerness of the Indian Air Force (IAF) in acquiring the medium multi-role combat aircraft (MMRCA) at the earliest. The Chief visited the Rafale Squadron to get a first-hand impression of the aircraft as also to see Rafale's production facilities to review the progress of the various projects being carried forward as joint ventures between the two countries.
The Air Chief met Chief of Staff of the French Air Force, General Jean-Paul Paloméros, who had come on a visit to India in September 2011, wherein he had also visited some of IAF's airbases including Jaisalmer and Gwalior.
Browne also met Jean-Yves Le Drian, the new French Defence Minister; Admiral Édouard Guillaud, French Chief of Defence Staff; Ingenieur Général de l'Armement (IGA) Laurent Collet-Billon, Director General of the French Defence Technology and Procurement Agency (DGA). The visit aimed at expanding the already robust bilateral military-to-military ties between the two countries and was very significant as it was the first high level official visit from India to France after the new government took office. He also visited Cognac, Istres and St. Dizier airbases of the French Air Force (FAF).