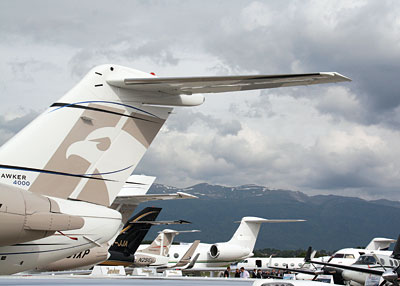 With 60 aircraft on static display, 12,638 attendees, and a 10 per cent increase in ramp space, EBACE 2012 went on fine, despite the slowdown in European economy
Despite the gloomy economy in Europe, the twelfth Annual European Business Aviation Convention & Exhibition (EBACE) 2012 held from May 14 to 16, at Geneva, was a strong show, and if the organisers are to be believed, it was on par with the show held last year.
On the last day of the business aviation show, jointly organised by the European Business Aviation Association (EBAA) and National Business Aviation Association (NBAA), a total of 12,638 attendees had participated, representing 99 countries. Additionally, 491 exhibitors were on hand, occupying a record-breaking 2,280 booth spaces of the Geneva Palexpo convention centre. There were 60 aircraft on static display with a 10 per cent increase in ramp space.
However, Air Works was India's only exhibitor at this year's business aviation show, eyeing at engaging in heavy maintenance of business jets in Europe. Air Works is considering setting up of a maintenance repair and overhaul (MRO) centre in the Arabian Gulf that would have Indian workforce.
The EBACE Safety Workshop, EBACE International Aircraft Transactions Conference and a host of other educative sessions were also held during the show. Industry experts discussed the latest safety information, emerging trends in tax compliance, the status of aviation system modernisation efforts in the region, and the industry's policy concerns, including the European Union's controversial Emissions Trading Scheme, the progress on the Single European Sky initiative and other matters, during the conference.
Show Highlights
Debuts
Bombardier Aerospace drew a huge crowd during the show with the launch of its two new aircraft types in the light midsized jet segment—the Learjet 70 and 75.
Bombardier's Vision Flight Deck made its debuts on its Global 5000 and Global 6000 jets at the show.
Cessna Aircraft Company introduced its newest and longest-range business jet, the $25.9-million stretched jet version, the Citation Longitude, which can fly 4,000 nm at Mach 0.82 and would be operational by 2016/2017. Cessna also said that the company is seeing high levels of interest from Europe around the planned game-changing mid-size business jet, the Citation Latitude, scheduled to enter service in 2015.
Thrane & Thrane introduced the new Inmarsat Multi-Voice service across its entire Aviator SwiftBroadband range. As part of the service upgrade, Thrane & Thrane's Aviator systems will support several simultaneous voice calls via Swift-Broadband, enabling more users to benefit from high quality and cost-effective calling during the flight. The company presented its flagship Aviator 700D for the first time at the show.
P&W introduced a new product called flight acquisition storage transmission (FAST), which acquires, stores and transmits engine and aircraft flight data for analysis for planned maintenance.
On Display
Airbus exhibited an ACJ319, giving visitors the opportunity to see how the widest and tallest corporate jet cabin fits into the same ramp space as traditional business jets.
Embraer's entry-level Phenom 100, the Phenom 300 light jet, the large Legacy 650, featuring an enhanced interior, and the ultra-large Lineage 1000 were also on static display.
Eurocopter showcased its strength in the business aviation segment, highlighting the role of helicopters as an ideal complement to business jets. And on display were the light twin-engine EC135 in corporate configuration that is operated by Europavia.
Gulfstream Aerospace Corporation's super mid-sized Gulfstream G280 was on static display at Geneva. The G280 is undergoing flight test and certification in preparation for entry-into-service later this year. The company's ultra-large-cabin, ultra-long-range G650 also made its first trans-Atlantic crossing flying 3,780 nautical miles (7,000 km) squawk-free and non-stop in just six hours and 55 minutes for the show. Also on display were the G550, G450 and G150.
Hawker Beechcraft Corporation (HBC) showcased the Hawker 900XP along with seven other aircraft from its product line up, including three models from its best-selling Beechcraft King Air turboprop line and a Hawker 900XP mid-size business jet. The company also announced plans to open a new parts and distribution warehouse in Bangalore to support a growing population of Hawker and Beechcraft airplanes in the region. GCS has signed an agreement with Air Works India Engineering Pvt Ltd to operate the new warehouse, which will be stocked and operational in the next several weeks.
While Bell displayed its Bell 429, Dassault Falcon 50 was another highlight of the show. Likewise, viewers witnessed the full size cabin mock up of Legacy 500, which was launched at EBACE 2008. Then there was the Airbus Corporate Jet Centre celebrating its fifth anniversary with its expansion of staff and services and plans to do a lot more in the coming years.