Importing foreign pilots to DIAL's big brother role, seaplanes and more, the third-time chief of the association gets candid about aviation with Arpita Kala of SP's Aviation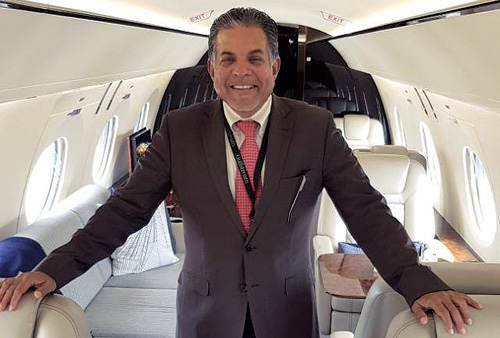 Colonel Nathan R. Jessup (Jessup): You want answers?
Daniel Kaffee (Kaffee): I want the truth!
Jessup: You can't handle the truth!
Remember this heated Jack Nicholson-Tom Cruise exchange from the movie A Few Good Men (1992)? Well, if you need some cold-hard facts about general aviation in your face, meet Rohit Kapur, the President of Business Aircraft Operators Association (BAOA). Even finance minister Arun Jaitley couldn't dodge Kapur's truth-attack in the form of an open letter written in 2015 that began with "One more year for the hype of the Union Budget and one more year of disappointment for the Aviation Industry! So what's new?"
Fast-forward three years and things are more or less the same. He says, "There is nothing to speak about the budget as long as we are concerned, honestly. They are not treating us (business aviation sector) in any way, not motherly, not stepmotherly, not fatherly...I mean there wasn't even a mention about us in the budget. So, it doesn't matter. It's disappointing, but then this budget is focused on a different segment of the society, so we aren't surprised."
SP's Aviation (SP's): Has your open letter to Arun Jaitley in 2015 brought any changes?
Kapur: That open letter to Mr Jaitley was something that came to my mind one fine day. I was thinking 'How do I approach him... can I go meet him? He'll probably not give me an appointment' and then I wrote the open letter, I am given to understand that he did read it.
We understand that government policies don't change overnight, it takes time. So, our job is to raise awareness for the government and tell them what our peeve points are. Ministry of Finance (MoF) has their internal compulsions. So, even if they hear and understand us, it's not every time that they can act on it. After all, we are considered the body that represents the issues of the ultra-high net-worth people, who use and own planes. There is a mindset that these are the people who can be taxed and you can take more money from them.
Our own requirements also change over time. Today ATF (aviation turbine fuel) is not a big pain-point, I think now we would like the ministry to address the infrastructure. All airports are full to capacity, they have overshot what they were designed for and the collateral damage of this has been general aviation. The airlines get first priority in terms of parking slots, landing etc and we get relegated in the background because we're not considered a public service.
SP's: What about the infrastructure plans for the RCS schemes?
Kapur: RCS is a great initiative, don't get me wrong, but it's meant for a particular segment and the government is catering to them. Business or corporate aviation is not about the hawai chappal people with all due respect, because they are not the people who travel in our aircraft. Our jets are used by business leaders, politicians and even for religious tourism, air ambulance, so it's not really the need of a common man. RCS will do well but whether it will trickle down to grow our industry vis-à-vis infrastructure remains a big question mark. I am not so optimistic because it is not set up for the kind of audience we cater to.
SP's: So, the posh tag associated with BA is not a stigma?
Kapur: It is an absolute stigma and we are trying for years to get the perception of the government right.
SP's: But you did say that BA caters to a luxurious clientele...
Kapur: Luxurious clientele is a word that can be used loosely. We would like to say that business aviation is a tool for economic development, used by business leaders of the country. These people travel to the interiors of the country to their factories, plants that are not easily connected by commercial air or train or road. Forget the domestically, a lot of Indian companies have gone global and they have to travel to these places where they have projects going which aren't easily accessible. So, BA is actually an enhancer to give flexibility to our business leaders in terms of their time management and you know, time is money. And, if they manage their time better, they will add to the productivity of the country. This is how we want the government to look at BA.
"Business or corporate aviation is not about the hawai chappal people with all due respect, because they are not the people who travel in our aircraft"
SP's: Tell us about the issues that BAOA has been successful in resolving since its inception?
Kapur: We've had a fair amount of successes, not as many as we wanted but a considerable amount. The biggest will be that we have consolidated the industry as one voice. Besides that, we have taken several issues with the government and had them look at us favourably like the time for landing permits for foreign registered aircrafts used to be 7 days but we have gone down to 3 days, the Extended diversion time operations (EDTO) used to be 60 minutes and is now 90 minutes, and the YA number has been done away with.
We now have a standing committee with members from BAOA which works with the Directorate General of Civil Aviation (DGCA). Our issues are now being monitored at the Ministry of Civil Aviation level and we have a meeting with them every three months to update them on what's going on. So, we have more access now, which wasn't the case before. As far I see, operational issues are short-term...they will get resolved but infrastructure issues are long term and are looming large with no quick action from the government. We still need to iron out a lot of issues on GST, so we are also preparing a report to take it to the GST council.
SP's: With majority of the airports congested, do you think private business jet airports are a feasible idea?
Kapur: I think it's a welcome step, we have been talking about FBOs for a long time in this country. In fact, it's delayed...we were hoping they would have come up by now but with the whole new plan in place... it may take another one and a half or two years. My only caution here is that I know there are 2 of them (Bird ExecuJet and Indmar) therefore, it's not a monopolistic situation, however, the way the tenders have been set up with DIAL (Delhi International Airport Limited) in control, it's actually going to be so. The way the arrangements have been done with DIAL, there are a whole lot of extra charges that the users of the jets will get burdened with and they will have no choice but use either A or B (either of the two FBOs), which will be priced almost the same with DIAL as the big brother telling them what to do.
SP's: So what will be the remedy?
Kapur: Let the free market decide...I think DIAL should get out of the picture. Let them compete with each other fairly to get the business so that at least the users are not burdened. DIAL is in a situation where they just want to maximise their own profits, even though they have 2 concessioners, it still might be monopolistic. It's not really a fair competition.
SP's: Do you think politicians, who use private jets while canvassing for elections, become more considerate towards BA?
Kapur: Ministers have been using private planes to canvass for centuries. It's not that the previous regime didn't use private jets, I just think there are more forward-looking people now. Mr Sinha (Minister of State for Civil Aviation, Jayant Sinha) has global exposure, he sees how business aviation is handled in other countries. I think they are those people who want to make a difference. Civil Aviation Secretary Rajiv Nayan Choubey is a very positive person. I would say, he's one of the brightest and most effective secretary I have seen in civil aviation over years. I think the team is good in the ministry.
SP's: What can be done to solve the qualitative pilot shortage issue?
Kanpur: There is a pilot shortage and it will only get worse. DGCA needs to allow the usage of foreign crew a little more liberally. Today it is a difficult process, it takes six months actually to get one pilot and when he comes in, he is allowed to fly for only the company he's come in for. We got to start thinking out of the box and becoming more flexible. Let's face it, there is a shortage of skilled manpower and we need global expertise to help us out. We have to obviously work on building our own manpower skills but the problem is that in the past, aviation has had intense highs and lows. The training of manpower in aviation has a gestation period. Last time when the boom happened, a large number of people went for training, when they returned it had become a bust and they were left sitting with no jobs for five years with huge loans for the training on their heads. So, people are scared to invest this amount of money in a cyclical industry.
SP's: What's your take on seaplane travel?
Kapur: Seaplanes are the buzzword today ever since the Prime Minister hopped into one. I think it's a great option for a country like us...we have a number of waterways and a huge coastline. For it to really take off, we need to get our regulations sorted.
I'm just going to divert a bit, why do you think the helicopter industry has been stagnant in this country for years? The same 300 helicopters are in use for the last 10 years...when BAOA was formed in 2011, we predicted that their number would increase to 800. Today, instead of 300 we are at 270 helicopters. So, you see that the growth hasn't happened for the simple reason that the regulator looks at these kind of products - seaplanes and helicopters, like they consider Airbus 320s and Boeing 737s. If you regulate it the same way, your ease of operation won't be the same.
Today in India, helicopters are only used to carry passengers from A to B, religious pilgrimage and certain areas for air ambulance. Meanwhile worldwide, helicopters are used for emergency medical services, they can land in the middle of a road and take a patient. They are used for power-line cleaning, controlling traffic, aerial photography etc...now all these roles are not being encouraged by the Indian regulator...they are over-regulating.
SP's: What do you think is the reason?
Kapur: I think it's just the mindset...just a very commercial airliner mindset of the people sitting in DGCA. When they think of aviation, they only think of Indigo, Air India, Vistara and SpiceJet, and not beyond that. But they are slowly changing. BAOA has been working closely with the DGCA and everyday is a fight. We are trying to make them understand that our issues are different, treat us differently because we are not an airline.
Sometimes they agree and in others they say 'If an Airbus 320 can do it, why can't you?' So, this mindset needs to change and my fear is that if their mindset doesn't change, seaplanes will go the same way. They are definitely not commercial airlines, they will be used for mainly commuting, making them more akin to general aviation. And for regulations...you don't have to reinvent the wheel, just look at the global practices and follow them.