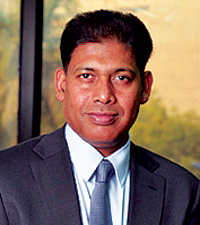 Pratyush Kumar
SP's Aviation (SP's): How do you feel about fighter opportunities for both the Navy and Air Force?
Pratyush Kumar (Kumar): One look at the decks of United States Navy's aircraft carriers and the Royal Australian Air Force's fleet and you'll see advanced, combat-proven strike capability. The Super Hornet is the multi-role solution for the Navy and international air force customers. The Royal Australian Air Force operates 24 Super Hornets and 12 Growlers.
The Super Hornet would be a good option for India to evaluate for its Navy and Air Force's fighter requirements due to its combat proven multi-role capabilities, advanced survivability, with room to grow and having the lowest cost per flight hour among all US tactical combat fighters including single engine fighters.
The Super Hornet brings the latest generation of technologies to the warfighter. With designed-in stealth and robust capability growth plan, the Super Hornet is the best aircraft to get to India's Advanced Medium Combat Aircraft (AMCA) programme.
Boeing is deeply committed to expanding its industrial partnership for producing Super Hornets in India, further developing the country's aerospace ecosystem. Boeing will work closely with Indian industry to ensure they have the very latest technologies, applying lessons learned from the current Super Hornet production line.
SP's: What would be the best approach for India as it evaluates strengthening its fighter capability?
Kumar: India has twin objectives – to modernise the capability of the defence services and to create an industrial base with a substantial indigenous footprint. Therefore, a procurement roadmap that achieves these twin goals is the need of the hour. A critical requirement of any such roadmap should be to create the industrial scale to enable Make in India which can only be achieved by considering commonality of parts such as radars and engines across platforms. Uncoordinated procurement loses this important lever. Given this, we want to follow the lead of the Ministry of Defence (MoD) instead of just pushing for sales of platforms. We will be responsive to the needs of the MoD and to follow their process.
SP's: What is the F/A-18 Super Hornet's roadmap by the US Navy?
Kumar: Boeing's Super Hornet is combat proven and defined to meet the US Navy's flight plan so that it continues to evolve to outpace future threats. The Super Hornet will be on the Navy's carrier decks for decades to come – being three-fourths of the Navy's strike fighter capacity into the 2030's and no less than half the carriers striking force into the 2040's.
The President of the United States in his fiscal 2019 budget included a requirement for 110 Super Hornets over the next five years to address its strike fighter shortfall. At the same time, the United States Navy has begun funding Block III capabilities to ensure the air wing has the capabilities needed to win in the 2020s and beyond.
That gives us a great opportunity to continue the programme which is evolutionary capability development from a risk perspective of low risk change that delivers revolutionary performance.
SP's: Can you tell us more about the Super Hornet Block III?
Kumar: The Super Hornet is a platform that is continuously evolving to outpace future threats. Every two years Boeing and its industry partners along with the US Navy work on delivering new capabilities to the fighter. Critical mission systems such as the radar, mission computers and sensors continue to evolve to match up to the mission profiles of the future.
To address the capabilities needed in the air wing as early as the 2020s, Boeing has also developed the Block III Super Hornet to complement existing and future air wing capabilities. The Advanced F/A-18E/F Super Hornet's multi-mission capabilities include battle-space situational awareness, counter stealth targeting, greater range and increased acceleration, improved survivability and reduced signature and room for growth.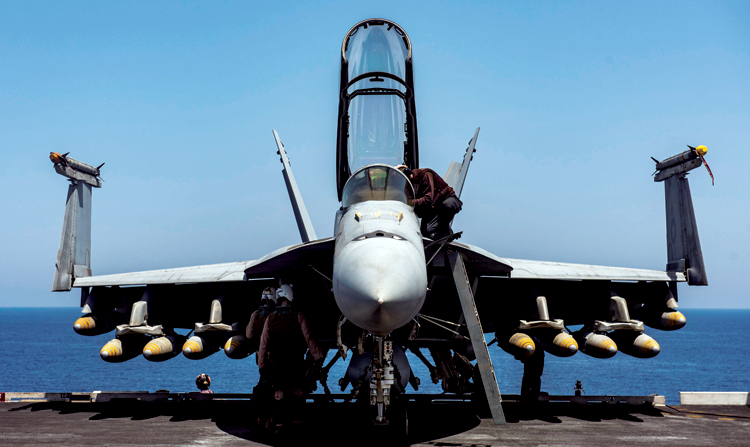 The Block III Super Hornet will bring most contemporary warfighter technologies to the Navy and the Air Force. Eventually, the upgrades will include signature enhancements that reduces its radar observability, long-range infrared search and track system, an upgraded Raytheon (RTN) radar and a deeper munitions magazine.
These advanced capabilities can be both built into new aircraft and incorporated into existing aircraft, allowing maximum ability to field these capabilities quickly and affordably.
SP's: What are your plans to make the F/A-18s in India?
Kumar: We believe India has demonstrated its potential in aerospace platform development and manufacturing and has a base to build upon. Boeing has been working with suppliers in India for over two decades in manufacturing, IT and engineering services and Indian companies are integrated in our global supply chain. Today, there are more than 160 suppliers providing parts and assemblies covering commodities such as aerostructures, wire harness, composites, forgings, avionics mission systems, and ground support equipment.
Boeing's 'Make in India' plans for the Super Hornet is to build an entirely new and state-of-the-art production facility that can be utilised for other programs like India's Advanced Medium Combat Aircraft (AMCA) programme. We are prepared to bring Boeing's global scale and supply chain, its best-in-industry precision manufacturing processes, as well as the company's unrivaled experience designing and optimising aerospace production facilities to both expand India's aerospace ecosystem and help realize the 'Make in India' vision. The approach addresses the infrastructure, personnel training, and operational tools and techniques required to produce a next gen fighter aircraft right here in India.
Boeing will work closely with India industry to ensure they have the very latest technologies, applying lessons learned from the current Super Hornet production line. The programme envisages transitioning airframe and subsystem manufacture to Indian industry in a deliberate way, representing extraordinary opportunity for technology insertion and growth within India's aerospace industry.
Boeing will partner with Indian industry to develop the right capabilities as efficiently and cost effectively as possible to integrate these suppliers into the global supply chain. Boeing and its current industry partners are having robust discussions with suppliers in India about building Super Hornets. We have talked to over 400 Indian companies as part of our partner evaluation process for various systems and subsystems of Super Hornet. Currently over 60,000 people from 800 suppliers across 44 states are part of the supply chain supporting the Super Hornet. This includes suppliers who manufacture parts for the Super Hornet in India. This can be replicated in India.
SP's: Boeing has opened a joint venture facility in partnership with Tata and is also working on sourcing and supply chain activities in India. Can you tell us more about that?
Kumar: We are focused on our Indian partnerships to fully harness talent, innovation and productivity opportunity in India to deliver a cost efficient supply chain from India to our customers worldwide. In that sense, 'Make in India' has become a win-win mantra for us – while it creates jobs and industrial capacity in India it also helps us stay globally competitive to keep growing and create jobs.
We have taken a dual approach of making equity and non-equity investments in support of 'Make in India'. We partnered with Tata Advanced Systems to establish a joint venture that would produce aerospace aerostructures in India, for the world. But it's important to note that non-equity partnerships also can help grow the defense industrial base. Boeing has invested hundreds of millions of dollars in supplier development, training, tooling and quality systems at Indian suppliers without taking an equity stake, and we continue to increase our partnerships with public and private companies. Boeing is working with over 160 Indian suppliers to provide advanced, complex components and sub-assemblies for our commercial and defense aircraft. This year, Boeing has had quadrupled manufacturing and sourcing activities in India and we plan to surpass a billion dollars of sourcing from Indian suppliers.
SP's: Your thoughts on the relationship between the United States and India and how that's evolved over the last decade?
Kumar: We have seen great positive energy and strong participation across our governments. India is now a Major Defense Partner of the US Put simply, an expanded partnership between the United States and India will allow us to create greater prosperity for both our nations and stand as mutually reinforcing engines of growth and innovation.