Government decision awaited on allowing public sector HAL bid in programme meant to create "wider private sector participation"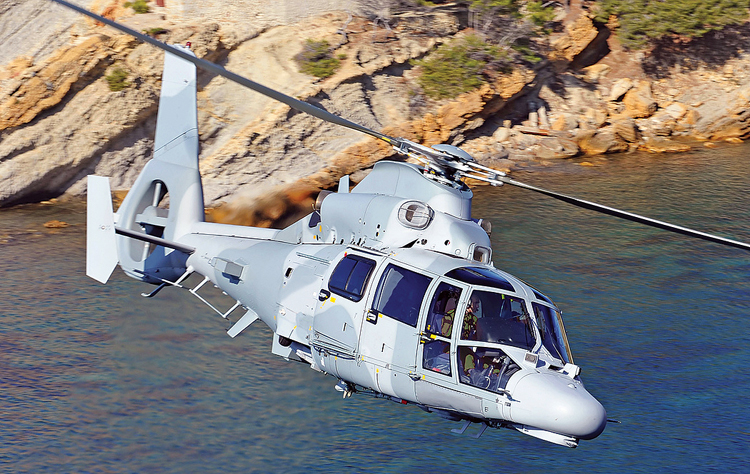 AS565 MBe Panther
Airbus has sprung a surprise on the competition by fielding two different helicopters for the India's $5 Billion Naval Utility Helicopter (NUH) programme. A no-show by Bell Helicopters is along expected lines. The line-up of competing choppers for this landmark competition - the first under the ambitious Strategic Partner model which is aimed at dramatically scaling up defence production capability in the private sector - now includes the Airbus AS565 MBe Panther and H145, Lockheed Martin-Sikorsky S-76D and Russian Helicopters Ka-226T. These bids were submitted to the Indian Navy on May 30. Of the 111 NUH to be procured, 96 are to be made in India.
India's HAL is "awaiting clarity" on whether it can field the Naval version of its own Advanced Light Helicopter (ALH), a prototype of which it had demonstrated at Aero India earlier this year, and also if it can directly, or through its subsidiary, enter into partnership with a foreign OEM to compete in this programme. Indeed, the entire field for this competition is awaiting clarity on whether India's public sector aerospace monopoly can be allowed to participate.
The programme was kicked off by the Indian Navy in February with the issuance of parallel Requests for Expression of Interest (EoI) to Indian companies and foreign OEMs. An Open EoI was issued online inviting interest from private Indian companies wanting to be considered for selection as the Strategic Partner for production of helicopters. A separate EoI was issued to four foreign OEMs - Russian Helicopters, Lockheed Martin- Sikorsky, Bell Helicopters and Airbus Helicopters.
The eight Indian companies which responded to the EoI include Tata Advanced Systems Limited (TASL), Mahindra, Adani, Reliance, Bharat Forge and Laxmi Machine Works, besides HAL and its joint venture company with Russian Helicopters, Indo-Russian Helicopters Limited (IRHL).
An Indian Navy team visited the facilities of the Indian companies which have bid for selection as Strategic Partner from May 28 to June 10 for capability assessment. This is to decide the eligibility of Indian bidders," sources confirmed to SP's.
THE HAL ISSUE
While the Expression of Interest draft clearly mentions that the bidding entity needs to be a Private Sector company, the bids by HAL and IRHL force a decision on the Government on whether or not to expand the Strategic Partner ambit to the Public Sector. The raison d'etre for the Strategic Partner concept was to create Defence manufacturing capability in the Private Sector.
Chapter 7 of the latest version of the Defence Procurement Procedure (DPP), states that the Strategic Partner model envisages "wider participation from the private sector". But HAL insists that "a clause in the DPP allows HAL to work with a private company and bid for Strategic Partner status". With the DPP being interpreted differently, allowing a public sector company to bid as a prime in a Strategic Partner programme is a policy call that the Government will have to take quickly.
HAL is India's largest Defence PSU. And according to information filed with the Registrar of Companies, the ownership of HAL in IRHL is 50.5 per cent. IRHL is a joint venture between HAL and Russian Helicopters to produce 140 Ka-226T helicopters in India. Any entity in which Public Sector companies have more than a 50 per cent stake is itself considered part of the Public Sector.
Foreign OEMs are seeking clarity from the Government. "We have to reconsider our strategy if HAL is allowed," a senior executive of one of the contenders told this reporter. Any bid involving HAL will become the favourite and disrupt the level playing field, besides defeating the very purpose of the Strategic Partner Concept, Industry insiders argue. That is because HAL, as an aerospace industrial monopoly, is the only entity which has existing capability and infrastructure to manufacture aircraft. HAL has a declared tie-up with Russian Helicopters, and allowance to either HAL or its subsidiary IRHL will skew the selection process in favour of the Kamov-226T.
Mahindra has a tie-up with Airbus Helicopters while Tata has one with Sikorsky. These tie-ups are not binding, and are subject to the bid by the respective foreign OEMs qualifying for Stage 2 of the competition.
RULES OF THE CONTEST
The Strategic Partner concept involves selecting a pool of private Indian companies fulfilling basic minimum criteria for financial and industrial capability. This pool of Indian companies will respectively have to pair up with a qualified foreign OEM to make a bid. The RFP will be issued to the shortlisted Indian companies, and the foreign OEMs will be the technology providers in the respective bids.
Shortlisted Indian companies can submit only one bid in response to the RFP, while there's no bar on a qualified foreign OEM tying up with more than one Indian company eligible for the contest
The shortlists of both Indian companies vying to be Strategic Partner and the foreign OEMs meeting the quality requirements and competing to be technology partners to the Indian primes will have to be approved by the Defence Acquisition Council (DAC). Shortlisted Indian companies can submit only one bid in response to the RFP, while there's no bar on a qualified foreign OEM tying up with more than one Indian company eligible for the contest.
"Timelines for this programme require completion of technical evaluation of bids by foreign OEMs and formulation of Quality Requirements for the RFP within 8-to-10 weeks. Shortlisting of Indian Strategic Partner prospects is to be completed even earlier. The RFP is slated to be issued to the Indian companies after due procedural clearances by the last quarter of 2019-20," sources informed SP's.
THE AIRBUS SURPRISE
A surprise move by Airbus Helicopters to offer two different variants for this competition is being seen as a bid to disrupt the game plan of the competition. While it was expected to field the AS565 MBe Panther, the inclusion of the H145 into the fray will give Airbus more options not just to widen the scope of partnerships but also to cover a wider price range.
"Airbus has realised that what the Indian forces want is often different from what they end up buying. They seem to be drawing from their lessons from earlier Indian competitions for military helicopters, where they did not make it despite appearing to do better during the evaluation process. Both the variants appear to meet the flying requirements. So, by introducing an additional element, they appear to be covering all bases, creating more room for manoeuvre, and catering to the uncertainties of the Indian arms bazaar," an Industry insider inferred.
One uncertainty is over the unavailability of military-naval versions in three of the contenting helicopters. The only option which has a demonstrated capability for naval application - including weapon hard points, corresponding radars and submarine-detection capabilities - is the Airbus AS565 MBe Panther.
Over a decade ago, a tender for Light Utility Helicopters for the Indian Army was cancelled after it was pointed out that the technically compliant helicopter fielded by Eurocopter - the predecessor company of Airbus Helicopters - for extensive trials was not a military variant.
The fine-print of the NUH RFP will be closely watched this time over whether the gaps which scuttled earlier programmes have been closed. "The RFP will have to explicitly allow civil variants to participate in the competition and give these a level playing field. Investment and time is required for conversion to military variants. Design will have to be modified for incorporating weapon hard points and firing capability. Avionics and radar package will have to be modified. And in this case, to meet the requirements for 'limited maritime operations', there has to be an element of limited anti-submarine warfare capability too," a military procurements expert analysed.
"This is a great opportunity to build Defence manufacturing capability and enhance the 'Make in India' narrative. But for it to succeed, the process must ensure transparency, fair competition and adherence to timelines," he said, summing up his observations. India's maiden procurement under the Strategic Partner concept will not just be closely watched for its integrity and fair play, but it's outcome may well determine whether Indian companies will emerge as global OEMs in the future.