Defence & Energy to be the big drivers, as India, US raise ties to "comprehensive global strategic partnership"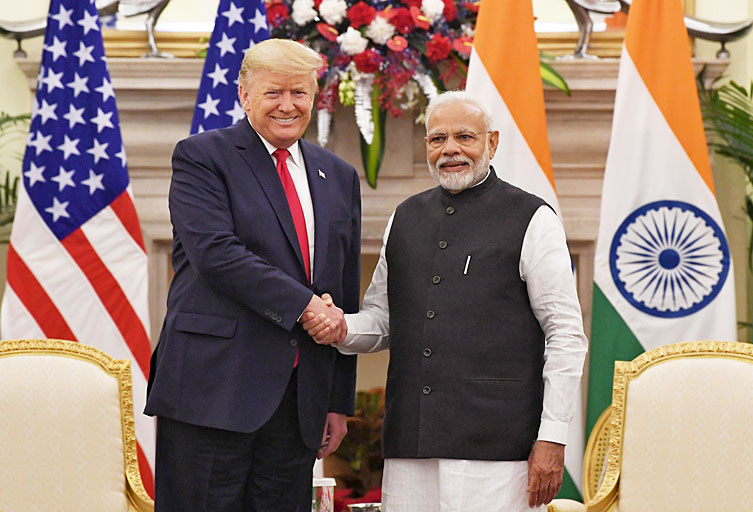 Prime Minister Narendra Modi with US President Donald Trump at the Summit meeting and delegation-level India-US talks in New Delhi on February 25, 2020
Defence and Energy shall be the key drivers of a growing India-US relationship, even as convergence on a range of global strategic interests shall bring the world's two largest democracies together in a closer embrace. This was the big message from US President Donald Trump's two-day visit to India.
The big takeaway for the US President, known for his penchant for deals, was the signing of defence agreements worth more than $3 billion including the purchase of 24 MH-60R naval helicopters and 6 AH-64E Apache gunships for the Indian armed forces. This takes the aggregate value of India-US defence deals since 2007 to $20 billion.
Amidst increasing military intimacy, the two countries also agreed to raise their bilateral relationship to the level of a comprehensive strategic partnership.
"Earlier today, we expanded our defence cooperation with agreements for India to purchase more than $3 billion of advanced American military equipment, including Apache and MH-60 Romeo helicopters — the finest in the world. These deals will enhance our joint defence capabilities as our militaries continue to train and operate side-by-side," Trump said in a statement delivered with Modi by his side after a bilateral delegation-level meeting at Hyderabad House in New Delhi.
Terming the India-US relationship as the "most important partnership of the 21st century", Prime Minister Modi, in his statement, said "the increasing defence and security cooperation between India and the United States is a very important aspect of our strategic partnership".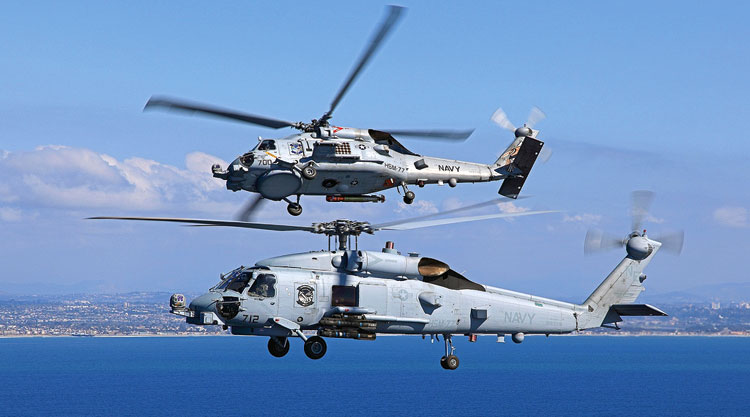 The MH-60R Seahawk helicopters will replace the ageing Sea King helicopters, marking the biggest upgrade in the Indian Navy's rotary wing capability
"Cooperation in ultramodern defence equipment and platforms will enhance India's defence capabilities. Our defence manufacturers are becoming a part of each other's supply chains," Modi said.
The Prime Minister noted that the Indian forces are doing the maximum training exercises with US forces. "In the last few years, there has been an unprecedented increase in interoperability between our armies, friends. In the same way, we are also increasing our cooperation in the area of homeland security and in fighting international crime," he added.
Giving context to the military embrace with the US, Modi said, "We have also taken a decision today to further increase our efforts in order to hold supporters of terrorism responsible."
On his part, Trump, while reaffirming the "commitment to protecting our citizens from radical Islamic terrorism", hedged on questions at a press conference later in the day on action against Pakistan for its support to cross-border terrorism. He suggested that handling anti-India terror emanating from Pakistan would be India's burden. Terming Modi a strong leader, Trump said the Indian prime Minister will handle Pakistan on his own.
The US President also kept a distance from the Indian position on Kashmir, saying there are "two sides to a story" and once again reiterated his offer to mediate on the issue.
On Islamic terrorism, Trump appeared more focussed on West Asia, Afghanistan, ISIS and Al Qaeda, and the "fight against the drugs and opioid crisis".
"In our meetings with the Prime Minister, we discussed and agreed to create a counter-narcotics working group to confront the growing threat of illicit fentanyl and opioid production. We must rid our societies of these lethal, horrible poisons. We will rid our societies of these bad drugs that are pouring in," the US President said.
Trump's other big interest was partnership in the Indo-Pacific. "Together, the Prime Minister and I are revitalizing the Quad Initiative with the United States, India, Australia, and Japan. Since I took office, we have held the first Quad ministerial meeting - I guess you would call it a meeting, but it seems like so much more than that - and expanded cooperation on counterterrorism, cyber security, and maritime security to ensure a free and open Indo-Pacific," the US President said.
On convergence of interests, Trump also emphasised cooperation in the development of a 5G network. "We discussed the importance of a secure 5G wireless network and the need for this emerging technology to be a tool for freedom, progress, prosperity - not to do anything where it could be even conceived as a conduit for suppression and censorship," he said.
While canvassing for 5G, he said the US is working with a range of partners, including Australia and Japan, to create the Blue Dot Network, a major initiative to ensure countries around the world to have access to private sector-led, sustainable, and trustworthy options for high-quality infrastructure development.
While both sides admitted that a trade deal was work in progress, the emergence of oil and gas as the biggest factor in bilateral trade was unmistakable.
"The US has indeed become a very important oil and gas source for India. Over the last four years, our total energy trade volume is about $20 billion," Modi said.
Powering the double-digit growth in India-US trade over the last three years is Energy, Civil Aircraft, Defence and Higher Education. "Over the last four or five years, just these four sectors has contributed $70 billion to the relationship between India and the US," Modi pointed out.
Trump acknowledged that export of American oil and gas to India had increased 500 per cent during his tenure.
"Since I took office, exports to India are up nearly 60 per cent and exports of high-quality American energy have grown by - thank you very much - 500 per cent. That's great," he said.
Besides the defence deals, the other significant agreement signed during Trump's visit was the one with ExxonMobil to improve India's natural gas distribution network, intended to increase the export of American LNG to India.