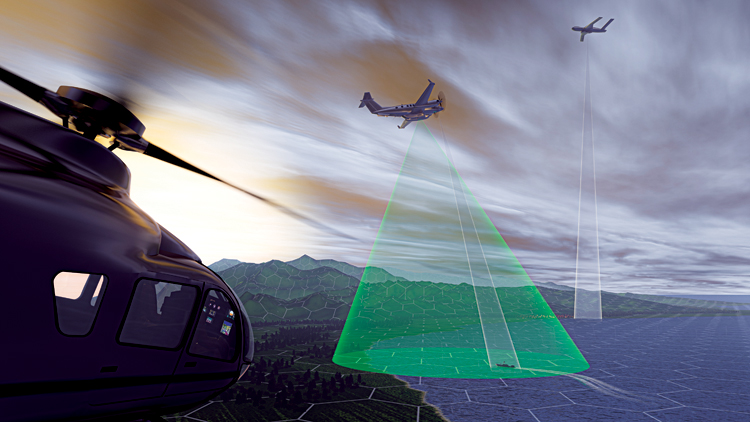 Detecting, identifying and prioritising objects of interest
HENSOLDT has been pursuing innovative ideas which translate into technologies for the protection of forces across the globe and into a successful business for over 125 years. The company is present in Germany, France, South Africa and UK and having several global footprints including India.
The Indian Armed Forces have been undergoing rapid technological transformation to meet the ever expanding need of air superiority. HENSOLDT Group reaffirms its commitment to support the Indian Armed Forces by offering a state-of-the-art 'Make-in-India' detect and protect sensors suite to improve ISR as well as the safety and operational effectiveness of Indian Helicopter platforms.
In 2022 for Airborne Solutions, we wish to highlight our flagship products for Indian Helicopter platforms in particular Airborne Missile Protection Suite (AMPS), Maritime Patrol Radar (PrecISR 1000), Electro Optical System (ARGOS), Datalink (Lygarion), IFF Transponder (LTR400), ELINT (Kalaetron Integral), Data recorder (LCR), DVE Solutions and Mission Management System (Sensor agnostic) and to highlight our Integrated Airborne Solutions.
Our MissionGrid system integrates these sensors into a complete package to provide:
Reduced integration and certification risk for Tier 1&2 customers
Tailormade to customer's needs
HENSOLDT to take responsibility not just for one single element, but to cover the whole mission chain providing the following customer benefits:

Guaranteed equipment interoperability
Reduction of complexity, time to market, risk and cost
One interface to the operator, improved ergonomics, harmonised HMI
Reduction of operator workload
Interoperability during Joint / Combined Operations
Endurance of operational continuity 24/7
Improved Situational Awareness in real-time
Continuous ISTAR SRV/RECCE product delivery during all mission phases
Extensive communication performance (Intra/Extra up to Joint/Combined, MUMT)
Highly optimised presentation of information with GIS tool and the use of HMD
Simplified and easy-to-use system design
Ensuring enhanced ISTAR capability (on-/off-board)
Considerable increase of ISTAR products and its distribution in a netted (non-) hostile environment (COMINT, ELINT, SIGINT, Radar images) Platform self-protection by missile/IR sensors and counter action
Innovation is an essential part of our company DNA, for the benefit of our customers!
HENSOLDT is a German defence industry champion with a leading market position in Europe and global reach. Headquartered in Taufkirchen near Munich, the company develops sensor solutions for defence and security applications. As a technology leader, HENSOLDT is also continuously expanding its portfolio. It develops new products to combat a wide range of threats based on innovative approaches to data management, robotics and cyber security. With more than 5,600 employees, HENSOLDT achieved a turnover of 1.2 billion euros in 2020. HENSOLDT is listed on the Frankfurt Stock Exchange.