Some airlines innovate and go the extra mile to make a real difference to their passenger experience. Find out which one to hop on for your next vacation. Here is a list of the best airlines in the world in 2022.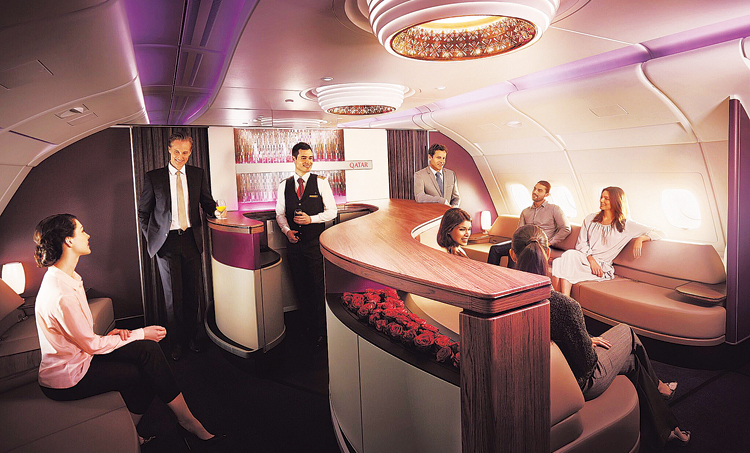 Qatar Airways offers amazing features like an on-board lounge, on-board WiFi and double bed cabins for the most memorable experience onboard their Airbus A380s
Over the years, globally, air travel has not only become more comfortable but also more affordable. Today, the Airlines, industry and air travelers are interested in knowing as to which airlines do most travelers generally prefer to travel. Readers across the spectrum are always keen to know as to which is the best airlines in the world? Which all airlines are among the top few?
Amongst various agencies undertaking the yearly rating exercise, it is the Skytrax rating and awards that are looked upon with great awe and respect throughout the civil aviation industry. In this, travelers participating in the survey are asked to rate the airlines based on customer service, comfort and cleanliness. With the COVID-19 induced travel restrictions being lifted across the world, tourism and business trips have gained pace. As a result, international flights have resumed across the globe, hence this year's awards assume even greater importance.
Skytrax Awards are regarded as 'the Oscars' of the aviation industry. The Skytrax is a UK based airline and airport review and ranking site. The awards were announced at an event held in London on September 23, 2022. The annual event made a return in physical format after a gap of nearly two years due to the pandemic.
It is the record seventh time that Qatar Airways emerged at the top spot in the prestigious passenger satisfaction survey. Singapore Airlines ranked 2nd and Emirates ranked 3rd on the list.
The top 40 airlines in 2022 reflect a number of changes from their earlier year ratings, this could be attributed to the changed operational levels of some airlines due to ongoing COVID-19 restrictions during the period of the survey. The result was that while some airlines maintained their high marks, Qatar Airways walked away with the world's best airline title for the seventh year in a row, while others shifted in ranking as the industry continues to adjust to a new normal.
LET'S HAVE A LOOK AT THE TOP 10 AIRLINES OF 2022
Qatar Airways has been voted the world's best airline, winning the prestigious airline of the year 2022 Award. It can be said that the Qatar Airways was ranked number one because of its cabin innovation, passenger service and its commitment to continue to operate throughout the COVID pandemic. Qatar Airways is the national airline of the State of Qatar, based in Doha, the Airline's trendsetting on-board product focuses on comfort, fine cuisine, the latest in-flight audio and video entertainment, award-winning service and a modern aircraft fleet averaging around five years of age. Qatar Airways serves more than 150 key business and leisure destinations worldwide, with a fleet of over 200 aircraft. The airline flies to Australia, Asia, Europe, Middle East, Africa, North America, and South America.
It is to be noted that even during the pandemic, the Qatar Airways never dropped below 30 global destinations, whereas the other international carriers were forced to significantly reduce their global route network as demand for travel slumped.
The airline also won significant awards for having the Best Business Class, the Best Business Class Seat and the Best Business Class Lounge Dining and of course the Best Airline in the Middle East. Qatar Airways is no stranger to taking the top spot in rankings of the world's best airlines, in July this year, it also topped a similar list by AirlineRatings.com.
The second Best Airlines is the Singapore Airlines. The Airline's success has been fuelled by its dedication to customer service. In-flight menus in all classes of service offer gourmet meals created by a panel of internationally renowned chefs and all customers can enjoy the carrier's state-of-the-art in-flight entertainment system, which offers a wide choice of movies, music and games. Together with its budget carrier arm, Scoot, Singapore Airlines operates a fleet of more than 180 aircraft, with a combined passenger network that spans more than 110 destinations.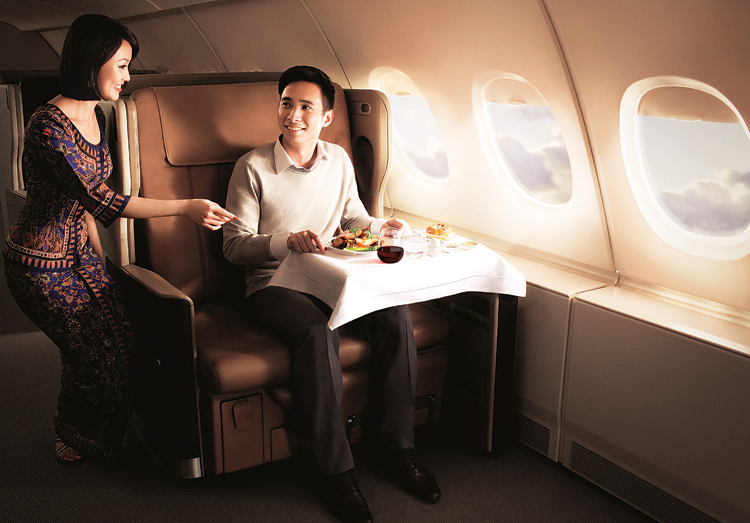 Singapore Airline's success has been fuelled by its dedication to customer service
The third ranking was earned by the Emirates due to its great customer service and clean, comfortable planes. Emirates connects the world to, and through, their global hub in Dubai. It operates modern, efficient and comfortable aircraft, and boasts of a culturally diverse workforce delivering award winning services to customers across six continents every day. Emirates current fleet comprises 262 aircraft, with the airline serving 152 destinations. In 2020 Emirates was the largest international airline as the industry recovered from the pandemic, carrying 15.8 million passengers in 2020. Further in last year alone, more than 19 million passengers have flown on Emirates.
Japan's All Nippon Airways Co (ANA) and Australia's Qantas made it to the top five.
ANA was founded in 1952 with two helicopters and slowly added transport aircraft operations in domestic sector and expanded its international services gradually. On March 3, 1986, ANA started scheduled international flights with a passenger service from Tokyo to Guam. Flights to Los Angeles and Washington D.C. followed by year's end and ANA also entered a service agreement with American Airlines to feed the US carrier's new flights to Narita.
ANA today has become the largest airline in Japan as well as one of the most significant airlines in Asia, operating 82 international routes and 118 domestic routes. Its headquarters are located in Shiodome City Center in Tokyo. It operates services to both domestic and international destinations and has more than 20,000 employees.
ANA offers a unique dual hub model which enables passengers to travel to Tokyo and connect through the two airports in the metropolitan Tokyo i.e. Narita and Haneda, to various destinations throughout Japan. ANA also offers same day connections between various North American, Asian and Chinese cities. ANA has been a member of Star Alliance since 1999.
Qantas Airways emerged at fifth position. Qantas was originally registered as the Queensland and Northern Territory Aerial Services Limited (QANTAS). It is widely regarded as one of the world's leading long distance airline and one of the strongest brands in Australia.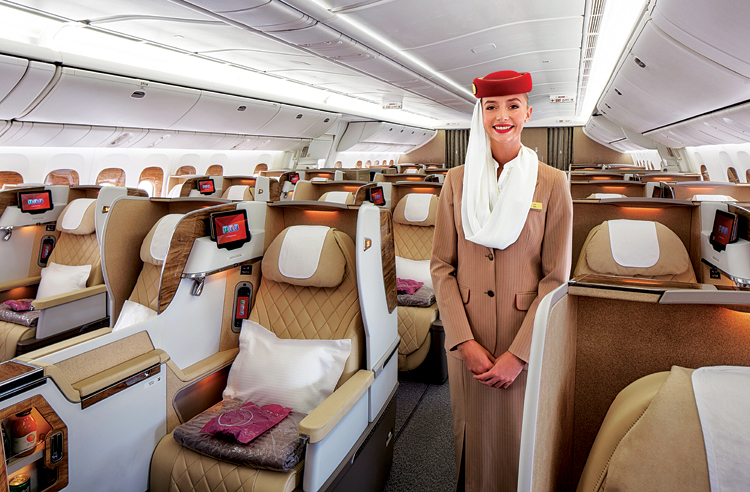 Emirates is one of the largest airlines with a fleet of modern, efficient, comfortable aircraft and an extensive route network
Qantas Airways is the flag carrier of Australia and the country's largest airline by fleet size, international flights and international destinations. The airline headquarters is based in Sydney. It is the world's third-oldest airline, having been founded in November 1920, it began international passenger flights in May 1935. Qantas has built a reputation for excellence in safety, operational reliability, engineering, maintenance and customer service. Qantas had a 65 per cent share of the Australian domestic market and carries 15 per cent of all passengers travelling into and out of Australia. Various subsidiary airlines operate to regional centres and on some trunk routes within Australia under the QantasLink banner. Qantas also owns Jetstar, a lowcost airline that operates both international services from Australia and domestic services within Australia and New Zealand.
Japan Airlines (JAL) is rated at sixth position. JAL was founded in 1951 and has a modern fleet of more than 230 aircraft. It is one of the world's premier carriers and joined the Oneworld Alliance in 2007. With four major hubs in Tokyo, Osaka, Nagoya and Okinawa, JAL serves 95 destinations across 20 territories. It is an airline with a rich history and a reputation for defining the essence of traditional Japanese hospitality, JAL is committed to providing guests with the highest levels of flight safety and supreme quality in every aspect of its service.
Turkish Airways took the seventh place overall. It was founded in 1933 with a modest fleet of five aircraft. It is a Star Alliance member. The Turkish Airlines flies to more than 300 destinations in the world with a fleet of more than 300 (passenger and cargo) aircraft. Turkish Airlines proudly carry the Turkish flag across the globe, opening doors to the wider world for its passengers. Turkish Airlines has a tagline, 'We fly to more countries than any other airline in the world'. Turkish Airlines also received four other awards including the highly competitive Best Airline in Europe title.
Air France stood at eighth position. Air France claims to turn the flight into a moment of real pleasure in all its daily operations. It operates 1,500 daily flights in France, Europe and worldwide. Since 2004, Air France and KLM have formed one of the leading European groups in the air transport sector. From their hubs at Paris (Charles de Gaulle) and Amsterdam (Schiphol), the Air France-KLM Group offers its customers access to a network covering 312 destinations in 116 countries.
Korean Air earned ninth position. It is a founding member of SkyTeam, is a leading international airline headquartered in Seoul, with its main hub located at Incheon (ICN) Airport. The airline's core business includes passenger, cargo, aerospace, catering and in-flight sales. With a vision to be a respected leader in the world airline community, it is the flag carrier of South Korea. It serves 125 destinations across 44 countries, with a fleet of 169 aircraft. The airline's global headquarters is located in Seoul.
Swiss International Air Lines stood at tenth position. Swiss International Air Lines (SWISS) is Switzerland's largest air carrier. With one of Europe's most advanced and carbon efficient aircraft fleets, SWISS is a premium airline that provides direct flights from Zurich and Geneva to keep Switzerland connected with the rest of Europe and the world. Its Swiss WorldCargo division offers an extensive range of airport-to-airport airfreight services for high value, time critical and care intensive consignments. SWISS is part of the Lufthansa Group and is also a member of Star Alliance, the world's biggest airline network.
Besides the first ten rated World Airlines, interestingly, US based airlines were quite a few notches down in the rankings. Delta Airlines ranked the highest at 24th, Southwest Airlines appeared at 35th position, United Airlines came in at 60th, while American Airlines came in at 68th.
Closer home, India's Vistara was a key promising winner. It received two awards, viz the 'Best Airline in India and Southern Asia' and the 'Best Airline Staff Service in India and Southern Asia'. "It is incredibly heartening for all of us at Vistara to win these awards, which reaffirms the steadfast trust our customers have in us and is a true testament to Vistara setting global benchmarks for excellence in operations and service delivery," Vinod Kannan, Chief Executive Officer of Vistara, was quoted.
Make sure you fly in these awesome airlines to actually experience the lavish services they offer that enrich your travel experience.