Allan Lockheed was one of those rare persons who, without any formal training, exhibited immense natural talent as an aviator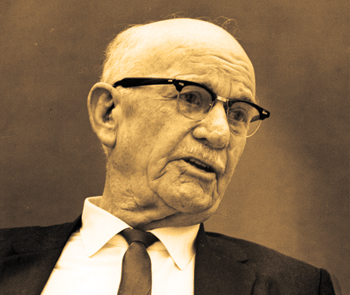 Lockheed Martin is a leading name in aviation circles today. An American global aerospace, defence, security and advanced technologies company, it has produced some of the world's finest combat jets such as the F-117 Nighthawk, the F-22 Raptor, the F-16 Fighting Falcon and the F-35 Lightning II. It has also built the Lockheed Martin C-130J Super Hercules, a fourengine turboprop military tactical transport aircraft currently in service with the Indian Air Force. It is perhaps not so well-known that the company might have been named Loughead Martin if its founder Allan Loughead had not got fed up with his name getting mispronounced "Log-head". He legally changed it to Lockheed.
Allan Haines Loughead was born on January 20, 1889, in Niles, California. In 1906, he became an automobile mechanic in San Francisco and soon took to driving racing cars. In 1910, he made history together with George Gates when the two men performed the first ever dual-pilot controlled flight in a 50-hp machine. Remarkably, this was Allan's first flight. Allan manipulated the ailerons, while George simultaneously operated the elevator and rudder. They had an uneventful trip and landed safely.
On another occasion, when two trained pilots could not get a Curtiss pusher biplane airborne, Allan laid a wager that he could take it into the air himself. And so he did, and even landed it. Later he said, "It was partly nerve, partly confidence and partly damn foolishness. But now I was an aviator," and a self-taught one, at that. He continued with some exhibition and stunt flying. He also predicted, "I expect to see the time when aviation will be the safest means of transportation at 40 to 50 miles per hour and the cheapest and I am not going to have long white whiskers when that happens. The airplane will take over both land and water travel. Flying has no barriers."
In December 1912, having convinced some wary investors to part with their money, Allan and his brother Malcolm started the Alco-Hydro Aeroplane Company, forerunner of Lockheed Corporation. They filled their spare time building a three-seat tractor seaplane, mostly with handheld tools. The first flight of the Model G, the largest seaplane yet built in the United States, was on June 15, 1913, from San Francisco Bay. With Allan at the controls, the machine reached an altitude of 90m and a speed of almost 100 kmph. He then returned to take Malcolm up for a second flight – a cruise over the bay. The brothers later flew their seaplane to the 1915 Panama-Pacific International Exposition in San Francisco. It proved a huge revenue generator and in five months, charging $10 per person, they attracted 600 passengers and netted a tidy profit.
In 1916, the brothers founded the Loughead Aircraft Manufacturing Company in Santa Barbara, California. They designed the F-1 – the first successful ten-passenger seaplane, for their aerial sightseeing business. In April 1918, Allan Loughead and a crew of three flew the twin-engine craft from Santa Barbara to San Diego in a record time of 181 minutes for the 340 km flight. In 1919, Loughead Aircraft entered the small aircraft segment with the single-seat S-1 Sport Biplane. Though it was greatly admired for its design, no one ordered the aircraft because war surplus machines were available in the market at throwaway prices. As a result, Loughead Aircraft closed down in 1920.
The third entrepreneurial attempt fared much better when the Lockheed Aircraft Corporation was formed in December 1926, with Loughead as Vice President and commenced operations in a garage in Hollywood. Their very first offering – the Lockheed Vega, was a great success. After investing their money in the machine, they produced a high-speed monoplane with a cruising speed of 300 kmph and a range of 1,600 km. The Vega was a six-passenger, high-wing monoplane that became one of the most famous record-setting aircraft of the period. Aviators were attracted to its rugged and very long-range design. In March 1928, Lockheed received an order for 20 Vegas, the largest commercial aircraft order till that time. Amelia Earhart became the first woman to fly the Atlantic solo in a Lockheed Vega. On June 23, 1931, Wiley Post and his navigator Harold Gatty, left Long Island, New York, in the Winnie Mae, also a Vega. After travelling 24,903 km in a record time of eight days 15 hours and 51 minutes, they returned to their starting point. It was the first successful aerial circumnavigation by a singleengine monoplane. In all, 128 Vegas were built.
Allan Lockheed was one of those rare persons who without any formal training, exhibited immense natural talent as an aviator. In later life, he was a real estate salesman in California, while also occasionally serving as an aviation consultant with Lockheed. He died on May 26, 1969, in Tucson, Arizona at the age of 80.