Boeing was considering building an all-new airplane in 2011, but under intense pressure from its chief rival Airbus, Boeing decided to update the 737 instead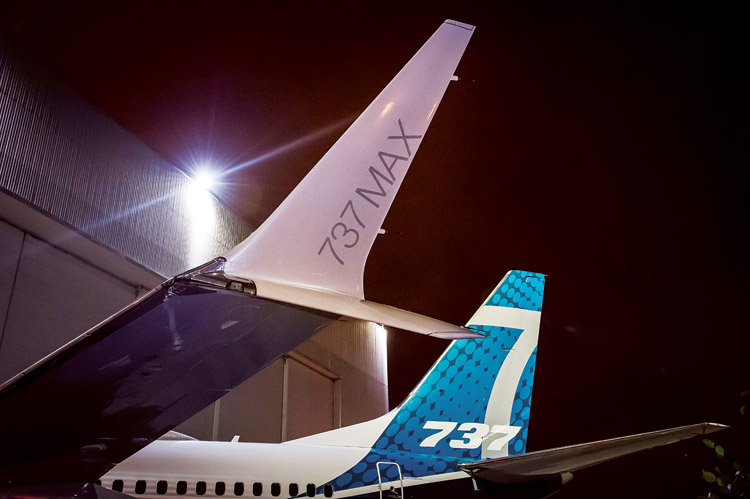 The Boeing-737 is a short-to-medium-range, twin-jet, narrow-body airliner produced by Boeing. It is Boeing's only narrow-body airliner in production, with the 737 Next Generation(-700, -800, and -900ER) and the re-engined and updated 737 MAX variants. Notable features are as under:
Flight Controls: The Boing-737's flight controls are intrinsically safe. In the event of total hydraulic failure or double engine failure, they automatically and seamlessly revert to control via servo tab. In this mode, the servo tabs aerodynamically control the elevators and ailerons. The servo tabs are in turn controlled by cables running to the control yoke. The pilot's muscle forces alone control the tabs. For the 737 Next Generation, a sixscreen LCD glass cockpit with modern avionics, was implemented while retaining crew commonality with previous generation 737.
Winglets: The 737 has four different winglet types: 737-200 Mini Winglet, 737 Classic/NG Blended Winglet, 737 Split Scimitar Winglet, and 737 MAX Advanced Technology Winglet. Blended winglets are in production on 737 NG and are available for retro-fit on 737 Classic models. These winglets are 2.4m tall and are installed at the wing tips. These help to reduce fuel burn by reducing vortex drag, engine wear and take-off noise.
MCAS: Boeing was considering building an all-new airplane in 2011, but under intense pressure from its chief rival Airbus, Boeing decided to update the 737 instead. Boeing designed the Max, a single-aisle jet that seats 200 passengers and flies farther and more efficiently than previous models of the 737. To do that, it equipped the Max with larger engine, thenew CFM LEAP-1B engine. This changed the plane's aerodynamics and rendered it more prone to stall in some aerodynamic conditions. To offset the risk of a stall, Boeing developed the Manoeuvering Characteristics Augmentation System (MCAS), which pushes the plane's nose down under certain conditions to stabilise the aircraft. But MCAS relied on data from just one of the plane's two angle of attack sensors that are mounted on the plane's exterior to monitor its angle of attack.
CRASH OF THE BOEING MAX 8
In October 2018, Lion Air Flight 610 crashed just minutes after take off from Jakarta, killing 189 people. In March 2019, another Boeing 737 Max of Ethiopian Airlines, crashed minutes after take off killing all 157 on board. The Max remains grounded after the second crash and Boeing is working on updates. Boeing CEO, Dennis Muilenburg recently reaffirmed his optimism over the 737 MAX's return to service in the fourth quarter of 2019. Muilenburg also gave assurance that the company planned to fix the 737 MAX software problems by September 2019. The initial investigation report suggests a fault in the aircraft's MCAS. In April 2019, the company had claimed that it had completed a software update for MCAS. However, during a simulator test, FAA pilots found that the updated system was taking a long time to respond in a situation where the plane's nose was pitched down. They pointed out that the issue could affect a pilot's ability to react quickly, increasing the risk of crash. Therefore, Boeing is now looking for a complete solution so that the flying ban on 737 MAX planes doesn't drag on any further. The company is now changing the software architecture of the MCAS system itself. The change will allow the aircraft to take inputs from both of its flight-control computers instead of just one. For decades, Boeing's 737 series planes have been designed to receive data from only one flight-control computer. The FAA and Boeing have come under scrutiny for their training and certification procedures. Boeing will now include a revised Flight Manual and Crew Operations Manual. Moreover, a new Quick Reference Handbook, Airplane Maintenance Manual and a new Interactive Fault Isolation Manual will be included.
MAINTENANCE INTRICACIES
The 737, like all airliners, undergoes periodic heavy maintenance and checks. Timelines of maintenance checks and nomenclature are as follows:
A Check – every 500 flying hours and are known as a P1 Check
B Check – every six months and incorporated into A or C Checks
C Check – every 4,000 to 6,000 flying hours or every two to three years. Now called P8, P10 or P12 Checks
D Check – every 24,000 to 40,000 flying hours or every nine to 12 years. Designated as P48 Checks.
PHASE CHECKS
One of the advantages of the 737 NG over the 737 Classic is that Boeing allows for intermediate base C Checks before the D Dheck to reduce the time, work and expense required at the D Check. Operators that have a maintenance programme with a P48 Check, can have a base check interval of eight phases (hence the name P8), where one phase equals 500 flying hours and so have six Base Checks in the base maintenance cycle. These will be P8, P16, P24, P32, P40 and P48 Checks, often referred to as C1, C2, C3, C4, C5 and C6 Checks. The P8 Check will have an interval of 4,000 flying hours and up to 18 months. The maintenance cycle will, therefore, have an interval of 24,000 flying hours and up to nine years. A typical P48 Check or (D Check) can take 20,000 to 30,000 man-hours, two months to complete and cost several million dollars. Most operators will also use the opportunity of the D Check to incorporate other tasks such as incorporating EOs, ADs, SBs, changing or refurbishing the interior and making any desired modifications to the aircraft.
The longer the grounding continues, the more scheduled maintenance events will become due, particularly those unrelated to the number of hours a particular airplane has flown
Several innovations helped reduce MRO costs. NG's new wings have nearly one-third fewer parts than Classic wings. Its leading edge was also redesigned for easier maintenance. The main landing gear on NGs is simpler and the time required for brake changes was cut by 30 per cent. Access to many NG Line Replaceable Units (LRUs) was made easier and quick-disconnect line fittings were used wherever possible. In addition, better ground-support equipment was provided, halving the time required for engine removal and installation. NG auxiliary power units were made easier to access and maintain, as were bays for electronics and other equipment. Boeing improved NGs' Built-In Test Equipment (BITE) user interfaces to reduce troubleshooting time and errors. Boeing NGs use digital cabin-pressure controls instead of analogue systems, reducing the number of mechanical parts. This redesign helped BITE more quickly identify problem LRUs or wiring defects, reducing troubleshooting time. BITE also cut this system's mean time between unscheduled removals by 75 per cent.
Another NG upgrade integrated stall management and yaw-damper computers in a single unit, improving reliability and reducing maintenance costs. On NG flight decks, Boeing enhanced systems, reliability, redundancy and BITE to increase mean time between failures by 62 per cent.
MRO MARKET
The pace of MRO spending follows fleet size, with a slight lag. Carriers have spent nearly $4.8 billion maintaining the 737-800 in 2018, and nearly $7.8 billion in 2019. Again, more than 90 per cent of this is spent outside airframe-check hangars. C and D checks accounted for $418 million till 2017, then climbed to $541 million by 2019. Aviation Week Network predicts the maintenance market for all 737 types to reach $21.7 billion. Of that total, 41 per cent is for component work, 27 per cent for engine maintenance, 22 per cent for line maintenance, five per cent for airframe work and five per cent for modifications. Most of that MRO demand is for the 737-800 which provided $14.7 billion of maintenance value in 2018 and is expected to rise to $16.6 billion by 2022.
MAX GROUNDING: MAINTENANCE WOES
MAX operators all over the world realised that the problem that led to grounding of the 737 MAX was not going to be solved overnight. As such, most have sent their 737 MAXs to storage facilities, where possible, to hot and dry places to minimise degradation. However, the logistics of bringing lots of aircraft back into service all at once is not an easy task. According to the Boeing website, "Returning a parked airplane to service after a lengthy down time requires extensive restoration of its systems. While the airworthiness of an in-service airplane is proven, the airworthiness of an airplane after extended downtime must be certified before it resumes operations. As a result, the process for returning an airplane to service after extended downtime for maintenance or parking must include attention to controlled, repeatable maintenance processes."
Returning one or two planes to service after being parked is not much of a challenge. However, for airlines such as Southwest, who had a large fleet of MAX in operation, finding enough hangar space, mechanics and spare parts, is a major task. As such, it could be several months from the recovery of the MAX before they can return to an operational state. Another effect, a few analysts have considered, involves maintenance planning. The longer the grounding continues, the more scheduled maintenance events will become due, particularly those unrelated to the number of hours a particular airplane has flown. As a result, the airlines have to bear the costs, both due to the need for upkeep on grounded aircraft and to revisit overall maintenance plans.
Calendar-driven maintenance tasks cover items such as seals or parts subject to corrosion. Other tasks maintenance crews need to perform on grounded airplanes include running the APU, draining engine oil and replacing it with special conservation oil, placement of desiccant bags in the cabin and removal of certain avionics among several other preventive steps to protect the airplane from climatic effects.
Because the airplanes are not flying, calendar activities versus the activities based on flight hours and flight cycles, become out of sync. One objective when you undertake maintenance is to complete as many activities as possible to reduce the amount of time the aircraft is grounded for maintenance. Most airlines have an automated way of aggregating these tasks. So if one has a calendar task at 24 months, based on the expected utilisation, you know which flight-related tasks one has to undertake at the same time. But, because of no flying, that kind of automation for bundling of task is not factored in and becomes difficult for the airlines.