In March 1944 Barkhorn was awarded Germany's second highest decoration – the Knight's Cross of the Iron Cross with Oak Leaves and Swords for 250 aerial victories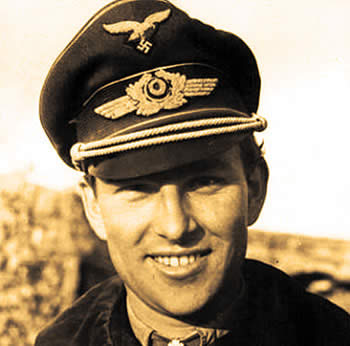 In the history of aviation, there have been only two pilots who achieved a personal tally of over 300 enemy aircraft shot down. Both were German aviators during the Second World War – Erich Hartmann and Gerhard Barkhorn. Barkhorn who flew a total of 1,104 missions, recorded all his 301 victories while flying over the Eastern Front. He was "Ace in a Day" on five occasions. To become an ace, one has to shoot down five aircraft. In a remarkably eventful career he himself was shot down and crash-landed nine times, bailed out once, was severely wounded twice and yet survived.
Gerhard "Gerd" Barkhorn was born on March 20, 1919 in Königsberg, Prussia. He joined the Luftwaffe in 1937 and completed his training in 1939. Plunged into World War II, he flew his initial combat missions without shooting down any aircraft. Instead, in late 1940, his Messerschmitt Me-109E was badly damaged by a Royal Air Force Supermarine Spitfire and he was forced to bail out over the English Channel. Fortunately another pilot had seen his parachute and radioed a German air-sea rescue team, who hastened to the reported location. They managed to haul him out of the frigid sea just in time. Barkhorn claimed his first victory only on July 2, 1941, during his 120th mission. At that time he was serving with Jagdgeschwader 52 deployed against the Soviet Air Force. By the end of the War, Jagdgeschwader 52 had become the most successful fighter unit in history with a tally of around 10,000 kills.
Once he had opened his account, Barkhorn's victories came swiftly. He reached his 100th kill on December 19, 1942 and his 200th on November 30, 1943. Yet he had a soft heart and a reputation for letting wingmen take credit for victories. On one occasion, he came up next to a Soviet aircraft he had severely damaged and signalled to the enemy pilot to bail out, thus sparing his life. When Erich Hartmann, who had shot down 352 aircraft, asked him why, he replied, "You must remember that one day that Russian pilot was the baby son of a beautiful Russian girl. He has his right to life and love the same as we do." In March 1944 Barkhorn was awarded Germany's second highest decoration – the Knight's Cross of the Iron Cross with Oak Leaves and Swords for 250 aerial victories. However, despite achieving his 301st and final victory on January 5, 1945, and becoming the second-highest scoring pilot in history, he was not awarded the Diamonds to his Knight's Cross with Oak Leaves and Swords. It may have been because he was not a committed Nazi.
On May 31, 1944, Barkhorn's day began at two in the morning with a combat mission in his Me-109G-6. On his second mission, he shot down four Soviet aircraft in just seven minutes. During his sixth mission of the day, at around 8 pm, he was returning to base after escorting a flight of Junkers Ju-87 Stuka dive bombers. Although he received a radio alert that many Russian fighters were in the vicinity, he could barely keep his eyes open. Suddenly his plane was attacked by a Bell P-39 Airacobra flown by a Soviet pilot and severely damaged. He was hit in the right arm and his right kneecap was shattered. He didn't even consider bailing out, but managed to force-land his crippled aircraft. He was rushed to a field hospital, where his leg was barely saved from amputation. It took him five months to return to combat duty.
On April 21, 1945, Barkhorn took off on his 1,104th mission against Allied bombers over Southern Germany. It was only his second mission in the unreliable Messerschmitt Me 262 jet-fighter. Sure enough, his starboard engine flamed out. Unable to make the runway, he force-landed in a clearing and was again severely injured. He was rushed to the hospital; but by the time he recovered, the war was over. He was captured by the Allies and released in September 1945.
In 1956, Gerhard Barkhorn joined the West German Federal Air Force. He rose to become Chief of Staff of NATO's Fourth Allied Tactical Air Force in the rank of Lieutenant General and retired in 1975. On January 6, 1983, during a winter storm near Cologne, Barkhorn and his wife, Christl, were involved in a car crash. Christl died instantly and Barkhorn, without regaining consciousness, on January 8, 1983. The last word belongs to Erich Hartmann – the only pilot to score more kills than Barkhorn. Hartmann said, "He was the fighter commander of whom every fighter pilot dreams – leader, friend, comrade and father – the best I ever met. One of the few commanders whose men thirty, forty, fifty years later, continue to speak of him with respect and affection. Gerd Barkhorn was an unforgettable man."