Jhunjhunwala-backed Akasa Airlines gearing up for 2022 start. The new airline has recently received NOC from the Ministry of Civil Aviation
Akasa Air is backed by Rakesh Jhunjhunwala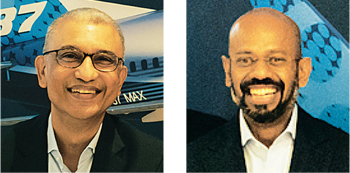 (Left) Former Jet Airways CEO Vinay Dube;
(Right) Former IndiGo President Aditya Ghosh
India's aviation landscape is standing on a very interesting edge. With Tata winning back Air India, there is a strong possibility of integration of airlines which can lead to Tata and IndiGo emerging as the prominent players of Indian aviation. Amidst that, the entry of Akasa Airlines is attracting a significant amount of attention.
The new airline that recently received the No Objection Certificate (NOC) from the Ministry of Civil Aviation (MoCA), plans to start operating by the summer of next year as a Low Cost Carrier (LCC) or an Ultra LCC (ULCC). The airline is being launched under the Akasa Air brand by SNV Aviation, the aviation venture backed by stock market investor Rakesh Jhunjhunwala. The NOC will thus be retained by SNV Aviation, the holding company for the proposed airline.
On October 11, the press release stated, "SNV Aviation Private Limited, that will fly under the brand name Akasa Air, announced that it has received a no objection certificate from the MoCA as it embarks on its journey to offer Indian flyers a warm, efficient, reliable and affordable travel experience."
Akasa Air plans to offer flights across India starting in the summer of 2022 "with an endeavour to be the nation's most dependable affordable and greenest airline". The aircraft are expected to be finalised by November. Reports of Jhunjhunwala considering to invest $35 million and planning to have 70 planes in four years had also surfaced few months back. AirBnB and Par Capital Management are other investors of the airline.
STOP PRESS
Akasa Air has ordered 72 fuel-efficient Boeing 737 MAX airplanes to build its fleet and launch service in the Indian market. The new Indian carrier's order, valued at nearly $9 billion, includes 737-8 and high-capacity 737-8-200. Akasa Air CEO Vinay Dube said, "We believe that the new 737 MAX airplane will support our aim of running not just a cost-efficient, reliable and affordable airline, but also an environmentally friendly company with the youngest and greenest fleet in the Indian skies."
The carrier plans to offer commercial flights starting in the summer of 2022 and use its new fleet of 737s to meet the growing demand across India.
Rakesh Jhunjhunwala, is said to have a 40 per cent stake in the company. Other aviation industry veterans including former Jet Airways CEO Vinay Dube and former IndiGo President Aditya Ghosh are joining him in operating the airline. Dube is the CEO of Akasa Air and Ghosh is expected to join as Jhunjhunwala's nominee.
"We believe having a robust air transportation system is critical for our nation's progress. It is this belief that has motivated us to create a modern and efficient quality conscious airline. More over Akasa Air will serve all Indians regardless of their socio-economic or cultural backgrounds with warmth," stated Vinay Dube.
Former Jet Airways Senior Vice President, Praveen Iyer is expected to take the role of COO (Chief Operating Officer), while former GoAir revenue management V.P. Anand Srinivasan is likely to be the CTO (Chief Technical Officer), and former Jet flight operations VP Floyd Gracious would also be taking up a similar key role. Industry veteran and former Honeywell business President Neelu Khatri is being billed as Head of Corporate Affairs. Ankur Goel, former Head of IndiGo's Treasury and Investor Relations is likely to lead Akasa Air as the Chief Financial Officer.
Though it has not been formally disclosed yet, Akasa is in talks with Airbus for an aircraft procurement deal for the A320neo. The new carrier is also in discussions with US plane manufacturer Boeing to procure its B737 MAX planes.
Having received the NOC, the airline will now approach the Directorate General of Civil Aviation (DGCA) next for its Air Operator's Permit (AOP).
Akasa air promises to be the "most dependable airline in India offering efficient customer service, reliable operations and affordable fares, all in the Akasa way. Our empathetic and youthful personality, employee friendly culture, customer service philosophy and a tech-led approach will make this commitment a reality for all Indians," stated the airline.
With the Tatas awaiting transfer of Air India, global air transportation getting back on track slowly after the pandemic, Jet Airways preparing to re-enter the market next year, and regional aviation gaining momentum, Akasa Airlines' journey will be one to watch out for.