This facility, which will be a collaboration between Tata and Airbus, will be utilised for manufacturing C295 aircrafts for the Indian Air Force. This is the first project in which a military aircraft will be manufactured in India by a private company.
PRIME MINISTER NARENDRA MODI AT THE FOUNDATION LAYING CEREMONY OF C295 AIRCRAFT MANUFACTURING FACILITY, IN VADODARA, GUJARAT
Prime Minister Narendra Modi laid the foundation stone of the C295 Aircraft Manufacturing Facility in Vadodara, Gujarat on Sunday, October 30. Set up by Tata Advanced Systems Ltd (TASL) in partnership with Airbus Defence and Space, Spain, the facility will be the first aircraft manufacturing facility in the private sector in the country. This facility will be utilised for manufacturing C295 aircrafts for the Indian Air Force. This is the first project of its kind in which a military aircraft will be manufactured in India by a private company. The total cost of the project is 21,935 crore. The aircraft can be used for civilian purposes as well.
"Today we have taken a big step in the direction of making India as the manufacturing hub of the world. India is making fighter jets, tanks, submarines, medicines, vaccines, electronic gadgets, mobile phones and cars that are popular in many countries. India is moving forward with the mantra of 'Make in India, Make for the Globe' and now India is becoming a huge manufacturer of transport aircraft in the world," the Prime Minister remarked. He added that he can foresee that India will soon be manufacturing big passenger aircrafts that will proudly bear the words 'Made in India'.
This is the nation's first big investment in the Indian Defence sector and transport aircraft manufactured here will help in developing a new ecosystem of aircraft manufacturing with more than 100 MEMEs also associated with the project, the PM added. He also visited an exhibition showcasing technological and manufacturing strides in the aerospace industry under Atmanirbhar Bharat.
"It is truly a historic day. Today, we mark the beginning of fullscale aircraft manufacturing in India by the private sector. In its true essence, it conveys Atmanirbhar Bharat - vision of our Prime Minister Modi. The aircraft that we will manufacture will be done by the Tata Advanced Systems, a Tata group company, and we will make 40 such aircraft out of a total order of 56 aircraft. The aircraft manufacturing programme will see Airbus bring its complete bouquet of aircraft manufacturing and servicing to India in collaboration with the Tata group," said N. Chandrasekaran, Chairman, Tata Sons.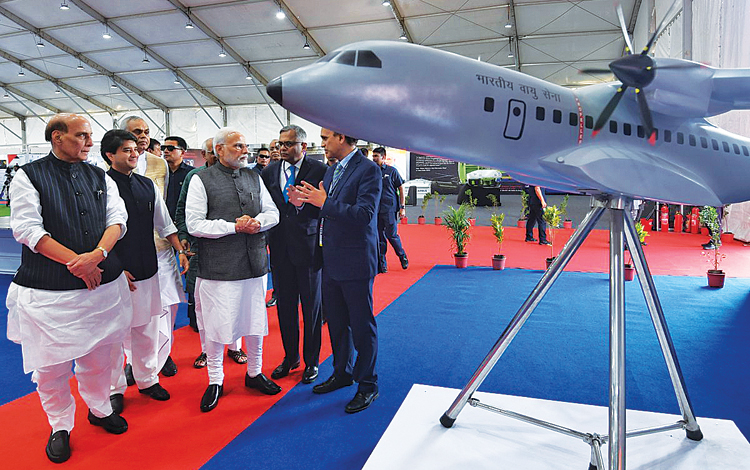 THE C295 AIRCRAFT MANUFACTURING PROGRAMME WILL SEE AIRBUS BRING ITS COMPLETE BOUQUET OF AIRCRAFT MANUFACTURING AND SERVICING TO INDIA
"It is a matter of utmost importance and great pride that all 56 aircraft will be fitted with indigenous Electronic Warfare Suite to be manufactured by Bharat Electronics Limited & Bharat Dynamics Limited. Hundreds of MSMEs from across the country will be a part of this project. It is a shining example of meeting the requirements of the Armed Forces with collaborative efforts of the private sector and DPSUs," stated Defence Minister Rajnath Singh simultaneously describing the C295 as a state-of-the-art aircraft, with superior capabilities and global standards, that will unprecedentedly add to the logistical capability of the IAF.
Sixteen aircraft will be delivered in flyaway condition. They are scheduled to be received between September 2023 and August 2025. Remaining forty (40) will be manufactured at the Vadodara manufacturing facility. The first Made in India aircraft is expected from September 2026. The C295 is a transport aircraft of 5-10 tonne capacity with contemporary technology that will replace the aging Avro aircraft of IAF. The aircraft, with a flight endurance of up to 11 hours, can carry out multi-role operations under all weather conditions. It can routinely operate day as well as night combat missions from desert to maritime environments. It has a rear ramp door for quick reaction and para dropping of troops and cargo alongside short take-off/land from semi-prepared surfaces.
Manufacturing of over 13,400 detail parts, 4,600 sub-assemblies and all the seven major component assemblies will be undertaken in India, along with tools, jigs and testers. Various systems such as engines, landing gear, avionics, EW suite etc will be provided by Airbus Defence & Space and integrated on the aircraft by the TATA Consortium. 96 per cent of the total man hour work per aircraft that Airbus employs at its manufacturing facility at Spain will be undertaken in India by the TATA Consortium. The aircraft will be tested as an integrated system by the TATA Consortium. The aircraft will be flight tested and delivered through a Delivery Centre at the TATA Consortium facility.
FIRST 16 AIRCRAFT WILL COME IN FLYAWAY CONDITION. REMAINING 40 AIRCRAFT WILL BE MADE AT THE VADODARA MANUFACTURING FACILITY. THE FIRST MADE IN INDIA AIRCRAFT IS EXPECTED FROM SEPTEMBER 2026.
"This project was conceived 10 years ago by Ratan Tata, and he led this whole concept, built a relationship with Airbus & forged a partnership. I must thank him for his visionary leadership by leading from the front on this initiative. This will also catapult India to produce quality systems, which will help India to produce high precision & high-quality manufacturing products," said Chandrasekaran.
The Prime Minister informed that more than $3 billion has been invested in the aerospace sector alone. "In the coming years, the defence and aerospace sectors are going to be the crucial pillars of the Atmanirbhar Bharat campaign. We aim to scale our defence manufacturing beyond $25 billion by 2025. Our defence exports will also exceed $5 billion," he added. According to the Ministry of Defence (MoD), the country witnessed a 21 per cent decline in imports during 2017-21 versus 2012-16 due to the growing emphasis on indigenous design and manufacturing of defence equipment. The country's arms exports witnessed a six times rise since 2014, amounting to 11,607 crore (S$ 1.5 billion) during FY 2021-22 and the government is ambitious to reach an export target of 36,500 crore ($ 4.8 billion) by 2025.
The Prime Minister pointed out that the defence corridors being developed in Uttar Pradesh and Tamil Nadu will immensely help in scaling-up this sector. He also praised the Defence Ministry and the Government of Gujarat for organising the biggest ever DefExpo in Gandhinagar with all the "Made in India equipment and technologies" on display. "The reflection of Project C295 will also be visible to us in the DefExpo of the coming years", the Prime Minister added.
"It is a shining example of meeting the requirements of the Armed Forces with collaborative efforts of the private sector and DPSUs," stated Defence Minister Rajnath Singh
"This is India's first transport aircraft manufacturing plant. In all, it will produce at least 15,000 skilled jobs. There is also a very substantial global demand, and I definitely see exports being another big opportunity," added Chandrasekaran. The TATA Consortium has identified more than 125 in-country MSME suppliers spread over seven states. This will act as a catalyst in employment generation in the aerospace ecosystem of the country and is expected to generate 600 highly skilled jobs directly, over 3,000 indirect jobs and an additional 3,000 medium skill employment opportunities with more than 42.5 lakh man hours of work within the aerospace and defence sector of India. Nearly 240 engineers will be trained at the Airbus facility in Spain.
The Prime Minister urged all those associated with the industry to make the most out of the unprecedented investment confidence in the country at the moment. He further added that more thought must be given to helping the start-ups of the country in moving forward. The Prime Minister also stressed on increased participation of the private sector in the field of research. "If we push in this direction, then we will be able to develop a more strong ecosystem of innovation and manufacturing. You always have to remember the mantra of Sabka Prayas", he highlighted.