When Sally Ride blasted off from earth aboard the Challenger shuttle, she made history as the first American woman and the youngest of either gender to go into space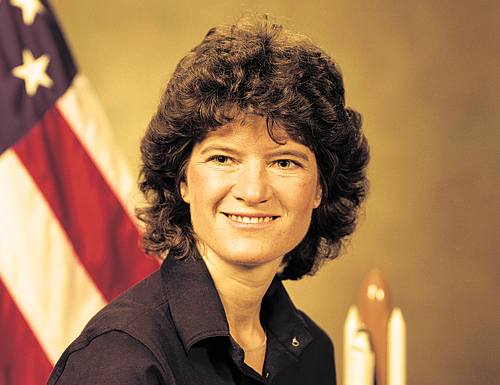 Sally Ride was an astronaut and physicist who in 1983 became the first American woman and only the third woman to fly in space. Sally was also the youngest American astronaut of either gender to become a space traveller. The first two women in space were cosmonauts Valentina Tereshkova in 1963 and Svetlana Savitskaya in 1982. This is a very rare instance in the fierce space race between the United States and the Soviet Union where one rival achieved a pioneering feat as much as twenty years after the other.
Sally Kristen Ride was born on May 26, 1951, in Los Angeles. As a child, she was a tennis prodigy and had every intention of becoming a professional. However, she finally chose academics instead. She joined Stanford University where she earned degrees both in arts and in science and technology. Ride's space adventure began in January 1977 when she saw a newspaper article about the National Aeronautics and Space Administration (NASA) recruiting a new group of astronauts, including women for the Space Shuttle programme. Till then the US astronaut corps had been something of a boys' club of fliers, mostly Navy and Air Force pilots.
But NASA had begun atmospheric testing of the space shuttles and realised that technological and scientific skills were as crucial as good piloting ability. It was therefore searching for young scientists who could fill the role of "mission specialists". Ride was among 8,000 youngsters who applied for NASA's astronaut class of '78. Her natural athletic ability was a great help and the doctors were impressed by her physical fitness.
In January 1978 Ride became one of 35 selected astronaut candidates, of whom six were women. The training included limited experience of flying the T-38 Talon jet aircraft. However, she immediately took to flying and signed up for lessons to earn a private pilot's licence. On August 31, 1979, the class of 35 candidates were officially declared astronauts and became eligible for selection on space flight crews.
While awaiting her first mission, Sally served as the ground-based capsule communicator (CapCom) for the second and third space shuttle flights – the first woman to be employed in this role. Her technological expertise also helped her develop the Shuttle Remote Manipulator System (RMS) or robot arm. Her chance finally came when she was selected as mission specialist on the STS-7 mission of the space shuttle Challenger. She was chosen mainly because of her agreeable personality and ability to work with others, her performance as CapCom, and her skill with the robotic arm. In the run-up to the historic mission, interviewers posed questions like "Will the flight affect your reproductive organs?" and "Do you weep when things go wrong on the job?" She took it all with dignity, grace and good humour.
On June 18, 1983, when Sally Ride blasted off from earth aboard the Challenger shuttle, she made history as the youngest American to go into space at 32 years and 23 days. The mission deployed two communications satellites. Ride also used the robotic arm to deploy the first Shuttle Pallet Satellite (SPAS-01) and retrieve it two days later, the first time the shuttle was used to return a spacecraft to Earth. It proved that, in theory, a problematic satellite could be captured, repaired aboard the shuttle and then safely returned to orbit.
Sally Ride's second spaceflight was the STS-41-G mission in 1984. This too was aboard the Challenger shuttle. She spent eight days conducting scientific observations of the earth. She also worked on refuelling techniques for shuttles. This was another historic space mission since it was the first with two female crew members. The other woman astronaut, Kathryn Sullivan, became the first American woman to walk in space.
Sally was preparing for her third mission when the Challenger shuttle exploded shortly after lift-off on January 28, 1986, killing all seven crew members. Her interdisciplinary qualifications made her a natural choice for the presidential commission investigating the disaster. She helped bring to light the fact that the NASA management knew the shuttle's O-rings could fail in cold temperatures. In 2003, when another shuttle spacecraft – the Columbia – was lost along with all its crew, Sally was once again co-opted to serve on the Accident Investigation Board. She thus became the only person to serve on both the investigations.
In the course of her two space missions Ride spent a total of over 343 hours in space. She always maintained that she had not intended "to become a historic figure or a symbol of progress for women." All she had wanted was to be a good astronaut. She died of pancreatic cancer on July 23, 2012. On May 20, 2013 US President Barack Obama announced that Sally Ride would be awarded the Presidential Medal of Freedom, the nation's highest civilian award.