Indra Lal Roy was the first and only Indian to be officially accredited as an ace. He achieved the feat during World War I while serving in the Royal Air Force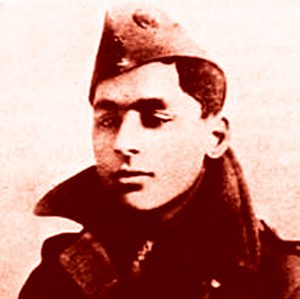 "When the balloon goes" up, as they describe the outbreak of hostilities in military circles, every fighter pilot dreams of becoming an ace. All that's needed is to record five aerial victories or "kills". The two World Wars saw many aviators became fighter aces and some went on to attain incredible totals.
The top scoring ace of the First World War was the German Manfred von Richthofen, better known as the "Red Baron" and probably the most famous ace ever. During World War II, another German, Erich Hartmann, became the foremost ace of all time with an unbelievable 352 victories! "Unbelievable" is perhaps an apt expression, because the fog of war makes accurate data and correlation with wrecks difficult, if not impossible. There's also the intense enthusiasm, competitiveness and desire for recognition of the military person to contend with. And propaganda machines add scores of fictitious victories.
The Indian Air Force (IAF), despite its distinguished record of 85 years, does not have a single ace. The reason is not far to seek – it was not involved in either of the World Wars and the limited conflicts since then have been short, sharp engagements that ended before anyone could reach the magic figure of five kills. In fact, the first and only Indian who became an officially accredited ace achieved the feat during the First World War while serving in the Royal Air Force (RAF). Within two weeks and in just over 170 hours flying time, he downed no less than nine German aircraft. However, just when it seemed he was destined for greater things, his luck ran out.
Indra Lal Roy, nicknamed "Laddie", was born into a prosperous Bengali family on December 2, 1898, in Calcutta. His father, Piera Lal Roy, was a distinguished barrister. In 1901, the family moved to London so that the children could have a proper English education. Indra Lal was admitted to a London boarding school where he excelled in academics as well as sports. When the First World War started in 1914, he was just 15 years old. But shortly after turning 18, he applied to join the Royal Flying Corps (RFC) of the British Army, only to be rejected for defective eyesight. Undaunted, he consulted a leading eye specialist who certified him fit.
Roy joined the RFC for flying training on April 04, 1917 and was commissioned as a Second Lieutenant in July. On October 30, he joined active service with No 56 Squadron that operated the Royal Aircraft Factory S.E.5a, a nimble biplane later described as "the Spitfire of World War One". However, the limited training Roy had undergone probably meant he was not quite as skilled as he might have hoped and in December 1917 he was seriously injured in a crash-landing. He used his time as a reluctant convalescent to sketch aircraft and some of his works of art later found their way into the IAF museum in Delhi. When he returned to duty after many months, to his great disappointment, the RFC kept him on the ground as an equipment officer. Once again he did not accept the doctor's verdict and pestered the authorities till he was declared medically fit. Meanwhile, the RAF had been formed on April 01, 1918, by merging the RFC and the Royal Naval Air Service. Following brief training to get back in touch with fighter flying, on June 19, 1918, Roy joined No 40 Squadron, then stationed in France. It was there that he achieved glory and also met an untimely end at the hands of the Deutsche Luftstreitkräfte, the army air service of the German Empire, all within the span of a month.
It took Roy a few days to really get going. On July 6, 1918, he downed a German Hannover C two-seater and claimed his first victory. On the morning of July 8, he recorded three victories in a row, in the space of just four hours. One of these was a Fokker D.VII, a formidable fighter aircraft, of which Germany produced about 3,300 during the closing stages of the War. On July 13, he downed a Pfalz D.III, another fighter aircraft that was somewhat inferior to the S.E.5a. With this, he crossed five kills which qualified him to be called an ace. He celebrated his ace status by shooting down two Fokker D.VII aircraft on July 15, a DFW C.V on 18 July, and another Hannover C on 19 July. However, this proved to be his final success.
Soon after dawn on July 22, 1918, Roy's formation of three S.E.5a aircraft was pounced upon by a larger formation of four Fokker DVIIs belonging to Jasta 29. Although the British pilots managed to account for two German aircraft, Roy went down in flames over Carvin. He was officially declared "presumed dead" in September and posthumously awarded the Distinguished Flying Cross, becoming the first Indian to be so honoured. His citation dated September 20, 1918, reads: "A very gallant and determined officer, who in thirteen days accounted for nine enemy machines. In these several engagements he has displayed remarkable skill and daring, on more than one occasion accounting for two machines in one patrol."
After the war ended on November 11, 1918, Roy's body was found, identified and buried in Estevelles Communal Cemetery in France. On his grave, in French and Bengali, is inscribed (as translated): "A valiant warrior's grave; respect it, do not touch it". His nephew, Subroto Mukerjee later became the first Indian Chief of the Air Staff of the IAF.