Neetu Dhulia (BAI): What was the thought behind starting a Helicopter Charter Service?
Himalayan Heli Services (HHS): The idea to start Himalayan Heli Services was a result of experience gained over 12 years while operating heli-skiing in Himachal Pradesh in one of our adventure tourism enterprise - World Expeditions promoting skiing, trekking, mountaineering and mountain biking. Heli-skiing is an exciting adventure sport but extremely challenging to operate due to extreme cold conditions.
It is an upscale adventure activity where the skiers are dropped by a helicopter on high mountains slopes from where they ski down and enjoy powder skiing. After skiing down one slope they are picked again from the base and dropped again on a different slope. Weather permitting this carries on the whole day. Each sortie comprises of four to five skiers and their highly skilled and qualified ski guide.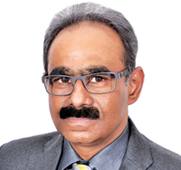 Harsh Vardhan Sharma, from Delhi is the Co-promoter and Director of Himalayan Heli Sevices and World Expeditions. He graduated from Delhi University and is a trained mountaineer and adventue tours professsional. He has more than 35 years of experience in the field of adventure tourism and over 25 years in helicopter aviation. He has played a key role in shaping business strategies and marketing alliances of the companies.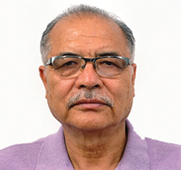 Wangchuk Shamshu, from Ladakh is the Co-promoter and Director of Himalayan Heli Servcies and World Expeditons. He graduated from Delhi University and is trained skiier and adventure tours professional. He has more 40 years of experience in the field of adventure tourism and over 25 years in helicopter aviation. His vast knowledge and rare acumen in operational dynamics of mountain aviation has earned the company a high prestige and reputation.
When we started in 1989-90, there were no suitable civil registered helicopter available in India. We had no option but to import suitable helicopter into India on a temporary wet-lease during the peak winter months of January till March. The greatest challenge was to import foreign registered helicopter into India and operate it. We could meet the challenges successfully mainly because we received continuous co-operation from the Ministry of Civil Aviation, Director General of Civil Aviation, Ministry of Defence and Ministry of Commerce.
With their continuous support we could scale up and expand the heli-skiing activity. The pilots and engineers came from Europe and Canada who where great source of inspiration for us since, in their part of the world, helicopter utilities were much more advanced and established.
Over the decade the heli-skiing sport grew quite strongly and our requirement for helicopter also grew in proportion and we were compelled to import two helicopters instead of one. Most encouraging factor was that this activity alone, due to its high density utilisation, in three months, could contribute 40 per cent of the minimum flying required to breakeven in a year.
During those 12 years we realised that, besides helicopter utilisation in flying passengers to pilgrimage destinations of Mata Vaishno Devi, Amarnathji and Kedarnathji, there were great scope of developing other helicopter utilities in Himalayas and other parts of India. Thus, being an adventure tourism professional, the name Himalayan Heli Services sounded the most appropriate name to us.
I would like add our one significant achievement - The DGCA has mentioned, in the last two yearly reports "Handbook on Civil Aviation Statistics" Himalayan Heli Services in the Top three Helicopters Operators who accounted for more than 87 per cent of the Total number of flights Operated in a year.
BAI: How has the helicopter industry grown, since the time of your inception?
HHS: When we started Himalayan Heli Services in 2002, besides the ad-hoc helicopter charter market the only other active helicopter flying destination was Mata Vaishno Devi. Our adventure tourism expertise and ability to operate under extreme conditions in remote areas helped us explore other destinations like Amarnathji and Kedarnathji. When we started, as a Helicopter Operator in 2002, there were only two helicopter operators with a total strength of five to seven helicopters. Today, it has grown to more than 12 operators with more than 20 helicopters. Last year, we were the first company to bring first ever sky-crane to India toexecuted a powerline tower construction project along the Mughal road in Jammu and Kashmir.
BAI: What is your current helicopter fleet and what is the average utilization?
HHS: Currently, we have five Airbus AS350B3 helicopters. The average utilization is about 1,000 hours per year per helicopters.
BAI: You specialize in the routes for Pilgrimage services, how is this market?
HHS: Helicopter pilgrimage services essentially, besides Mata Vaisho Devi, take place during summer months only. This market has matured in the past five years. We serve close to 2,50,000 pilgrims each year. However, in order to improve our sustainability we had to look for scope of work during winter months from October to March. The helicopters in our fleet are most suitable for aerial work applications as well such as - heli-borne geophysical survey, long-line under-slung load ferrying, forest fire fighting, search and rescue and power-line utilities such as tower construction, stringing, maintenance and patrolling. In last seven years, we have flown more than 1,50,000 line kms in heliborne geophycal surveys, which is the highest by any company in India. In the power sector, both government and private sector companies are very actively considering, a long overdue, scope of deploying helicopters. This is going to create huge demand for more helicopters in coming years.
BAI: Please tell us about your MRO.
HHS: The scope of MRO activity has unfortunately not grown, in fact it has shrunk. The existing operators are constrained to limit our MRO activity to maintaining our own helicopters; as it can neither be expanded at IGI Airport nor at the newly built Rohini Helidrome in Delhi. The reasons are flawed government policies. The IGI Airport and Rohini Helidrome are facing monopolist trade practices. More than 30 aircraft, including ours, have been compelled to shift outside Delhi to the nearby places like - Aligarh, Hissar, Shahpura and Sahastradhara (Dehradun). Our constant engagement with the Ministry of Civil Aviation is not bearing any positive results.
BAI: With Uttrakhand government pushing the state as a skiing destination, how do you foresee the growth in the industry?
HHS: This is a great initiative by the state government. We have no doubt that, in not so distant future, Uttarakhand can be developed as a popular skiing destination akin to Gulmarg. All that the government needs to do is to upgrade Gochar Airport earnestly. Almost ten years back we submitted to the Uttarakhand government a comprehensive plan to develop heli-skiing on the same lines as we did in Himachal Pradesh but we did not get any positive response.
BAI: Where do you see the industry in the National Civil Aviation Policy?
HHS: NCAP 2016 has not provided the right platform, as yet, for utilizing the true potential of helicopters in our country. The Regional Connectivity Scheme (RCS), which came into effect after the release of NCAP, did not specifically cater for the peculiar requirements of helicopters operations for 'remote area connectivity' and tourism. The initial phases of RCS have been mostly centric to 'fixed wing' operations. There is a need to issue separate RCS parameters and requirements for remote area connectivity through helicopters. Along with separate RCS for helicopters, specific safety regulations are required to be notified by DGCA soon to allow, inter alia, use of helicopters for 'Emergency Medical Services'. Most importantly, freedom is required to operate helicopters from point to point, without prior ATC clearance, in 'airspace below 5,700 fee' and 'area other than controlled airspace'.
NCAP 2016 has not provided the right platform, as yet, for utilizing the true potential of helicopters in our country.
As regards exorbitant charges being levied on helicopter operations, there has been no 'follow up' so far on important provisions given for helicopters in NCAP-2016, like:
Rationalising airport charges for helicopter operations
Separate and independent cell for helicopters in DGCA
System for expeditious 'air defence clearance' for urgent helicopter operations
Rationalization of charges for 'maintenance hangars' at operational 'public airports' and 'heliport' at Rohini.
We do sincerely hope MoCA would act soon on all the pending issues to unleash the true potential of helicopter operations in India.
BAI: What are your expansion plans?
HHS: We have very ambitious plans to develop and provide comprehensive helicopter utilities for power-line construction and maintenance solutions in remote and difficult terrain, forest fire fighting, heliborne geophysical survey solutions and disaster management solutions.